Where's content marketing at right now – and where's it going? It's easy to find a million opinions about that, but there's nothing like a solid, evidence-backed statistic. So we assembled the numbers on email, mobile, social and a couple other things. Need a stat? We got 'em.
1: Importance, Budget, ROI
Content marketing is moving front and center in marketers' minds. It's regarded as critical. And budgets are rising to reflect that.
Budgets for content marketing have increased every year since 2010. (Source)
This year is no exception. In 2015, 51% of marketers predicted that content marketing budgets would rise. (Source)
On average 32% of a B2C organization's total marketing budget goes on content marketing. (Source)
On average, 28% of an organization's total marketing budget is spent on content marketing. That's unchanged from last year. (Source)
There's a stark difference in effectiveness:
The most effective marketers spent 42% of their marketing budget on content marketing, compared with the least effective at 15%. (Source)
And those numbers are moving further apart:
Last year the most effective marketers spent 37% of their budget on content marketing, the least effective 16%. (Source)
51% of B2B marketers plan to increase content marketing spend over the next year. Just 3% plan to decrease their content marketing budget. (Source)
Inbound is the majority marketing strategy for SMBs. 84% of companies with 25 or fewer employees prioritize inbound. (Source)
Even companies with 200+ employees – skew 49%-48% in favor of inbound. (Source)
Budgets are rising, but so is pressure to demonstrate ROI on that spend. Marketers face requirements to show where the money is going and what it's doing as efforts to make content's effects more measurable bear fruit.
68% of marketing professionals feel pressured to show ROI on their marketing spend. (Source)
41% of marketers say content marketing has positive ROI. (Source)
71% of marketers in organizations with 200 or more employees say their biggest challenge is tracking content marketing ROI. 42% of marketers at companies with fewer than 25 employees say the same. (Source)
2: Strategy and Analysis
Having a documented content strategy based on solid data gives companies a far better chance of hitting their goals. But many businesses don't know what their goals are – or what a good content strategy would look like.
Only 43% of B2C marketers were clear on what a successful content marketing program looked like. 31% did not know and 27% were unsure. 76% of the most effective marketers had a clear vision of success. (Source)
32% of marketers have a documented content marketing strategy. 48% of marketers have a content marketing strategy, but it isn't documented. 20% of marketers either don't know (4%) or don't have a strategy (16%). (Source)
53% of the most effective marketers have a documented content marketing strategy. 40% of the least effective marketers have no strategy at all. (Source)
Clarity – the ability to see and say exactly what content marketing success looks like – is a good indicator of performance.
CMOs said data analytics (57%), strategic thinking (51%) and digital marketing (45%) were the most difficult skills to find when building a team. (Source)
While 71% of CMOs rate strategic thinking as one of their greatest strengths as a leader, only 17% said the same about marketing. (Source)
Fewer than one in 10 companies have defined advanced KPIs allowing them to measure ROI and re-allocate marketing resources. (Source)
A minority – just 46% – of marketers feel they have the tools they need to create a successful data-driven strategy. (Source)
86% of senior level marketers say it's vital or critical to create a complete customer journey. But only 23% of B2B marketers claim to have a customer-centric—versus a channel- or product-centric—organizational structure. (Source)
3: B2B and B2C: A Tale of Two Audiences
B2B and B2C marketing are becoming more similar. B2B marketing is changing to reflect the evolution of the business buyer.
Marketers now have to appeal to larger groups, and the personalization that's always been the aim of B2C is effective in B2B.
That's especially true when your 5.4 decision makers are spread throughout the company.
There will be people from: 4.6 departments in a manufacturing customer, 4.5 in cloud and tech customers, just 3.1 in consulting and HR clients. (Source)
The most common departments represented are IT (32%), finance (31%) and business development (26%). (Source)
People from these departments may not all be in the C suite, some may have roles that are only a couple of years old, and they will bring very different experiences and attitudes to the table. They need to be marketed to differently.
B2B and B2C marketing are both facing buyers who are eager to learn and self-educate. It makes sense to provide as much information as possible to facilitate that process.
On the other hand, B2B purchases are higher value and rely more on quantifiable benefits and less on implied or lifestyle outcomes. At some point you're going to have to show business buyers some numbers.
48% of business buyers consume two to five pieces of content before making a purchase decision. (Source)
B2B marketers say their biggest priorities are understanding the customer buying journey (78%), mapping the right content to the right buyer journey stage (77%), and attributing and measuring performance across channels (53%). (Source)
And the tactics required often remain different. Different channels serve B2B and B2C marketers differently, and opinions of the efficacy of specific content marketing tactics vary widely between B2B and B2C.
Lead generation (85%) and sales (84%) will be the most important goals for B2B content marketers over the next 12 months. (Source)
B2B social is dominated by LinkedIn (33%) and Facebook (31%), with Twitter a distant third (16%). B2C social is utterly dominated by Facebook (68%). (Source)
LinkedIn Sponsored Updates can generate up to 400% more leads. (Source)
Tech B2B buyers prefer whitepapers (98%), case studies (66%) and technology guides (37%). (Source)
85% of B2B content creators say their priorities are thought leadership and brand building. (Source)
B2C is about feeling safe, secure and informed; B2B is about respecting insights or knowledge. (Source)
B2B businesses are far more likely to favor blogging (78%) than B2C businesses (6%). (Source)
76% of B2B marketers will produce more content than 2015; 19% of B2B marketers will produce the same amount of content as 2015; only 2% of B2B marketers will produce less content than 2015. (Source)
4: Sales and Marketing: Alignment For Success
Aligning sales and marketing is vital to orient the whole business around revenue. Keep sales and marketing talking, and give them access to each other's data. Most important, remember that both departments are dealing with the same person; a buyer's experience of the whole buyer's journey shouldn't feel like it comes in two sections. When it does, that's a major lead and revenue leak.
Misaligned sales and marketing processes cost B2B companies 10% of revenue a year, sometimes more. (Source)
35% of C-level executives think marketing/sales integration is vital; around 25% of intermediate staff don't agree. (Source)
What do marketers think is needed for sales and marketing to achieve alignment?
70% of marketers want more meetings with sales; 89% say this would help sales-marketing alignment. (Source)
50% of marketers want to discuss lead quality with sales to improve sales-marketing alignment. (Source)
What happens when sales and marketing are aligned?
Image Source
Marketing makes sales happen. 95% of buyers chose a provider that provided ample content to guide them through the buying process. (Source)
When sales and marketing teams work together, companies see an average 36% higher customer retention and average 38% more sales. (Source)
So what's stopping it from happening?
Simple accessibility can be a problem too.
In a survey of a biotech company, 80% of sales reps said the content marketing produced was good, but only 20% could find it. (Source)
5: Blogging: Content Marketing's Heavyweight Champ
Blogging is a traffic earner. Regular blogging drives relevant traffic and increases engagement on social media. It's SEO fuel and sales juice too: more inbound links? More leads? You need to blog.
Blogging powers ROI. Marketers who prioritize blogging are 13X more likely to have positive ROI. (Source)
Companies that blog have 97% more inbound links (Source)
Blogging regularly can generate 67% more leads. (Source)
What about the ideal post length? Advice varies.
The stat claiming that posts over 1500 words gets more tweets and Facebook likes is from 2012. (Source)
Length is less important than quality. Neil Patel's most popular ever Quicksprout article is 1091 words. (Source)
Maybe words are the wrong length metric. Medium measures attention, not clicks. They say about 7 minutes' reading length is ideal. (Source)
For most people that's about 1600 words. The more things change…
Blogging frequency counts.
Companies that blog 16 or more times a month generated nearly 3.5X more traffic than those that blogged 4 times a month or less. (Source)
And we can be pretty sure that blogging generates relevant, convertible traffic.
Companies that blog 16+ times a month got 4.5X more leads than companies that blogged 4 times a month or less. (Source)
So is 16X per month the 'sweet spot'? Maybe. But it looks like the more you blog, the better your results will be.
82% of marketers who blogged daily acquired customers from their blog. (Source)
Total number of blog posts has an effect too. Hubspot found they were getting 90% of their leads from old blog posts – and that companies with 401 or more published blog posts, had twice as much traffic as companies with 301 to 400 published posts. (Source)
6: Where's Mobile Going? Everywhere
Mobile is the first screen. It's the second most popular device used to search the net, and the most common place for ecommerce searches to start. And mobile is rising while desktop plateaus. If your content doesn't look great, work easily and load fast on mobile, you may as well forget it; everyone else will.
US internet users now spend the majority of their online time on mobile. (Source)
The number of mobile internet users is projected to keep on growing, to 220m in the USA by 2018. (Source)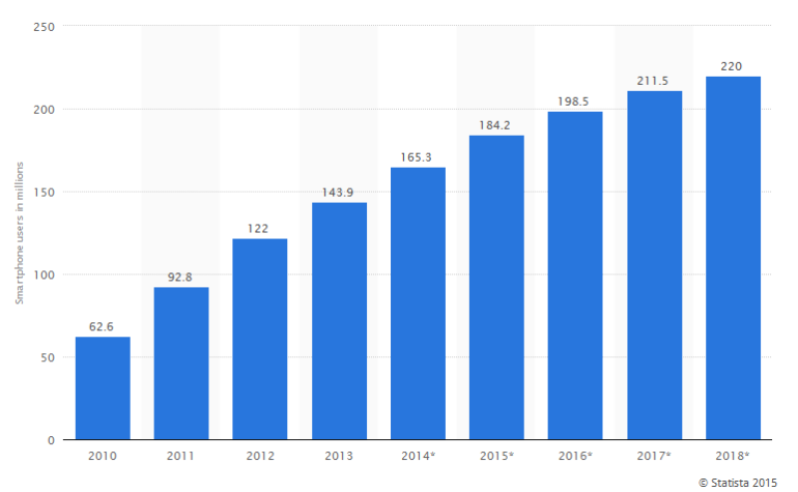 Smartphones are the second most used device to connect to the internet. (Source)
Content that fails on mobile just plain fails. There are 788.32 million people worldwide whose sole internet connection is mobile. (Source)
Facebook has 1.5 billion mobile active users as of March 2016. (Source)
Over 75% of Twitter's ad revenue comes from mobile. (Source)
Mobile is increasingly used for email, accounting for between 15% and 70% of email opens depending on your space and audience. (Source)
That has to change how emails are designed, built and written.
Which devices and clients are used to open email on mobile?
iPhone: 33%
Gmail: 15%
iPad: 12%
Android: 10%
Apple Mail: 8%
Outlook: 6%
Yahoo! Mail: 3%
Windows Live Mail: 2%
Thunderbird: 1%
(Source)
Millennials are the biggest smartphone users (no surprise) – and the biggest mobile email users.
88% of millennials use a smartphone to check emails. 70% check their emails in bed, 57% in the bathroom – and 27% while driving. (Source)
24% of Americans think they check their emails 'way too much,' suggesting that email should be used sparingly to prevent 'email fatigue'. (Source)
While the majority of internet usage hours are on mobile, the majority of website visits are still on desktop because most mobile time is devoted to email, social media and apps.
Desktop use is falling as a proportion of website visits but the change is slower than mobile adoption.
In 2016 to date 54.6% of website visits for media and entertainment, the most mobile-friendly sector, were on desktop; in tech, 84% of visits were on desktop. (Source)
Convenience, speed and security are the top concerns for customers on mobile websites. (Source)
49% of brands think their mobile website is fast enough, only 32% of consumers agree. (Source)
Mobile is becoming more important for ecommerce too.
Mobile accounted for 1 in every 6 ecommerce dollars spent in Q4 2015. (Source)
The most important factors for mobile shoppers are whether they can see product descriptions (62%), whether they can use the mobile-friendly version of the website (48%) and whether they can read product descriptions and reviews (both 48%). (Source)
The biggest difference between tablet and smartphone shoppers was in using the mobile friendly site (48% vs 35%). (Source)
Only 10% of shoppers cared if there was an app. (Source)
7: Look and Learn: Visual Content Shows Its True Colors
Image Source
Increasingly, we're marketing to consumers and buyers who expect content that's engaging on every level, and adds value on every level. That means more videos and more images – but it also means it's time to put down those stock photos of people in smart casuals looking thoughtful near a laptop.
Video marketing is on the rise.
61% of businesses currently use marketing videos: of these, 66% weren't using video just 12 months ago. (Source)
91% planned to maintain or increase their spending on video in 2016; 67% said they planned to spend more on video in 2016. (Source)
Videos on landing pages increase conversions by 80% or more. (Source)
72% of businesses say video has increased their conversions and 76% believe video provides a good ROI. 64% believe using video has led directly to increased sales. (Source)
47% of businesses who use video have used it in emails. (Source)
The most effective forms of video marketing are customer testimonials (51%), explainer and tutorial videos (50%) and demonstration videos (49%). (Source)
What about visuals and written content?
Infographics are the most striking example of effectively paired visual and written content.
Infographics get liked and shared on social media 3X more than any other type of content. (Source)
Visual content can present problems too. What if your images don't load?
When images don't load fast enough, 46% of consumers will change devices and 39% will stop engaging. (Source)
But visuals add huge value to written content in other ways too.
Researchers found that using colored visuals increased people's willingness to read a piece of content by up to 80%. (Source)
When people hear information, they're likely to remember only about 10% of it three days later. If a relevant image is paired with that information, though, people retain up to 65% of it three days later. (Source)
46% of marketers describe photography as 'critical' to their current marketing and storytelling strategies. (Source)
34% of marketers said visual assets were their most important content, behind only blogging (45%) and ahead of videos (19%). (Source)
Visual content is great. But are we great at organizing it? Not yet.
Only 27% of marketers say they have a process in place to aggregate, organize, and manage the visual assets they're using across their marketing teams. (Source)
8: Content Drives SEO in the Post-Panda/Hummingbird Ecosystem
SEO is increasingly about optimizing content for targeted traffic. Content marketing hasn't eclipsed technical SEO so much as merged with it; if you want either to work you'll need both.
'SEOs need content because it's the one thing that is valuable to search engines on your site that is totally unique. At the same time, almost every site now has a content team. In order for your content to really stand out, you need data and support from SEOs to make sure that content is getting as much visibility as you can,' says Stephanie Chang, SEO manager for Etsy.
45% of in-house marketers and 51% of agency marketers say their SEO and content marketing efforts are tightly integrated. (Source)
But the business often isn't structured to support that.
55% of marketers said content marketing and SEO operated on totally separate budgets. (Source)
What do SEOs think?
Content comes fairly low down the list.
Marketers' top 3 SEO-related challenges are changing search algorithms (40%), budget constraints (38%) and keywording (34%). (Source)
SEO success is measured by traffic and search rank rather than by business metrics like revenue.
66% of marketers measure SEO success by search rankings; 58% measure website traffic. Just 55% measure lead gen – and only 24% gauge SEO success by sales. Source: ascend2.com
While marketers look first to search-related metrics to gauge success, they don't look to SEO to improve success – until after they look at content.
How effective is content as an SEO tool?
72% of marketers say relevant content creation is their most effective SEO tactic. 48% say keywording is their most effective SEO tool. Source: ascend2.com
Marketers rank content creation as both the most effective (72%) and the most difficult (46%) SEO tool. (Source)
In 2014, 57% of marketers said content creation was the most effective SEO tool; 47% said it was the most difficult. (Source)
Content marketing is a lot more important – and we're a little better at it than before.
9: What's Social Media For?
Social media is where marketers go to share content. The majority of business' social networks comprise present or past customers, but the majority of marketers use social channels to seek new customers rather than to engage with existing ones.
Social media networks are usually about 85% current or past customers. (Source)
But most marketers are treating social as a place to look for new customers.
Brand awareness is the most common goal for social efforts (76%), followed by lead generation (47%). (Source)
B2B marketers struggle to get insights from social media: 57% named assessing the impact of social media activities as their biggest social challenge. (Source)
Social tends to favor lower-commitment content forms: marketers say the most shareable content types are videos (69%), infographics (50%) and blog posts (35%). (Source)
The notion that LinkedIn is for business is challenged: Instagram offers 22.53 interactions per 1000 followers, compared with LinkedIn's 1.09. (Source)
Facebook is the most popular social ad channel for businesses. 61% of marketers advertise on it monthly. (Source)
Instagram is the fastest-growing social ad network for businesses: 29.5% of marketers plan to invest in Instagram advertising over the next year, jumping the channel to second place behind Facebook- and outsripping Twitter and LinkedIn. (Source)
Social media is going more mobile: Smartphone social media use jumped 42% among adults aged 18-24. Among adults aged 55+, tablet use surged by 115%. (Source)
Marketers won't abandon Facebook and YouTube. But they will spread their wings. More visual social channels like Vine and Snapchat History will provide new outlets for marketers. However, while social marketers double down on channels they already find effective, they're pulling back from some of the newer ones.
Fewer than 10% of B2B marketers use Vine in 2016. (Source)
Only 4% of brand social media content posted in 2015 was on Vine. (Source)
10: Quality and User Experience Define Successful Content Marketing
Users will increasingly differentiate on the basis of quality. Thin content that adds no value will lose traffic. Great content will be ever more effective at acquiring it.
'User experience is becoming a search ranking factor,' says Mark Traphagen of Stone Temple Consulting. 'That's one of the things SEOs have believed for years, but that there is more evidence than ever that the actual click behavior of searchers is being measured.' (Source)
81% of CXOs expect to see more digital interaction with customers by 2020; 66% think there will be more focus on customers as individuals. (Source)
Customers are more careful than ever with their attention.
Given only 15 minutes to consume content, 66% of consumers would prefer something beautifully designed over something plain and simple. (Source)
Image Source
User experience is about the right content at the right time. Your website is content too.
Once they reach your homepage, 64% of visitors want to see your contact information; 52% want to see 'about us' information. (Source)
Visitors use content to establish credibility. The most important are bio and contact information, followed by case studies, white papers and testimonials. (Source)
Vendors aren't showing clients the right content to establish credibility.
51% don't show thorough contact information, 35% don't show research reports, 34% don't show case studies and 29% don't show team bios. (Source)
Content quality and UX directly affects bottom line.
Customers are 5.2X more likely to purchase from companies that have a great customer experience. (Source)
11: Email: Strength to Strength
Email has become one of the most effective marketing tools on the planet. Partly because consumers and B2B buyers like it, partly because it allows you to send a personalized message that's practically a web page. Mostly its success has been a result of feedback: we know a lot about how our emails perform and the audience is already qualified.
But email isn't as optimized as it could be (is anything?) This year we're seeing email scale new heights.
eMarketer estimates the US adult email audience will reach 203.8 million by 2017. (Source)
Email is rated the most effective channel by 61% of marketers and the most difficult by just 22%. (Source)
74% of marketers think email will still be one of the highest-ROI marketing channels in five years. (Source)
Email is the best source of information about your customers – 41% of marketers use their email performance data to design campaigns and segment customers. (Source)
People have fewer email addresses than a year ago – an average of just two, down from 3.8 in 2014. 71% said they don't use a separate address for marketing and advertising emails. (Source)
Customers prefer to receive marketing emails weekly, but estimate that they'll probably buy something about once a month. (Source)
80.8% of users report opening emails on mobile devices. (Source)
12: There May Be Troubles Ahead…
There are challenges ahead, including major disconnects in how content marketing is carried out and measured.
We're still struggling with budgetary and effort disconnects. Marketers are investing time, energy and money into channels that don't offer good return.
Of all the digital channels marketers used in 2014, websites were the most effective (81%), followed by email (71%), SEO (54%) and finally social (41%). (Source)
It's not confined to online channels.
57% of B2B marketers use print and other offline promotions – yet just 31% consider them effective. (Source)
And marketers feel they're missing efficacy in certain stages of the customer lifecycle.
69% of marketers think they're 'very effective' in the awareness stage of the customer lifecycle. (Source)
Only 8% of marketers think they're 'very effective' in the advocacy stage of the customer lifecycle. (Source)
Other offline marketing techniques are surging in popularity though.
In-person events, rated most successful tactic for the last six years, rose in marketers' estimation. 69% of marketers considered them effective last year. This year, that number was 75%. (Source)
The perceived effectiveness of blogging fell from 60% last year to 59% this year. (Source)
Infographics rose in perceived effectiveness from 50% last year to 58% this year. (Source)
And B2B content marketers aren't giving buyers what they want.
Up to 70% of B2B content isn't used. (Source)
Finally, marketers still face difficulties tying their efforts to revenue.
Conclusion
Content marketing remains indispensable, with the tiny minority of companies that haven't caught on yet showing signs of being left behind. It's clear that the distinguishing features going forward will be strategy and user experience. If you're not reaching people by mobile, you're probably not reaching them at all. Social networks are still in flux but the well-established ones have clear roles in effective content marketing strategy.
Blogging is still a hugely influential and effective method of driving the right traffic. Content marketing and SEO are increasingly two sides of the same coin rather than competing, sometimes contradictory specialties.
The brands that are going to blow it out of the water in the year ahead are going to do it by creating genuinely great content that chimes with what their users actually want, distributing it in ways that their users will actually find, and using an increasingly gigantic quantity of data to create effective strategies that link up every stage of the buyer journey. Overcoming the twin challenges of data and organizational disconnects will be the great challenge for marketers and companies in the year ahead.
About the Author: Richard Bayston is a freelance blogger and copywriter covering tech, digital marketing and content strategy for SMBs. I've also been known to write on health and fitness. Find out more: Richard@RBCopywriting.com or @RBCopywriting. The rest of my time is spent arguing amicably with my wife and Googling the answers.