Should I trust you?
That's what e-commerce shoppers are asking as they creep closer and closer to making a purchase.
You can't blame them.  They are about to put their credit card information into your website in the hopes that you will deliver the goods.
There are no hard rules about designing for e-Commerce, but there are plenty of fundamentals to follow to ensure you are garnering the trust necessary to be successful.
In this article we will delve deeper into these fundamentals and expose some areas that may be creating some skeptical shoppers on your website.
1. Guarantees
An online shopper is making a sacrifice.  They can't physically see, touch or smell your product.  A well-placed guarantee can overcome the fear that your shopper has regarding the purchase.
Notice how REI places their guarantee front and center early on in the buying process.
2. Search
If you are selling a number of products, you better have a search function and it better work well.  If it doesn't, the trust in your company decreases.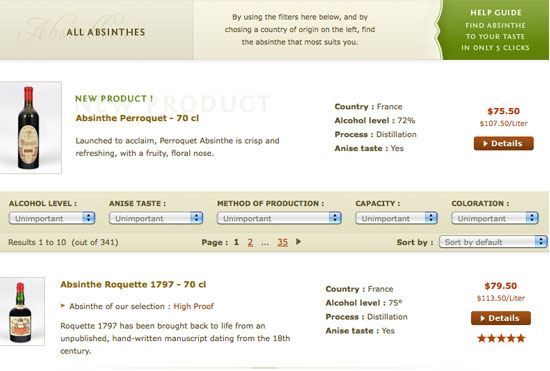 You can find the absinthes that most suits you by using the array of filters on the search bar at All Absinthes. Further customization allows you to search with a country of origin with a bar to the left.
3. Reviews
Customer reviews are critical in the success of an e-commerce website.  Studies show that product and company reviews are among the most important elements on an e-commerce page.
These reviews are a way to begin the conversion with the customer by demonstrating that others have purchased from you successfully.
The Kahala Resort features a page dedicated to customer reviews – an important feature to have when investing in a luxury vacation package.
Reviews are commonplace on electronics sites such as Newegg. Many customers will forgo purchasing larger expense items such as electronics if there aren't reviews on the product.
4. Well-Written Product Detail Pages
Customers tend to spend a lot of time on the product detail page and you should work towards presenting all the information the customer needs to know about a product in an intelligent and easy to access format.  Typos, grammar errors and otherwise poorly written product descriptions can be the death of your sale.
The detail page for a product on Opermage.com is both clear and concise in presenting the information about the product before making a purchase.
.
The product detail page for a Kashi cereal allows you to view nutritional info, send to a friend, and print the page, in addition to purchasing it. The detail page gives visitors the information they need and allows them to interact with the information.
5. A Clear Checkout Process
The checkout process should have as few steps as possible to avoid confusing the shopper or making them feel trapped. That being said, be careful about asking for payment information too soon, as they'll begin to suspect things are out of order. Also be clear about taxes and shipping costs.  Be as transparent as possible in the check-out process.
The checkout process for the online retailer Anthropologie details where you are in the checkout process as you go along. It also doesn't make the customer feel stuck and includes options for saving it for later or moving the item to your wishlist.
Here are four quick ways to make the check-out process feel more trustworthy:
• Tell the customer where they are in the checkout process
• Retain customers previously entered information, in case they leave to get more information, etc
• Provide a complete summary of the purchase
• Provide images and detail throughout the process that indicates the accuracy of the order
6.  Transparency About Additional Costs
We all know that the price we see on the product detail page isn't the price we are going to pay.  Why not be up-front about it?
The first page of the TigerDirect checkout form offers a tax estimator based on zip code and states what will be taxed.
Target provides shipping information below the product details to provide transparency to those shoppers wanting to know the total investment before getting too far into the check out process.
Should I trust you?
If you don't have all of the above elements in your e-commerce website design, probably not.
This is certainly not an exhaustive list of trust elements on an e-commerce web design.  What would you add?  Please let us know in the comments.