First it was 17, then nine, and finally six. That's the number of providers we started with, then considered, and last the number that finally made the cut onto our list of the best email marketing services. We put in work. Constant Contact proves to be best for most of you. Even as one the most affordable on the list, it performed best in our testing—they were within a point of a perfect score overall.
The Best Email Marketing Service for Most
Constant Contact stands out in a crowded field. Their email platform makes it easy to visualize every step of your campaign, automating many time-consuming tasks.
Their tracking and analysis tools let you test your emails, so you can clearly see the difference in engagement. And geographic reports show you how well your list responds to what you're sending based on their location. This is only the tip of the iceberg, let's get into further advantages you'll enjoy below.
The 6 Best Email Marketing Options to Consider:
When it Makes Sense to Invest in Email Marketing
Before we get into the individual advantages of the products we've reviewed, let's talk about why you should care about email marketing services in the first place.
Online businesses are nothing without their subscriber list. The most successful internet entrepreneurs say loudly, without hesitation, that it's all about the list. And it's true.
Email marketing is the most lucrative among the marketing efforts, yielding you $42 for every dollar you spend.
Wow, right?
Simply, it makes sense to invest in email marketing services if you do any kind of business online. And you can really deliver for your customers through useful information and offers in the messages you send them.
If you're a finance professional, you can offer lead magnets that explain ideas about improving credit scores.
If you have an ecommerce store, you need a list of customers to message about coupons, special events, and promotions.
And If you sell online courses, you're going to want to send marketing appeals that let recipients tell you what they want to see you teach them next.
To send out your emails on a mass scale, you need email marketing software. You should not use something like Gmail to send mass marketing emails, since their terms of service won't allow it.
If any of your emails were to get marked as spam, your Gmail account would be suspended without warning.
Email service providers provide you with formatting tools, templates, and security features that make emailing in bulk to your subscribers more efficient while maintaining a higher probability of reaching their inboxes.
Often, you will hear about dedicated IP addresses when you read about or discuss email marketing. This just means you don't share an IP address with other users when sending emails.
Why are we bringing this up? And do you have to care about dedicated IP addresses now?
The major reason we mention this is your email sending reputation. It's kind of like a credit score online for email.
If you have bad or nonexistent "credit", that results in poor deliverability and your emails will never be read.
Now you don't have to worry about dedicated IP addresses in the beginning. Here's why.
When you're fresh on the scene of email marketing, you want to use other people's sending reputation to boost yours. You want the IP address you're sending emails from to be recognized.
This will instantly establish emails that hold some kind of authority, with a good reputation, improving your chances of landing in the inbox. Which is great.
A dedicated IP address is for businesses with established lists, where the readers are aware of your emails, your brand, and trust you.
If you start with an IP address with zero authority before you're known, your emails can be viewed as spam from day one. This will immediately start your email campaigns out with a bad reputation.
So don't be sucked into the idea of a shiny new personal IP address before you're sending thousands of emails per week consistently.
Overall: 4.3/5
Constant Contact is great for taking care of the email marketing fundamentals like list building, campaign management, and designing mobile-friendly emails. It is straightforward enough for anyone on your team to hit their core email marketing objectives.
Getting started, adding contacts, managing small lists with care, and sending bulk emails are all easy. You can start boosting your email marketing with zero experience, no website, and no online store.
By the time you sign up and go through the steps and tutorials provided, you will be ready to launch your first campaign. And the Constant Contact website and online store builder can help you build your web properties if you're lacking them.
Email marketing veterans, on the other hand, will log into Constant Contact and understand immediately how much time they are saving by using this platform.
Let's dive into how they stack up against the other providers.
Price: 5/5
Ease of Use: 4.5/5
Deliverability Safeguards: 3.5/5
Templates: 4/5
Marketing Automation: 4/5
Tracking and Analytics: 4.7/5
Price: 5/5 – The price of Constant Contact is very competitive for its entry-level plan (which includes SMS and social media marketing as well) and stays well inside the average range as you increase your contact list.
This plan includes a website and online store builder, something neither of the other plans on our list offer. It also includes access to their new AI content recommendations.
The Lite plan starts at $12 per month for up to 500 contacts, for a total of just about $144 per year. You pay on a month-by-month basis.
Constant Contact is just a whole lot cheaper than the average of $253.30 across all the other providers on the list.
There isn't a free plan, but there is a 60-day free trial with no access to forms or landing pages and up to 100 email sends.
If you work with or are starting a nonprofit, you get a 20% discount if you sign up for six months in advance or 30% off for 12 months in advance. You'll have to provide all of your nonprofit paperwork to get this discount.
Ease of Use: 4.5/5 – Constant Contact has a pantry full of resources that teach you step-by-step how to move about the interface at the outset. The knowledge base is massive and very detailed.
Constant Contact just doesn't actively teach you within the software about features, which we would have liked to see.
Getting started is easy, however. It's the standard survey after you first log in, with questions about your skill level with email marketing, what type of business you have, and so on.
If you already have an email list, it's easy to import. Once you get to your dashboard, there's a three-point checklist for verifying your email, adding your contacts, and creating your first email.
Navigation makes sense at a glance. You have links for campaigns, contacts, reporting, forms, and more.
But automations, landing pages, social schedulers, and ad management features are oddly under the Campaign link in the navigation.
Most tools that use the term "campaign" are referring to emails, but Constant Contact calls any type of content you're creating part of a campaign. Just keep that in mind.
What's absolutely incredible to us, though, is the email subject line generator. Now you don't have to come up with your own, just let Constant Contact look at your content and instantly give you five choices based on what you've already written.
If you need to edit photos going into your campaigns, the built-in editor is pretty simple to learn.
Plus, you don't even need to use your own photos. Use the Shutterstock library that Constant Contact provides you.
The biggest problem we found in our research when testing this section is canceling your account. Constant Contact is the only provider that forces you to call to cancel. You can't do it online.
This wouldn't be such a problem if there weren't hundreds of reviews talking about very long wait times, with many users waiting 30 minutes to an hour before talking to anyone.
To make matters worse, billing support is only available from 8 a.m. to 8 p.m. Eastern Time from Monday through Friday, and from 10 a.m. to 8 p.m. on Saturdays. This makes it really difficult for international customers or anyone keeping non-traditional hours to cancel their accounts.
Deliverability Safeguards: 3.5/5 – Constant Contact scored points for allowing the use of captchas to prevent bots from filling out your forms.
But even this has a weird stipulation attached to it. They will only apply if a signup form receives 50 or more sign ups within a 24-hour window.
At that point, you may have 50 bots signed up to your list and you won't know it until later.
It is easy, though, to set up double opt-in emails that require users to confirm being added to your list before you start sending them marketing emails. So, this will help prevent some of the headaches caused by bots.
We'd have liked to see some in-app instructions on how to set up DKIM or SPF settings for your sending domain. You will need to do some quick research on Google to make that happen, whereas other platforms walk you through these steps
Likewise, there are no tools for blocking specific domains from your list or sorting data by email client to spot potential deliverability issues.
Templates: 4/5 – Take landing pages to the next level with Constant Contact. Just start with deciding the type of landing page you want you can create. You can choose from lead generation, shoppable, or custom landing pages, with each having different settings and customization levels.
There are no templates for lead generation or shoppable landing pages. The former uses the standard layout with an image on top, a headline, a subhead line, and a form below that.
With the latter, you'll use the landing page builder to make your products the focal point.
Constant Contact gives you two different builders here. That's a bit confusing to us. Why not just have one builder?
With custom landing pages, there are six templates available, one of which is blank.
You can't add forms or products to these. You could use a call to action on them, though, to take the reader somewhere after they're done reading your sales letter or advertorial, for example.
When you are ready to send emails, you have 339 templates to choose from. Full disclosure, though, some are really dated. But that's to be expected with so many options and how long Constant Contact has been around.
The drag-and-drop builder isn't as good as the other options on the list, but it gets the job done
There aren't many prebuilt content blocks, so you'll have to build fancier layouts using your own creativity.
You won't have much trouble making beautiful emails. You just might feel limited by the designs and layouts you're allowed to create.
Forms are not as customizable as other platforms, and you only get one popup form allowed on the entry-level plan. That's something to keep in mind.
You can change basic things like background color, fonts, and labels, but you can't add images and advanced styling has to be done with CSS if you want them to look nice.
Out of the box, Constant Contact's forms look nothing like what they've advertised on their website, unless you know how to use CSS. Those are the cold hard facts.
Marketing Automation: 4.5/5 – Marketing automation on the entry-level plan that we tested is basically just an email autoresponder. If you want serious automations, you'll need to upgrade to the $45 per month plan.
The only thing you can do on the entry-level plan is send a form follow-up with only one email.
You can't set up welcome sequences or anything like that. You can welcome a new signup by delivering a lead magnet or any other message in just one email.
Bear in mind that Constant Contact has some of the easiest-to-use email marketing automation with its upgraded plan. You'll get a workflow builder that lets you tailor your subscribers' journey based behavioral triggers.
And time zone personalization is completely missing from Constant Contact. There's no way to make sure your campaigns always reach people at a good time, no matter where they live.
The bottom line is that you will need to upgrade your plan with Constant Contact if you plan on any serious marketing automation, whereas you can get by a little better on some of the other platforms' entry-level plans.
Tracking and Analytics: 4.5/5 – Tracking your stats in email marketing can make or break a business, so it's good that Constant Contact offers you a few features in this regard.
Subject line split testing is one. Send out two options and wait for results to see which email subject line has a better open rate.
You can also see mobile and desktop open percentages for any campaign, making it easy to tell which devices your audience uses more when reading your emails.
Constant Contact actually does a great job of giving you lots of information on your campaigns, subscribers, and history. Get the data you need to make better decisions about your email marketing strategies.
Many tools on our list don't let you see information over time, which means you're left keeping tabs on all of that information manually. So, Constant Contact shines here. It's just missing heatmaps and detailed geographic information–with those features it might have got a perfect score.
In conclusion, this is a great platform for simple email marketing efforts. It's not as feature-rich as some of their competitors, but it's perfect for small businesses and marketers just getting started.
For $20 you can build an online store or website while building an email list of up to 500 contacts to marketing to. And, you can track campaigns over time at no extra cost, so you can easily see who has been opening emails and how your efforts are improving.
Constant Contact are veterans in the email marketing services industry and have been making small business owners happy for decades. While limited in many ways we tested for on the Standard plan, you can't go wrong giving them a shot with their 60-day free trial. If you want an easy way to start, you should seriously consider Constant Contact.
#2 – MailerLite — Best for Beginners
Overall: 4.2/5
MailerLite focuses on doing the basics really well, and they also make starting out quick and easy, even if you don't know a thing about email marketing.
You won't have to waste a ton of time learning things to get results.
It's rare to find such a large gap in value and quality between providers we tested, but there is no denying the massive performance leap that helps MailerLite vault over the rest.
This service is very simple and straightforward to use, while also being the cheapest on our list. You get the best pricing, customer support, and campaign management all while having access to top-tier automations and reporting.
The deck is stacked against your competition when you use MailerLite, regardless of your technical skill level.
Looking closer at each factor will shed more light on the advantages you will gain from MailerLite.
Price: 5/5
Ease of Use: 4/5
Deliverability Safeguards: 3/5
Templates: 4.5/5
Marketing Automation: 4.5/5
Tracking and Analytics: 4/5
Price: 5/5 – MailerLite is the most affordable provider on our list. It's only $108 per year for their cheapest plan.
If you don't want to pay for the full year upfront, you don't have to. You will pay more at $10 per month, costing a total of $120 for 12 months of service, but you dodge the lump sum payment.
Regardless of how you pay, the plan includes unlimited monthly emails and up to 1,000 contacts.
There are two other plans that cost a bit more if you have a larger list. The next level up is for 2,500 contacts and can accommodate a list size of as large as 615,000. The top-tier plan gives you even more, but requires custom pricing and a conversation with sales.
MailerLite also has a very good free plan. You can still keep a list of 1,000 contacts and send a maximum of 12,000 emails per month. With this free plan, you get the highest limit of emails that can be sent of all the free plans out there.
This works wonders for your confidence, because you can try MailerLite without any risk whatsoever. You just won't have some of the main features at first. But that doesn't matter in the beginning.
Then, when you're comfortable working with MailerLite, you will know exactly what you're getting and what you're doing. So you won't be afraid to upgrade.
When you do join a paid plan, you won't have any feature restrictions like you do with other email service software.
The moment you start paying for MailerLite, you get every feature the software has to offer. We find it to be a very cost-effective way to unlock tons of automations and analytics you'd otherwise have to pay hundreds for with other providers.
Ease of Use: 4/5 – MailerLite is easy to understand, fast to set up, and gives you support when you need it.
You'll hate it if you want learning new things to be a torturous challenge.
But, if you're like us and like things to be beginner-friendly, you're going to love working with MailerLite.
You're given a guided tour, shown how automation features work, given tips, and best practices.
When you get started there are notifications for steps that need your attention, too.
If you need help, just chat with a support rep by clicking on the live chat button in the bottom right corner.
You always have easy access to the MailerLite team.
They even make navigation around the interface easy as can be. Everything is where you'd expect it to be. For example, your dashboard, subscriber list, and forms are all right there in the simple-to-read navigation bar.
You won't have any difficulty finding how to create landing pages or set up automations because nothing is hidden.
You can also optimize your images for your emails, forms, and landing pages too. This is made simple with the built-in image editor you can use. It has all your standard image crop, filters, and text overlay abilities.
Something we'd like to see MailerLite add to the entry-level plan is automation workflow templates to make it easier to get started with automations. It's the only thing we found missing for this category. But you do get instructions on what you can automate and insights on how to do it.
If for some reason you don't like the simplicity of MailerLite and need to cancel, they make it quite simple. Just like everything else.
Canceling is done entirely online, with no calls or weird surveys where a rep tries to offer you a new discounted rate to stay. It's like MailerLite understands that you want the same ease to cancel as you do when you sign up.
After cancelling a monthly plan, you'll get to finish out the rest of your billing cycle and you'll automatically be downgraded to the free plan. If you paid for the year, simply stop using it and you'll automatically be downgraded to the free plan at the end of the cycle you paid for.
Deliverability Safeguards: 3/5 – When you put a lot of time into crafting an email, your only concern usually is whether it will get read.
Deliverability safeguards help with this and much more.
MailerLite offers you clear guidance on authenticating your sender domain. This just means that the internet service provider of your subscriber will know that your email address and message can be trusted.
You can manage DKIM and SPF settings with MailerLite. These are explained in detail in our methodology section below.
Simply, DKIM is to protect your emails from being tampered with when sent, and your sender policy framework settings allow you to decide what happens if your email is tampered with. These two features improve the success rate for your emails to be read.
MailerLite also adds the option for you to have captchas on your signup forms. Captchas prevent bots from overrunning your email list by filling out forms on your website.
Some email clients won't accept your emails as well as others. When that happens you want to be able to know which ones are proving difficult in order to fix things.
MailerLite gives you the ability to sort data by email clients on your phone or desktop.
This means, after you send a campaign, you can see the top email clients from the campaign reports, sort through multiple campaigns, and compare email client data.
For example, if it's usually high for Yahoo and then suddenly drops by 5%, you may have ended up in the spam folder this time. This works great if you have multiple campaigns and can compare the email client data over time.
You can refer to our methodology section for a deeper dive into this feature if you want.
MailerLite checks those three key boxes, but they're missing other safeguards like checking for common misspellings and the ability to block specific domains from signing up on your forms.
There are eight email validation integrations you can use to verify and validate the emails on your list, but they only work after the fact. This means you can only block bad subscribers after they've already signed up; there is no way to proactively block bad domains.
Plus they don't stop incorrect email addresses from being entered on your forms in the first place.
MailerLite did not score perfectly for this section of testing. But it does give you three out of the five features we tested for.
Templates: 4.5/5 – When it comes to landing pages, emails, and forms, no one does better than MailerLite.
For the plan we tested, you can have up to five landing pages active at a time. MailerLite does have an add-on you can pay for (an additional $10 per month) that gives you unlimited landing pages.
There are 44 landing page templates to choose from. Some are single landing pages without additional navigation, while others resemble a website with links at the top. For the latter, you can choose to hide or show the header to visitors.
You can preview them before selection and they all come with demo content added. The drag-and-drop sections make it easy to make them your own.
Emails are just as enjoyable to create. You have a drag-and-drop editor or you can use straight HTML to create them if you're feeling saucy.
There are 76 templates and they cover a wide swath of different use cases. Newsletters, deals, product recommendations, blog updates, and much more are all easy to create with the editor.
One thing you should know now, these templates are only available on paid plans and not the free plan from MailerLite.
You can customize just about everything, test it on mobile, and even save it as a PDF to share with others on your team for a preview, then easily brainstorm a better approach if need be.
We found all the templates we tested were mobile friendly.
The email templates are modern and will make your emails pop when you add your content.
You can create embedded and popup forms, too.
For embeds you have three options—in-line default, horizontal, or card with an image—but no templates.
Popup forms have 24 templates. There are half or full screen popups and standard square box popups that display in the middle of the page.
Here are a few examples below:
The designs are clean, modern, and very professional looking. Every template is customizable.
You also can build your own popup forms. It's slightly different from the email and landing page builder because it has fewer content blocks.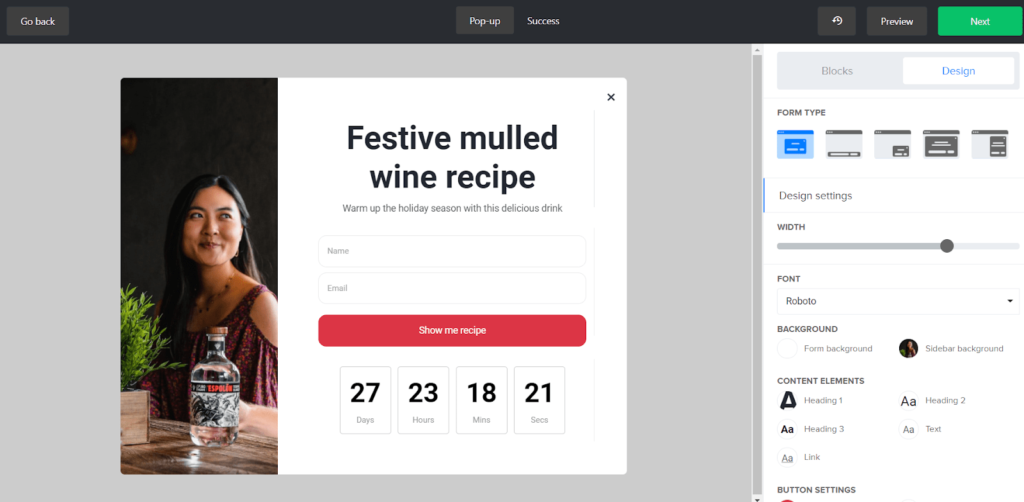 You can have special types of popups for promotions. Add a call to action to sign up for an event, follow you on social media, download your app, or take a survey, to name a few examples.
It's not technically a form (which is part of what we score this section on) but we felt it worth mentioning because it's a cool feature that the other tools on our list don't have.
You also get to flex your creative muscles if you want to build your own promotional popup form.
Tying every piece of your campaigns together is so intuitive with MailerLite. You get plenty of ways to easily grow your list with exciting templates, forms, and engagement, with zero design and technical background needed.
Marketing Automation: 4.5/5 – Usually you have to sacrifice some major features or quality when you get so many design options for so cheap. But MailerLite didn't get that memo.
They score very well for marketing automations.
First up are form follow ups. When someone signs up via one of your forms, you can set automatic emails that welcome each new subscriber.
MailerLite's workflow builder helps you set up basic automations and more complex flows that cover weeks or even months of touch points. All you have to do is set up behavior triggers.
A trigger is just a way of telling your email software how to respond when your subscribers perform an action.
If they open an email but didn't click on any links, have MailerLite send a reminder a day or two later. Did a subscriber click a specific link? If so, you can set different messages to send based on what they clicked on.
You can also utilize dynamic content which hides or adds parts of your emails based on who is receiving the message. That can entail displaying a specific image based on location or even using a different heading altogether.
Want to show a promotion for your in-person customers that visit you? No problem.
You have the power to set up whatever you want to make it easy for your subscribers to make smart and easy decisions.
MailerLite also allows for time zone personalization. Set up an email send and let the software handle timed delivery.
No more sending a 7 a.m. message on the east coast and annoying your west coast subscribers with a 4 a.m. notification.
Simply set the date and time of the day you want your message to arrive in everyone's inboxes and MailerLite will automatically do the rest, sending out your campaign at the right time.
Last, you can also resend unopened campaign emails to anyone who didn't open the email the first time and automatically send emails with comparable or related products to anyone who made a purchase or abandoned their cart.
Tracking and Analytics: 4/5 – No matter what sort of business you run, you are going to need to track and analyze your email campaign results.
MailerLite makes this as straightforward as possible. So, what features fall under tracking and analytics?
In email marketing, subject line testing is as common as Christmas presents in December. MailerLite makes it super simple to A/B test.
All you do is set up your campaign, set two subject lines, then select your test groups and choose how you want MailerLite to determine which performs better. That can be whichever gets more opens or clicks.
The same testing can be done for content just like subject lines.
You can also see how your subscribers are interacting with your emails with heatmaps and click maps.
Your successes and failures become clear based on where your readers click and hover, whether that's an image, a CTA button, link, or whatever.
When you want to look at geographical data, you can break that down by open rate by country.
The reporting is very interactive, meaning just hover your mouse over a country and see the numbers. Reporting is also color-coded, so it's easy to tell which regions are most engaged at glance.
You also have the ability to see your stats on your mobile device.
Look at how many opens occurred for any campaign. If most people open your emails on mobile, for example, you can focus more on mobile-friendly email design. It's very easy to make adjustments.
It's clear to see why MailerLite scored so well. They make getting started as simple as can be, they are the most affordable, and they offer the best automations, tracking, and analytics.
For just about any business type or size, MailerLite is a solid choice. You can learn easily how to run your very own email marketing campaigns and get tangible results with the lowest possible risk.
#3 – Omnisend — Best for Boosting Ecommerce with Shoppable Emails
Overall: 3.4/5
Omnisend is a must-have if you sell anything online. This software makes your life easier when you want to sell products from email, do SMS marketing, or create automated workflows specific to your online store.
Shopify store owners, in particular, swear by it.
Omnisend is going to help you or your marketing team broaden your reach through promotional emails to customers and new subscribers. Plus, it will help you discover insights on what products customers are viewing, so you can focus on what's working and know exactly what needs adjusting.
Even if you're not running an online store, Omnisend packs a lot of punch into its functionality, even with their free plan. So anyone that wants to level up their email marketing game can use Omnisend to reach their goals.
Let's see how Omnisend stacks up overall and how you can get started.
Price: 4/5
Ease of Use: 4.5/5
Deliverability Safeguards: 2/5
Templates: 3/5
Marketing Automation: 4.5/5
Tracking and Analytics: 2.5/5
Price: 4/5 – Omnisend makes it easy to get started with no commitment. Just like all other providers on this list, it offers a free plan. You get up to 500 emails per month, plus most of the functionality you get in the higher-tier, paid packages.
The free plan won't cost you anything if you stay within the plan limits. This makes getting started with Omnisend a truly no-commitment way to try out the services. We tested the free plan which includes up to 500 contacts and up to 250 contacts per month. You can also send up to 60 SMS messages for free.
You can pay for any additional SMS messages over your monthly limit by adding an SMS package to your plan. SMS packages start at $20 per month.
You're also allotted up to 20 segmented lists, so you can separate your subscribers based on products, campaigns, or other qualities.
There are two other Omnisend plans, Standard and Pro, that go up to as much as 500 contacts and many more segmented lists. Of course, those plans are paid plans and cost $16 and $59 per month, respectively. We did not test those plans.
Every provider on this list offers a free plan, but Omnisend's is pleasingly generous. In fact, you can try nearly every feature offered on it. The only thing excluded is advanced reporting, which you get on one of the paid plans.
One thing to note, though, is that Omnisend's branding is visible on emails with the free plan and you'll only get access to email customer support. But if you're just starting out and your email marketing needs are light, Omnisend's free plan is a great way to dive in.
Ease of Use: 4.5/5 – Even with no prior experience you can move about the software without difficulty.
Getting started is extremely simple—just enter your name, email, and the password you want to use.
After that, you'll get an email to verify your account. Then you're off to connect your store and input some basic information about your ecommerce operation. Omnisend connects with over a dozen ecommerce providers, including Shopify, WooCommerce, BigCommerce, and Zen Cart.
You'll also be asked to add information about your online store and the platform that hosts it.
You'll then be prompted to connect your store. You'll need to add the Omnisend plugin to your website to make the connection successful.
As you get started using Omnisend, new features you haven't used yet can be explored with embedded video tutorials. There are also links to examples and full explanations of the features available.
Omnisend goes one step further with making things easy. You can use an interactive example walkthrough that lets you test out a feature while a pop-up video plays in the corner of your screen so you can follow along with the tutorial as you go.
Your dashboard, campaigns, automations, forms, audience details, and reports all are simple to locate. The interface is not cluttered at all. It's very clear where everything lives.
Workflow automations are made to be used quickly with little difficulty, too.
You can use 23 workflow templates as a starting point.
What's super convenient is being able to edit images within Omnisend. You don't have to go to a third-party tool to edit your images before adding them to your emails.
If for any reason you find Omnisend harder to use than you thought, you're going to want to be able to cancel without a headache. Omnisend doesn't make this hard on you at all.
If you're on one of the paid plans, you can downgrade or cancel online. You can also freeze your account for up to one year if you want to save everything but just put your email marketing on pause.
Freezing your account requires a one-time fee of $50, but you won't have to pay the monthly subscription costs while your account is frozen.
What's cool about freezing your account is you can still use all the free features and then start right where you left off when you unfreeze your account.
Deliverability Safeguards: 2/5 – Unfortunately, Omnisend does not provide you with tons of safeguards. Out of the five subcategories we tested for they scored on just two relevant features.
You're able to sort data by email client, which lets you spot deliverability issues for email services like Gmail, Yahoo, and others. It also lets you see clicks and open rates over time for each client and device types.
Fortunately, Ominsend recently added instructions for authenticating your sending domain. That's one of the most important means of avoiding a spam label when sending emails.
Just pop into your store settings and find the option under Settings labeled Sender's Domains.
On the next screen, you'll be able to add your custom domain.
Once you enter that, Omnisend will generate both SPF and DKIM keys to add to your DNS settings. Take care of that on your name servers and you're all set.
This used to be something you had to pay Omnisend to be able to do, but now it's free and available to Omnisend users on any of their plans. That's a huge improvement in our book.
Omnisend makes a very good point in their instructions for this to slowly warm up your campaigns after setting up your domain. If you go full bore right after setting this up, you might get flagged and experience worse deliverability. Starting slow and gradually building up your email campaigns will let you get the best deliverability from doing this.
What's missing, however, also must be addressed.
You cannot have the software check for email misspellings, block specific domains, or utilize captchas on your sign-up forms. These safeguards for preventing email bounces (which can hurt your sending reputation) and bots from flooding your list are important, but completely missing from Omnisend.
Templates: 3/5 – Omnisend scores in the middle for templates. Not the worst, not the best.
For landing pages, you have five templates to choose from. You can't add additional sections to the templates, though.
The builder is a bit limiting. You can add more fields to a form, change the colors, fonts, and images, plus edit the copy.
But you're not able to create long form landing pages. That's a fairly big limitation. It's literally just the section with the form and that's it, with no option to add any additional sections other than what's shown in the template.
Using landing pages may not be as important for some ecommerce stores, but it would still be nice to have the option to create custom ones rather than being forced into a rigid template.
For email templates, the campaign builder will walk you through the entire setup process. It is easy to use and very intuitive.
You can choose from 25 stylish templates, and can sort through them by email type to find the right one for your needs.
What Omnisend excels at here is being able to let you add products from your online store into emails and pull all of the information with one click.
These are called shoppable emails and it's something none of the providers make easy to do except for Omnisend.
When it comes to building forms, you have a huge variety of templates to choose from. You can build forms with images or without, so depending on your needs you'll find one to suit.
All of the templates are professionally done, and the builder is identical in design and functionality as the landing page and email builder. That familiarity will let you breeze through form creation.
Below is a screenshot of the form builder, and you can see how easy it is to customize your form.
You can add custom items to your forms, like a logo, images, colors, fonts, and copy.
Better still, advanced features help you add additional fields to your form, change the popup's position on your webpage, and display them in multiple languages.
Marketing Automation: 4.5/5 – Marketing automation is where Omnisend soars. It makes sense, too—they designed the software for ecommerce platforms. And getting people to your shopping cart with the smallest amount of effort possible is key.
Omnisend came in second place overall in this category, just behind MailerLite.
It's so simple to set automated follow-up emails. Omnisend includes a single welcome email to send after a form is filled out, and the trigger is already set when you add a form to your site.
Other forms come with sequences that include three emails.
You can also add a condition to send different emails for different forms or have the same welcome email or sequence for all the forms you use.
Marketing for sales and list building for ecommerce has never been so simple and direct.
The workflow builder is drag-and-drop, making it easy to set up automations. And if you make a mistake, there are alerts to help you if something isn't set up correctly.
Add email, SMS, and push notification actions based on different triggers and events throughout the workflow. Add as many steps as you'd like; make things as simple or as complex as you want.
When you'd like, get really granular and hyper-targeted by splitting your subscribers' activity into money-making workflows. Use triggers within different segmented lists so all of your workflows can be unique, just like your subscribers.
Once you've added an email into a workflow, click Edit Content to open up the email builder and each content block within that email will have a new option called "conditions." This lets you use dynamic content in your campaigns.
In the screenshot below, you see how you can choose whether all subscribers or certain subscribers see a block of copy.
You can set up custom rules based on subscriber attributes like location, postal code, company, or a custom field you create.
And, with the option to personalize your message by time zone, you can schedule campaigns to be seen in your subscribers' inboxes with absolute precision.
You might be wondering how you're going to set up different automations if you've never done this before. Don't worry, it's a piece of cake.
There are lots of templates to choose from to help speed up the process and show you how it works.
Your marketing ability and skills somehow connect together at your level of knowledge when using Omnisend.
We found setting up and playing with the features for marketing automation enjoyable and incredibly easy to do.
Most importantly, it just works.
This is the biggest point we want to make, because dealing with this usually makes you feel like throwing your computer across the room. But not with Omnisend.
Tracking and Analytics: 2.5/5 – Omnisend does a great job boosting sales and engagement for your online store, that's clear.
But the tracking and analytics features offered don't quite match some other providers we tested.
Testing your email subject lines and content is the best way to increase open rates. Omnisend allows for easy A/B testing.
Add A/B testing into one-off campaigns or inside of more elaborate workflows. It's up to you.
When you are ready to test, just set the percentage of your list you want to get one or the other, determine which metric should determine a winner, and wait for the results.
You can only run A/B tests with the classic editor for now, but we hope this functionality will come to the new editor when it's out of beta.
Omnisend also lets you see how your emails are being received on both mobile and desktop devices.
This data is available for each campaign you've sent, but it's not available as a metric over time unless you upgrade. The workaround for that is tracking it manually or setting up a Zapier integration to automatically pull it for you.
Heatmaps and click maps are only available on higher tiers of Omnisend, unfortunately. Also missing is the ability to look at clicks and open rates based on recipients' locations, letting you see where the most engaged subscribers live.
With that said, you get ecommerce-specific stats not showcased by other providers. Get data on leads you're about to lose, leads that are at risk, leads that need nurturing, and leads with high potential. This can make your sales approach more focused.
Omnisend was built and designed for ecommerce marketing and list building. Not only does the software help you engage with your customers, you can generate sales from shoppable emails. These let you pull products from your store and drop them into your emails with one click, making the shopping experience a no-brainer for your audience.
Anyone will benefit from Omnisend's robust functionality, but if you run an online store, Omnisend is an excellent choice. Don't use an email marketing service where you have to fit your store's workflow into their software design. Instead, use Omnisend, a provider that caters to you and has tailored their entire existence to making online stores successful.
#4 – AWeber — Best for Agencies with Advanced Marketing Campaigns
Overall: 3.3/5
If you manage multiple lists, brands, or products, your agency works under a different umbrella of productivity needs.
You need a provider that can handle your many requests and your large book with accuracy. AWeber is for you if you're looking to maximize on growth and finally corner your market.
Let's find out why AWeber is trusted by so many and is perfect for agencies with advanced marketing campaigns.
Price: 4/5
Ease of Use: 3/5
Deliverability Safeguards: 2.5/5
Templates: 3.3/5
Marketing Automation: 4/5
Tracking and Analytics: 3/5
Price: 4/5 – AWeber is used by big-name brands and up-and-coming companies alike in both B2B and B2C markets.
So it's amazing how great of a deal on email marketing services that you can get from AWeber.
It starts at $16.15 per month for an annual plan, making it cost a total of $193.80 per year. That's $59.50 lower than the average price of $253.30 across our list of tested products.
With that entry-level plan you get unlimited users, so onboarding your whole team can be done at no extra cost.
You also get up to 500 contacts and no limit on the amount of emails you can send each month.
That's fantastic because you can build your relationship with your audience by staying consistent with an email or more per day, all without the fear of hitting your limit on emails for the month.
They have other plans that increase your number of contacts allowed. Of course, the price correspondingly increases.
Besides unlimited monthly emails, all plans include unlimited lists, users, landing pages, sign up forms, and push notifications.
Even from the lowest plan you have access to limitless potential. And, as an advanced user or agency, playing around and testing different landing pages and segmented lists is crucial to success.
What can you do if you just want to try AWeber first?
You can start with a pretty decent free plan. It includes the same number of contacts allowed, but you are limited to 3,000 monthly emails and also can't bring onboard an unlimited number of users. Just one user is allowed and AWeber's branding is on everything you create.
You do get unlimited landing pages, forms, basic automations, templates, the ability to create dynamic content, and build basic segmenting of your lists on the free plan, though.
We found it to be a generous free plan if you're just getting started.
Ease of Use: 3/5 – Starting with AWeber isn't too hard. It begins just like most email marketing service providers—enter your personal information and answer questions about you and what you want to accomplish.
After that, the software does its best to guide you in the right direction. AWeber does a solid job here. They won't blow you away with their hand holding, but you're not left to go it completely alone either.
You'll find a helpful getting started checklist that covers importing subscribers, connecting Stripe to accept payments, setting up a welcome email, creating a landing page, and selling a product.
There are also explanations which link to multiple written guides and video tutorials for features, plus prebuilt automations that walk you through how they work.
One unique benefit we found is the short five-day email series to help you get comfortable with AWeber's tools. Over a working week you are given insights on how to improve your relationship with the software.
You'll get the hang of things like creating a logo, setting up branded welcome messages, and building a landing page.
The automation templates and a great help, too. When you set up an automation workflow (AWeber calls them campaigns), there are four prebuilt options to choose from.
If you need more inspiration there's a link to the marketplace, where you can choose from 13 other automation templates.
AWeber does fall short in a few areas we tested for in this category. They don't have a built-in image editor like many other providers.
And navigating the software isn't the simplest thing, but you get the hang of it over time. Some of the terminology can be confusing and there are so many options in the menu it can be a bit overwhelming at first.
Like with anything else, if you want to properly wield AWeber you will need to play with it for a bit.
If you find it's too advanced or not to your liking, you can easily cancel your account at any time. Just navigate to My Account, click on Billing, and then click on Close My Account.
They don't hide it or make it hard for you. They understand this software isn't for everyone. But if you are willing to learn, your email marketing rewards will be plenty.
Deliverability Safeguards: 2.5/5 – Sending emails that get into your subscribers' inboxes is all that matters in email marketing. The prettiest landing pages and email sequences will mean nothing if your emails don't hit the mark.
AWeber makes the instructions for authenticating your domain super simple.
When you add a new email address as a sender, you'll first have to verify the email by clicking a link in an email from AWeber.
There will be a button right next to your new email address that opens up instructions on how to set up your domain name server (DNS) settings for your domain keys identified mail (DKIM) authentication.
The single policy framework (SPF), which gives you the control to decide what happens to an email if it is intercepted and altered in some way, has no instructions from AWeber. We found that surprising, but AWeber has this safeguard in place already so you don't need to add this to your DNS records.
Another cool feature is blocking specific domains from joining your list, which will also remove any contacts from your list using that domain name.
You can see below another screenshot after you click on Block Subscribers.
If you want to also prevent bots from wreaking havoc on your web forms, AWeber gives you the ability to add captchas. But you can't toggle it on and off for a form. Once you add it, it's always enabled.
One safeguard that was missing which shocked us was the ability to sort opens or delivery statistics by email client to spot possibile deliverability issues.
AWeber is also lacking a tool to check for email misspellings, meaning they won't correct or search if an email is not accurate, letting a fake email pass through to your list. There are some integrations that will tell you which emails are valid and which are not, but they don't come free.
Templates: 3.3/5 – The templates offered by AWeber are good because you get so many options for landing pages, emails, and forms.
The not-so-good part is that some of them are outdated and could use a sprinkle of modern design.
There are 46 landing page templates you can choose from, most of which are really well designed.
You can preview, pull in demo content, and remove sections as you see fit. The landing pages are very customizable.
For the emails, you can set a standard email template if you'd like that applies to all emails until you choose a different template.
A cool feature is that you can use your website (or any website) to have AWeber create a set of matching email templates. You can save them as reusable templates.
If you don't want to go that route, choose from 198 prebuilt templates with numerous color options for each one. Once again, some of them look really good while others look really bad and dated to us.
Here's a look at some of the more outdated email templates we're talking about.
But considering you have 198 different ones to choose from, we're sure you can find at least one that fits your aesthetic.
Here's a look at some we thought featured better, more modern design.
The forms, though, don't live up to the high standard AWeber is known for with other parts of their email software.
You do have access to hundreds of form templates, but it was hard for us to nail down an exact number because they're displayed really poorly.
See below what we mean:
Depending on the type of form templates you're looking at, the builder will break and the whole page will stretch out with your form somewhere off to the side where you can't see it.
This bug seals the deal—the form builder is like chewing dry coffee. It makes your face move in directions only possible by such a terrible experience. It's hard to use, really glitchy, and overall very clunky.
Based on our experience, you're probably better off building forms with a different tool and connecting them to AWeber instead.
Marketing Automation: 4/5 – Overall, AWeber is excellent at more advanced automations, list segmenting, and pinpoint personalization.
We feel no one is better for giving agencies and email marketing specialists the ability to manage multiple campaigns or brands in one place, all for one monthly price.
AWeber makes advanced automations affordable.
Let's start with form follow ups. You can set up multi-email or single email automations that trigger after someone fills out a form by using the campaigns feature in AWeber.
The workflow builder can set up different types of email sequences.
Start from scratch or use one of the prebuilt automation templates to help you get started. Long-term sales funnels can become evergreen with the right workflow automations.
Newsletters used to be hard and time-consuming to put together. But you can just use AWeber's blog broadcast tool to set up an automated newsletter that pulls in your newest blog posts and sends them to your subscribers on autopilot.
The workflow builder can also use integrations to add other tools like SMS, social media, your CRM, and project management platforms into your workflows. If you're selling or promoting webinars and courses, it can help with those, too.
Use tags for specific behavior triggers and apply them during email sequences and campaigns. Also, you can add dynamic content that can change what's shown depending on the subscriber's location or other details.
Logic tags, which are the means you use for adding dynamic content, can be used anywhere in the email editor (including the subject line).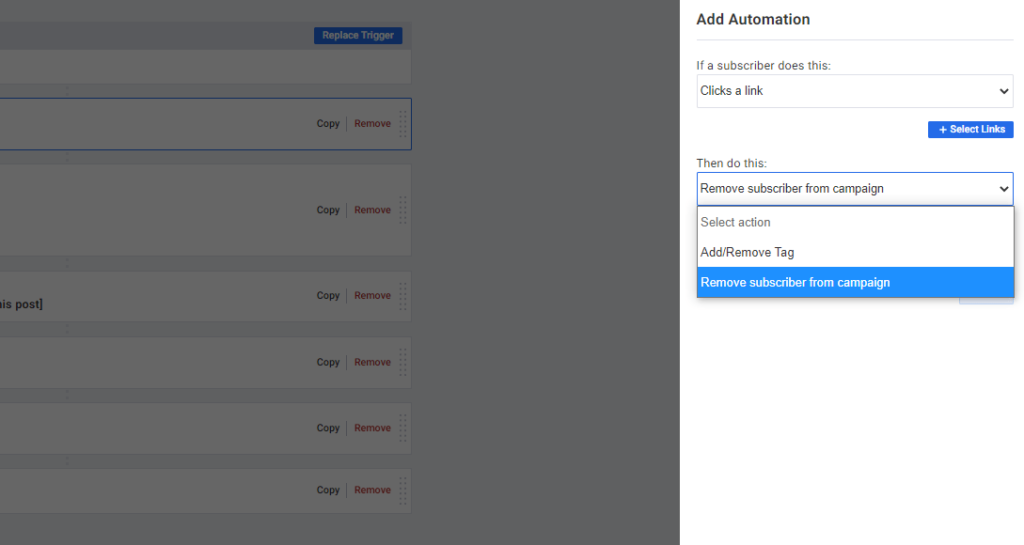 .
Tracking and Analytics: 3/5 – The tracking and analytical features we tested for AWeber give you the basic features you need for reviewing and testing your email marketing campaigns.
First we'll talk about what's lacking then get into the advantages AWeber has over all the other providers.
We found there are no click map features that show you where your subscribers click most often in your emails. You also can't look at opens by device to see how many of your subscribers open your emails on mobile or desktop, in order to tailor your approach.
It's something that can help you in the early stages when creating your campaigns, but over time—after getting to know your audience—you will find what devices your subscribers prefer best.
You can also just ask them in a survey. Give away a freebie for participation and, boom, you know who prefers what in a few short days.
Now for the fun stuff. AWeber offers the best split testing out of every provider on this list. It's very easy to find this feature and there are super clear instructions on how to use it.
What's great is that AWeber doesn't limit you to binary A/B testing. Define split segments for two or three subject lines or content versions, then see which version lands best with your list.
You can also schedule each email at a different time to test different sending times, too.
And with AWeber's geographic reports, testing different times becomes a powerful weapon in your marketing arsenal.
You're able to review reports that let you see the country, state, or city of your subscribers. See who opens your messages based on their location and when they're most apt to do so.
In brief, AWeber is magic for large or small agencies with complex marketing campaigns that need extra attention. This email marketing software will let you work with multiple product lines, brands, and campaigns all in one location.
It's not the easiest, but the feature set is worth the learning curve. The price is right and you can use automations that make your life so much easier as a marketing professional.
If you're an agency that works heavily in B2B or B2C emailing, AWeber will keep you locked in on what's important while making your daily efforts a breeze to manage.
Overall: 2.9/5
Brevo (formerly Sendinblue) is the only provider that does not charge you for contacts. There is no cap on the number of contacts you can import or add to your list.
They are the only email marketing service provider that gives you unlimited contacts no matter your plan. This is a major standout benefit because it goes against the industry standard.
What else does Brevo do well? Let's dive into our review so you can see for yourself.
Price: 3/5
Ease of Use: 4/5
Deliverability Safeguards: 2/5
Templates: 3.7/5
Marketing Automation: 4/5
Tracking and Analytics: 0/5
Price: 3/5 – You might be thinking the pricing would be outrageous because you get to keep a blank check of contacts. But you'd be wrong.
The entry-level plan starts at $22 per month, coming to $264 for one annual payment. The other option is paying $25 per month—$300 for the year—if you want to be billed monthly and avoid the lump sum payment.
Both the annual plan and monthly plan are above the list-wide average price of $253.30, but keep in mind the cheaper options don't just give you unlimited contacts on their entry-level plans.
Beyond unlimited contacts, you're allotted up to 20,000 monthly emails (but no daily sending limit), with workflows being limited to 2,000 contacts. You can also opt for more monthly emails on the same plan by adjusting the slider on Brevo's plan selection page.
Upgrading plans above the entry-level one will give you more monthly emails, plus add tools for landing pages and email split testing, among other features.
There is a pay-as-you-go plan for emails and SMS messaging, too. Just enter how many monthly emails or texts you want to send and Brevo will give you a price.
And if you want to try things out for free, Brevo offers a free plan that includes unlimited contacts and up to 300 emails per day. It has all the same features as the plan we reviewed, except it has the daily sending limit.
It's pretty generous with lots of room to grow if you have a smaller list, or even a large list that you don't email very often.
Ease of Use: 4/5 – Brevo is very easy on new users, with little complexity to onboarding and virtually no learning curve whatsoever.
The interface is lacking the hand-holding that other providers give you, as well as features that educate you on the software as you use it, like embedded tutorials. But, fortunately, the interface and simplicity of the platform don't make this as painful as it would be with other email marketing providers.
Navigating the software is simple. You never have to guess where features are located.
There are eight prebuilt workflows available so you have help setting up automations for your campaigns.
Photo editing is also available in the software so you can easily make adjustments to your emails' images. You also have access to stock photos from Unsplash which you can use with zero liability.
Canceling your Brevo plan is simple, if you decide that's what you want to do.
Just go to your billing page and click Cancel. Simple as that. If you don't like your experience on Brevo or find something too hard to manage compared to another provider, canceling easily is key.
Deliverability Safeguards: 2/5 – When it comes to making sure your emails safely reach inboxes without any tampering from unknown parties, Brevo does very well.
Setting up your DKIM, DMARC, and SPF is easy, adding a level of security to sending emails from your domain, so all internet service providers will trust them.
What we like is that it's very clear to see if things have been set up correctly or if you need to go back to fix something.
And before you get nervous about whether you can do it yourself, don't be. It's so easy and straightforward in Brevo that even if you've never heard of domain key identified mail you will have no problem setting it up.
Another deliverability safeguard is being able to prevent bots from filling out forms on your landing pages and website. Captcha forms can be added in a few steps and removed when you are testing emails, so once you're all set you can just enable it again.
If you have unengaged subscribers or anyone that marks you as spam, they will be blacklisted and removed automatically. This is put in place to help you keep your list clean and give you some help removing people not active in your list.
If you are looking for the control to block domains from signing up to your list in the first place, that's unfortunately not available in Brevo's entry-level plan. Also missing is a built-in checker for misspelled emails. Both can be useful if you notice you're getting spammed.
If you want tools for these efforts, there are integrations you can add to help with that. It's just not as convenient as having them baked into the Brevo plan we tested.
Templates: 3.7/5 – Brevo does not include landing pages on the entry-level plan, which definitely came as a surprise to us. You have to upgrade to the next tier, which starts at $65 per month.
This might be a deal breaker for you, so we want you to know that right away.
If you don't need landing pages, email and form templates are available. As you can see from the scoring, they do quite a good job in those regards.
There are 42 email templates to choose from. Most of them look excellent, although a few are slightly dated. But there are tons of different design differences from one template to the next, which is nice.
There are three premade layouts that look awesome out of the box. You can customize just about everything from the spacing and style of individual elements to global styles as well.
The builder offers plenty of options to make any kind of layout you want if the three layouts are not suitable for you or you need something more complex.
When it comes to forms, you don't have any templates but the builder is better than most on this list. It allows you to build beautiful forms like a maestro, with no experience required.
Brevo makes things simple by not allowing you to create columns. Content blocks can only be stacked on top or below of one another, making your form fast and easy to create.
You're not bogged down with a billion options you will waste time on trying to figure out. Simply add a title, text, image, and dividers and you'll be set.
You do have a wide array of options for form fields. Add anything from standard contact attributes to radio buttons and whatever custom fields you want to set up.
There are also GDPR fields, an opt-in checkbox, and captcha capability. If you want to add a popup form or embed a form, Brevo will provide the code you need to add it to your site.
Marketing Automation: 4/5 – This section is usually what marketing professionals love most. If you're a beginner, you will soon find out why.
Automations can make your business flush with new customers because of how setting up rules and behaviors reduces your manual work.
Brevo is almost perfect at automatically taking the guesswork out of what you want to happen when your visitors and email subscribers take action or not.
You probably already know that when someone fills out a form, a welcome email to confirm the subscription follows shortly after. You can set this up and customize it easily with a template in Brevo.
You can also automate different messages for the different types of lists you have.
But what if you want to stand out from the rest of the people in your industry sending welcome emails? How do you do that?
With Brevo you can use the workflow builder to take different actions. Ask for new subscribers' phone numbers and send an SMS message when a form is filled out instead. You can send a notification or both an email and text.
You can also get really complicated, because you have so many options and conditions. These behavioral triggers can be used in so many ways.
Once someone purchases from you, send a coupon for the next purchase, send them to a thank you page with a video welcoming them as a customer, and so much more.
And, get this—you can tailor your content based on what's done also. Use the Brevo drag-and-drop builder to craft content that's ultra specific and targeted.
For example, show a promotion for in-store shopping only to contacts located in your city or show a picture of a dog to subscribers who have a custom field that equals "dog owner" and show a picture of a cat to subscribers who have a custom field that equals "cat owner".
Even show a special offer for contacts who've purchased from you before but hide it for anyone who hasn't purchased from you yet.
There are limitless possibilities to make each subscriber feel important and appreciated, and the best part about all of this is it's so easy to set up.
The only thing missing is time zone personalization, which isn't the end of the world. You will just need to be a bit more creative if you know you have subscribers in different countries or disparate time zones.
Just make sure you send emails with killer subject lines that will correspond with times they can see your message before it's suffocated by other messages received after yours.
Tracking and Analytics: 0/5 – Yes, Brevo did not score any points in this category, which is too bad.
You're limited to super basic stats and analytics unless you're willing to pay more. That's a bummer because other tools cost less and come with some or all of these advanced analytics.
But you're not completely lost if you want to move forward with choosing Brevo as your primary email marketing service provider.
You can look at basic open and click data, but you won't be able to see a heat map. So knowing exactly what CTA buttons or links are your best performers will have to be tested the old-fashioned way—make a change to one thing and wait for an improvement.
Geographical reports tell you how your emails perform based on where your subscribers are located, but that's missing too.
This feature usually includes reporting on the devices your subscribers prefer, too. A report like this can help you see if more of your subscribers prefer reading your content on mobile; important if you want to tailor your content for mobile instead of desktop.
Again, not the end of the world. An easy workaround is to send a quick survey.
Split testing of any type is excluded from the entry-level plan. So, like we mentioned a few paragraphs earlier, you'll need to test your subject lines and content blocks manually instead.
The good news is that all of these features are available if you purchase the Lite+ add-on for an additional $12 per month, or if you upgrade to the next tier of Brevo which starts at $65 per month.
Despite its lack of analytics on the entry-level plan, Brevo is an incredible email marketing solution in so many ways.
First, it saves you hundreds of dollars each year because you have unlimited contacts at no extra charge. Can you imagine how much it would cost you to have, say, 50,000 contacts with another provider?
Next, the easily applied automations save you a ton of time but also give you so many options for complex workflows that make your email marketing campaigns specific yet practical.
And don't forget about the ample array of well-designed email and form templates and styles.
If you are looking for an easy to use email marketing service that is generous with contacts and helpful tools, try Brevo today.
#6 – HubSpot — Best for Merging Your CRM with Email Marketing
Overall: 2.3/5
Keep ignoring the power of a CRM mixed with email marketing and you'll get left behind.
It's true, you can double or even triple your sales and engagement by incorporating the details of the relationships you build with your customers over time into your email efforts.
The world-class CRM of HubSpot elevates email marketing to a level of sophistication that's hard to ignore.
With that said, HubSpot doesn't focus on email marketing as heavily as the others on this list. But the CRM power they have established combined with functional email marketing automations and deliverability helps them hold their own in this arena.
Let's look at the facts.
Price: 1/5
Ease of Use: 2/5
Deliverability Safeguards: 4/5
Templates: 3.4/5
Marketing Automation: 1.5/5
Tracking and Analytics: 2/5
Price: 1/5 – Pricing is the biggest area our research shows you pay attention to and HubSpot's email marketing service is the most expensive on our list.
If you want the ultimate solution for including contact insights in email marketing and a Chrome extension that brings the basic CRM functionality in your inbox, you have to pay the price for it.
That's not a crime. But if you're looking for the most affordable way to get started, HubSpot isn't the email marketing service for you.
The starter plan is $45 per month if you pay upfront annually or $50 per month on a month-to-month arrangement.
So, you're looking at either $540 or $600 for a year of HubSpot email marketing.
Pricing is per user, too, so this gets exponentially more expensive if you need multiple users. However, you can have unlimited users on the free plan of marketing tools in conjunction with your paid users, but the free users won't have access to the paid features.
That free plan is limited to 2,000 monthly emails, with HubSpot's branding on everything you create, from forms and landing pages to emails.
The entry-level paid plan is good for up to 1,000 contacts and you can send up to 5,000 emails per month.
What's unique is you can have a combo of marketing and non marketing contacts on the same plan, so you can actually have up to 15 million contacts total if you are not marketing to all of them.
That number is a bit staggering to see, but it's true.
Ease of Use: 2/5 – HubSpot has one of the best interfaces for beginners. It explains every single feature, has interactive walkthroughs, and really does an excellent job at teaching you how to use the software over time.
There's a very detailed getting started checklist that's better than all the other checklists of providers we tested. It checks tasks off as you go and covers all the basic settings you need to configure to get started.
Navigating the software after first getting started is where things get slippery. It's complex until you get the hang of it because there are a ton of features that have nothing to do with marketing. It's a CRM first, remember, and a marketing tool second.
Because of that, all of the marketing features are crammed into one drop-down navigation link, which can be overwhelming when looking for things.
Most of the marketing features are under the Marketing tab. But as you start looking for things, you'll soon discover there are some key features that aren't located there, which can get really confusing when you're trying to remember where everything lives in the platform.
Not a deal breaker. It's just annoying if you like clean, simple organization.
If you want to edit photos for your emails, you can use the built-in photo editor. It's limited but still helpful.
As you can see above, you have to edit images from the file library. You can't adjust the size or crop images when you're adding them in the email creator, which creates an extra step.
The limited editing options and not being able to edit images from the email builder makes this feature lackluster and we'd like to see it improved in the future.
If you decide to part ways with HubSpot, canceling is easy. You just have to unassign your paid users, which can be done in your Subscriptions tab.
For annual accounts, this will shut off auto-renewal and you'll continue to have access until the end of the cycle you paid for. If you're on a monthly plan, you'll have access until the end of the month.
Once your subscription ends you'll be dropped to the free plan and will lose access to paid features.
Deliverability Safeguards: 4/5 – It can be hard to keep your email list clean and free from spammers, fake email accounts, and random domains filling out forms, which fills your contact list with bogus users that don't add any rewards for your efforts.
HubSpot stops this cold with their deliverability safeguard features, making every email on your list earn its keep.
They are the only option on our list that has basic form validation built into all forms, so you don't have to use an integration or set it up yourself.
HubSpot does a good job of looking at the structure of all emails and catching many common email misspellings to help keep invalid emails from joining your list. They even ensure the email address isn't blocked on a global level.
More importantly, they offer security features for keeping your emails from getting intercepted and manipulated in a way you don't want before reaching its destination. You do this with DKIM, DMARC, and SPF records.
The only loose end is that you're missing clear instructions on how to authenticate your domain. So, you'll have to do some Google searching.
Another included feature is blocking domains entirely. If you notice a certain domain is visiting your forms too often and you are a bit suspicious of them, just block them.
You can block business emails, too, so you ensure signups are only able to add personal email addresses.
Bots love crawling all over the internet and spamming websites by filling out forms. Now you can keep that at a distance with captchas included in your forms.
You're free to turn it on and off at will. That's nice because, when you are testing forms, you don't have any trouble making sure it works as intended.
If you like looking at opens by email client and clicks by browser type, this stat is available in the performance stats for bulk emails you've sent.
This feature also shows what percentage of those opens and link clicks happen on mobile devices. When you have this data, it gives you insights about your audience and if mobile-first content should be a focal point for your business.
Templates: 3.4/5 – Landing pages can be very important, depending on your business model. If you use them heavily, you'll love to hear that HubSpot doesn't have one single landing page template we didn't like.
All 18 of them are super modern and professional looking. You also can choose between creating informational landing pages with call to action buttons or form-focused CTAs.
Each template is highly customizable with lots of content blocks you can add.
There aren't any premade content blocks, so you'll have to build layouts on your own. But it's easy to add columns and drag and drop content into them.
It's virtually dummy-proof. So, if you're shaking your head right now saying, "Nope, not me," take a breath—you can do it, too.
For emails, the 27 templates available are a bit plain, which surprised us since the landing pages are top-tier.
There are no premade blocks again, so you'll be doing some building on your own when you add your content.
The builder is limited in comparison to some others on our list. But you don't have too many options to overwhelm you.
And just because it's limited doesn't mean you can't get creative. You can make emails have one, two, or three-column layouts, something no other email builders on this list can do.
What else can you add to your emails? Images, text, buttons, dividers, social buttons, video, and custom HTML are all possible.
The builder gets the job done despite its limitations. It might be exactly what you need when starting out.
The forms don't have any templates, so you will need to build each one from scratch. The only styling options available are changing the borders, adding rounded corners, changing the shape of the submit button, and selecting fonts and basic colors.
With that said, the form builder is super easy to use and you can add almost a hundred different fields. Even create your own fields to learn more about your contacts when they sign up.
You can add an image, a heading, or text but you can't place them next to form fields—only on top or below the form.
Overall, forms will look good but like the emails, there's very limited customization.
Marketing Automation: 1.5/5 – Marketing is all about knowing what your customers want. So being able to see all email replies within HubSpot automatically gives your team a huge advantage over the competition that's not using CRM benefits in their email marketing.
Most of the other tools don't have this.
You also have very granular list segmenting capabilities with HubSpot, and can segment lists by subscriber behavior.
HubSpot makes it really easy to slice and dice your list in whatever way you'd like. Using subscriber behaviors to segment your list is a great way to group highly engaged subscribers together.
You can create active lists that automatically update as subscribers interact with your website and emails. Or, create a segment of subscribers who aren't interacting with you and try to re-engage them another way.
One thing the entry-level plan does not let you add is automatic workflows, because there is no workflow builder on the base plan. You will need to upgrade if you want more advanced automations.
You do get form follow-up email automations, though. These let you send welcome emails after a new sign up and add up to three emails in a sequence that is triggered when someone fills out a form.
The follow up sequence is limited, but at least you can set up a bare bones email sequence to warm up new additions to your list.
Tracking and Analytics: 2/5 – HubSpot's click maps make it easy to see how your subscribers interact with your emails.
After you send a campaign, you'll be able to look at a click map that shows the percentage of clicks on different links in your emails.
It gives you a better understanding of what types of things draw your audience's attention and encourage them to take action. Now you'll know with certainty if they click mostly on images, buttons, text links, or whatever.
Once you know what they tend to click on, you can make sure your most important links are in the same format in future messages.
Device statistics make it effortless to tell whether people prefer reading your emails on mobile or desktop. That way, you can design your emails to match their preferences.
Have you ever wondered if people actually read your emails?
Find out with HubSpot's readability stat. It tells you how long people spent reading your emails, which will give you insight into whether people are actually taking in all your content or just skimming messages.
Split testing and geographic reporting is missing on HubSpot's entry-level plan, though.You can upgrade to the next tier for those features, but keep in mind how expensive that can get.
In the end, it all boils down to being able to effectively understand your subscribers on a deeper level. Having HubSpot's CRM features seamlessly integrate with your email marketing makes it a dynamic provider and a great choice if you want to really meet your subscribers on their level.
Methodology For Choosing The Best Email Marketing Service
Email marketing software lets you stuff your pockets with cash by sending effective marketing emails. The software also helps you stay in compliance with strict regulations that email service providers have to follow.
All so you can reach leads and customers every day in their inboxes.
It works for ecommerce, career coaching, marketing agencies, and any other industry that wants to double or triple revenue with each marketing dollar spent.
When you begin email marketing, knowing which providers give you the best bang for your buck can make all the difference between a successful campaign or not.
So, our detailed research that we used to create this article will be helpful for you.
The six categories we tested and researched are weighted on a scale. Each has a percentage of importance and combines to create the overall score for each provider on this list.
Price (20%)
Ease of Use (20%)
Deliverability Safeguards (15%)
Templates (15%)
Marketing Automation (15%)
Tracking and Analytics (15%)
Users with lists in the tens of thousands and small businesses with zero technical skill and smaller lists all want results from day one.
The same goes for you, right?
This scale quickly shows you each area that's critical to getting started with email marketing services. By following this guide, you won't waste any time learning about something you won't need.
We started by signing up for every paid entry-level plan and describing how simple or hard things are for you to start with. We had our own list of contacts that we imported into each tool.
Then, to see if the mail server IP address assigned to us from each provider was blacklisted or on any watchlists, we created identical plain-text emails and sent them to the email testing address at mailgenius.com.
We figured you'd want to know if there's a high chance of your email ending up in the spam folder before you even consider spending your time on trying a free trial.
As our research continued, we set up demo campaigns, used each provider's templates, then sent emails to our contact list we mentioned above.
We saw firsthand how things were delivered and how they looked. It's all explained in each review.
Email automations, tracking and analysis, and deliverability safeguards are also explained in detail below and in every review above.
Most importantly, we dissected the pricing of each provider. We begin with what each plan costs you over a year and talk about different pricing structures, too.
In fact, that's the first category we discuss. Let's get into it so you can see all the details.
Pricing You Can Trust (20%)
Getting a good deal is what we all want. You probably remember vividly the last time you didn't get what you thought you were paying for.
That's why pricing is weighted the heaviest. It's a huge pain point and something that came up around every corner of our research process.
When we review pricing, we describe the structure for each provider. An example of this is how many emails you can send based on what you pay or how many contacts you can store.
We talk about whether you can or must pay monthly, quarterly, or annually. For consistency, we give you the yearly price for each entry-level plan so you know up front what your expenses will be, no matter what payment option you go with.
Are there free plans? Yes. All but one provider has a free plan. The one that doesn't offer a free tier gives you a 60-day trial, so you'll know by then if you like them or not.
We didn't not test the free plans, but you can start with one if you like what you find in the reviews above. This will give you a taste of working with them without risk.
The pricing scale we tested each provider with is below:
5 points for less than $175
4 points for $175 – $225
3 points for $225 – $275
2 points for $275 – $325
1 point for more than $325
This makes it very easy to recognize who offers the best pricing overall.
To go a step further, we also discuss areas that each email service provider excels in for the money you are spending. Do you get extra value because of unlimited monthly email sends or a limitless number of users?
The point is to give you a really clear view of the value you're going to receive, faster than you would by going from website to website doing your own research.
We wanted to make deciding what falls within your budget as easy as possible. But is everything else just as easy to follow?
This leads us right into our next category.
It's Always Easy When You Start Here (20%)
You shouldn't need a degree in software as a service to set up a marketing campaign. We agree.
The ease of use section is designed to easily show you exactly what we did to sign up and let you know how easy the interface is to navigate.
We explain every detail in each review, including screenshots showing you just how beginner-friendly the software is for you to use.
But what about other parts of getting started? The things beyond setting up your account?
For this, we lay out five distinct areas to make it even easier to spot your winner.
A beginner-friendly interface should have explanations about features before you use them, for example. Are there notifications showing you the steps in setup and list management that need your attention?
Similarly, we scored on provider interfaces sporting straightforward navigation. Is everything where you'd expect things to be?
Automation can be a complex thing to wrap your head around. But automation workflow templates help you get a grasp on how automating elements works while also speeding up the process of creating new automations.
We also looked and tested for a built-in image editor, because being able to edit or resize images on the fly is a major timesaver.
Finally, we want to make sure it's easy to cancel your service if you need to. Here at Crazy Egg, we feel it should be as easy to cancel as it was to sign up. Don't you agree?
Switching email marketing services is common. You might need something more advanced or aren't getting all of your needs met by a provider.
One point is awarded for each element a provider demonstrated during our testing.
All the tools on the list have a short getting-started checklist and are very similar in nature.
However, some are much better at teaching you how to use the tool over time—helping you get better at email marketing as you go.
It's up to the provider to deliver to you a simple way to begin email marketing that anyone—experienced or not—can manage.
Deliverability Is Not What You Think It Is (15%)
Did you know that many aspects of deliverability aren't on the email marketing provider? It's on the sender.
Deliverability is the payoff in email marketing. It's what makes dollars and cents. Without your email reaching the right inbox and being read by your ideal audience, you are burning dollars with a mini blow torch in your hand, while your emails sit in a folder buried in spam emails.
So we focused on the settings and safeguards that help you, the sender, create cleaner and more targeted email lists.
Better lists, with better engagement, will increase your sending reputation over time. Which in turn leads to better deliverability.
So how do we help you figure out which provider gives you the tools to maximize your sending power? We go over five features that increase your chances of reaching the inbox.
Clear instructions for authenticating the sender domain are an important first step. We talk about which providers let you set up DKIM, SPF, and DMARC records.
We talk about these in each review and what they do, but here's a simple definition of each:
DKIM – This acronym stands for Domain Keys Identified Mail, and it ensures your emails are not intercepted or messed with while traveling to your reader's inbox.
SPF – Sender Policy Framework is a term that means if mail comes from your domain but a different mail server, it's likely not actually you sending the message. So this security feature works to keep your domain off of blacklists and ensures nobody sends spam as you.
DMARC – This is Domain-based Message Authentication, Reporting, and Conformance. A mouthful, right? Now you know why we use an acronym. This record you add to your DNS (Domain name server) decides what happens if an email from your domain fails DKIM authentication. If you don't have a DMARC record set up, the receiving server will decide what happens to the email.
Aside from these features, we also tested for a couple helpful tools. Good providers offer a way to catch common email misspellings before you send and give you the ability to block specific domains from signing up.
Why would you want to do that?
Say you notice a lot of signups from a suspicious domain. You can block it entirely to stop that from continuing and polluting your list.
We also look at the ability to deploy form captchas to prevent bots from corrupting your site or list.
Last is the ability to sort data by email clients. Being able to look at clicks and opens by email client can give you a solid indication if something is wrong or what's working. You can see very quickly something is affecting your deliverability. Did your email end up in spam? Did you add a link that's now broken and creates a red flag for a particular email client like Yahoo?
This safeguard let's you figure it all out.
Being able to look at specified open and click rates for individual email clients magnifies very easily if you need to make adjustments to either be in compliance with email regulations, or that your subject line lacks the sock to the eyeballs needed to get the open.
Can you see how sorting data by email blasts your deliverability potential through the roof?
These safeguards are the glowing pieces of the puzzle you need to get your emails landing feet first into each recipient's inbox.
Can Templates Help You Build an Online Fortune? (15%)
If your emails are ugly, no one is going to want to read them. It won't keep a reader's attention no matter how compelling the content. Looking at a blob of text just won't do.
Templates are a huge piece of email marketing because they'll help you save time while also producing beautiful forms, emails, and landing pages without hiring a designer.
The beauty is you can create all of this media yourself in just a few minutes without any special skills or experience.
To score the providers for this section, we looked closely at all the templates each offers and pushed the drag-and-drop editors to their limits. We wanted to see how they work and how much you can do with them.
Then we used the following grading scales to rank both the templates and the builder.
For templates:
1 point if templates are non existent
2 points if there's a limited number of templates or most of them are awful
3 points if some of the templates are great and some of them aren't
4 points if most of the templates are great
5 points if just about every template is great
For the drag-and-drop builders:
1 point if the builder is hard to use
2 points if the builder is severely limiting or lacking
3 points if the builder isn't great but it gets the job done
4 points if the builder offers a decent level of customization
5 points if the builder lets you customize everything
Now you don't have to worry about getting surprised with a lousy drag-and-drop editor and good templates, or vice versa. You can see first through our review what you get and what is lacking.
If you ever wanted to build conversion focused landing pages, but were afraid they wouldn't convert because of design, your prayers have been answered.
Use Their Behavior to Your Advantage (15%)
Simply put, automations and email marketing go together like sunsets and margaritas on the beach during vacation.
Automation is one of the core functionalities of email marketing software. And when you add templates and analytics (which we'll talk more about in a second), the three come together to give you a quick and easy way to send incredibly effective emails.
There's really no way automations hurt your marketing campaign. You get more done with less effort—that's what makes them so awesome.
To test this feature for our providers, we looked at five factors.
The first was form follow-up emails, when someone fills out a form on your website, you will want to welcome your new subscriber or customer automatically. The next was if a workflow or automation builder is offered. This is like having the freedom to build any automaton you want. When you have access to a workflow builder it means you can set up custom automations and multi-step workflows however you'd like.
Then we looked at behavioral triggers. Behavioral triggers take workflows and automations one step further by letting you use subscriber actions as triggers for automated actions. For example an abandoned cart email that goes out after someone adds a product to their cart but leaves without buying it, that's a common one.
Triggers are the most powerful automation processes, finding the right ones to use for your business allows you to almost read minds, and pre-plan your entire business model. It's what makes your campaign evergreen, and brings in the most cash without lifting a finger once you set it up one time.
Next we have dynamic content, which allows you to show different content to your list depending on metrics you set beforehand.
A simple example of this would be geographical location. A local business can show in-person specials and promos only to customers who are close enough to visit the store, but hide it from others who don't need to see it—without having to send two separate emails.
This makes your business more dynamic. Almost alive, right? Okay let's not get weird, but it makes sense, doesn't it?
The last thing we tested for was automatic time zone personalization.
If you have customers all over the world, instead of sending out your emails that get to your subscribers' inboxes at 2 a.m. their time, you can make sure they arrive when they're most likely to see them.
Do you think they are going to see that 2 a.m. message under the mountain of other emails by the time they wake up? Sending emails at the right time plays a role in if they'll get opened
So, if you set a bulk email to go out at 8 a.m., it'll go out at 8 a.m. in everyone's respective time zones. Your email should show up right at the top, as they're waking up, rather than while they're sleeping.
These automations are big difference makers in getting your emails opened and following up with your list until you earn your way into their hearts.
Embrace Tracking and Analytics, or Perish (15%)
If you can't see how you're doing, how can you get better?
If you can't track how many emails were opened, how do you know if people are reading them, if your marketing message is effective, or how your new subject line does compared to the old one?
That's right, you can't. And without that knowledge, you won't grow a profitable business or a faithful following with email marketing.
Analytics are key to email marketing software. We know you want to dig deeper into opens and clicks to learn what types of things your audience responds to and why.
We looked at five simple but extremely effective features that help you see the most you can in the quickest time.
We looked into whether providers allow you to test your subject lines, along with testing your content, too.
For example you can split your audience and test two different subject lines to see which one gives a better understanding of what types of phrases, keywords, lengths, personalization, emojis or something. You can test what really entices your readers to open up your emails.
For content testing, you can do the same—take blocks of content and switch up sections depending on the audience you select. Take two different groups and test different content.
It gives you a better understanding of what calls to action, hooks, stories, strategies, images, colors, recommendations, lengths, and personalization,work best to get them to click and take action.
If you use multiple links in an email, heatmaps can show you so much information. Using them is a great way to tell which links attracted the eye and mouse of your readers the most.
Having this tracking power makes it much easier to improve and adjust for quick results.
Some providers also offer geographic reports. This will give you a deeper understanding of where your subscribers are, so you can tailor your messages and marketing strategies around things that may be happening near them.
Last, we checked if providers offered mobile statistics. If most of your readers open emails on their phones, you can design mobile-first emails to cater to your audience's habits. If most view on desktop, you can focus less on the mobile version and work on nailing the desktop design instead.
Knowing if a provider offers these critical features before you're working with them prevents you from making costly mistakes. Anything that clues you into what your audience's world looks like is a major benefit that lets you get hyper-specific in your email marketing approach.
Either way, this set of features really helps you tailor your business's marketing so you can squeeze every morsel of advantage from your email marketing software.
Summary
Constant Contact is our top recommendation for most people. It's incredibly powerful while also being very affordable. That's a killer combination that can work for just about anybody.
However, each of the products we reviewed has virtues that make it great for other, more specific use cases. We've done the work of identifying what they're each good at, so you can see at a glance which of these email marketing services fits your needs like a glove.
And, if you're going to strike out on your own search for the best option, keep our methodology in mind when weighing email software options so you can spot a quality option without needing a full test drive.