Disclosure: This content is reader-supported, which means if you click on some of our links that we may earn a commission.
Are you ready to level up your payroll career? Getting a payroll certification can help.
This in-depth guide covers everything you need to know about the different payroll certifications you can achieve and how to apply for them. Plus, you'll discover essential strategies to help you knock the payroll certification exams out of the park.
Why Payroll Certifications Are So Important
The thing about payroll is that it's difficult to prove how good you are at what you do. It's not like you can put together a portfolio of all the numbers you've crunched. A company's financial information needs to be private, after all.
What you can do, however, is advance your knowledge and skills then definitively prove your expertise by passing a payroll certification exam.
A payroll certification will help you stand out to potential employers. It shows them you really know your stuff when it comes to the latest rules, laws, and procedures. You may even be able to achieve a more senior position based on your certification and, therefore, a higher income.
All in all, a payroll certification demonstrates your commitment to your career and the quality of your training and experience.
The Different Types of Payroll Certifications
If you hope to become a certified payroll professional, you'll need to choose the appropriate certification and pass an exam.
The American Payroll Association (APA) offers two main types of certification. Some online payroll services also offer their own certifications specific to the tool. 
Let's take a look at these certifications:
Fundamental Payroll Certification (FPC)
The FPC exam is for entry-level professionals who want to demonstrate a baseline competency in payroll. You may already be a payroll practitioner, consultant, or in a similar position that supports payroll administration when you take the exam. There are no special criteria required to sit the FPC exam.
The exam comprises the basics of payroll. Topics include:
Core Payroll Concepts
Compliance/Research and Resources
Calculation of the Paycheck
Payroll Process and Supporting Systems and Administration
Payroll Administration and Management
Audits
Accounting
You'll sit the computer-based test at a secure Pearson VUE test center. And you'll have three hours to complete 150 multiple choice test questions.
To sit the exam, there's a fee of $320 for APA members and $395 for non-members. If you don't go on and get the more advanced certification, you'll need to recertify within three years.
Certified Payroll Professional (CPP)
The CPP exam allows payroll professionals, supervisors, and managers to demonstrate their higher-level skills. If you wish to sit the exam, you must meet one of the following criteria:
The professional has been practicing payroll for at least three out of the five years prior to the test.
The professional has been practicing payroll for at least two years prior to the test and has completed specific APA courses in those two years.
The professional has been practicing payroll for at least 18 months prior to the test, has received the FPC certificate, and has completed certain APA courses in the past 18 months.
The CPP exam covers more complex concepts. These include:
Security Principles and Practices
Business Principles and Practices
Investigations
Personnel Security
Physical Security
Information Security
Crisis Management
As with the FPC, you'll take the online exam at a Pearson VUE Center. The exam has 190 multiple-choice questions and lasts for up to four hours.
The fee for APA members is $380 and $550 for non-members. You'll be expected to recertify within five years.
Payroll Software Certification
Many payroll software providers offer certification in the use of their tools. Such certificates don't have quite the same gravitas as one from the APA. Nevertheless, it'll demonstrate your expert skill in a widely-used tool in the industry, and it can help you stand out as a job candidate.
It may not carry the same impact as an APA certification, but it also doesn't require as much time or monetary investment. So, you may consider this kind of certification a respectable starting point.
To give you an example, you can gain certification in one of the most widely-used and well-known payroll tools, Quickbooks. You'll receive training through various methods, such as videos, virtual conferences, webinars, and in-person events. 
Once you receive the certification, you can display your badge proudly on your website, in any marketing materials, and so on.
How to Apply for Payroll Certification
There are a couple of things you need to do before making an exam reservation with the APA. Here's your quick and simple step-by-step guide:
Step 1 – Check the Eligibility Criteria
There are no specific criteria required for the FPC exam. If you wish to take the CPP exam, make sure you meet the eligibility criteria outlined above before beginning the application process, as you will need to provide proof.
Step 2 – Submit the Application
You must submit an online application with the APA before making an exam reservation. Use your legal name as stated on your identification.
If you wish to sit the CPP exam, your current or previous supervisor must verify your work experience by signing the Employer Verification section.
You should receive an approval or denial of your application within three business days if you apply online, ten business days if by email, and 14 business days if by post.
Step 3 – Pay the Examination Fee
Pay the total amount required to the APA online via credit or debit or by sending a check. If you're unable to use either of these methods, you must call the APA customer service department.
Step 4 – Make an Exam Reservation
You'll only be able to make an exam reservation once you've completed the online application and paid the fee. Make a reservation as soon as possible by phone or online as exam spots are allocated on a first-come, first-served basis. Find your nearest official test center via the Pearson VUE website.
5 Strategies to Ace Payroll Certification Exams
When it comes to APA certification, the more prepared you are, the more confident you'll feel and the greater your likelihood of success. So, get accustomed to what the exam entails, study in a way that suits your learning style, and be sure to practice before you sit for the exam.
1. Read the Relevant Handbook Carefully
The FPC Handbook and CPP Handbook are overflowing with information about the respective exams and application processes. They also contain helpful links and answer a ton of frequently asked questions.
You should read the relevant candidate handbook diligently. You'll feel much more confident about passing the exam when you know what you're in for.
For instance, each handbook outlines the format of the exam, meaning there will be no surprises:
You can also use information like this to your advantage. For example, in this case, you now know how the exam is weighted and which areas to focus more of your study time on.
2. Save the Exam Content Outline
You can also download the FPC Exam Content Outline and CPP Exam Content Outline from the APA website for free. These content outlines break down the subject matter included in the exam in intricate detail.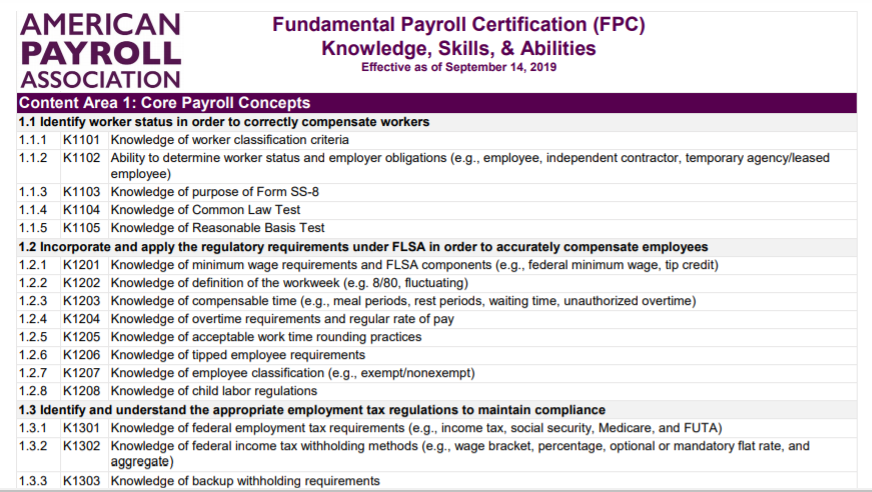 This, of course, shows you exactly what you need to know to pass the exam. Familiarize yourself with it.
You can also use the outline as a checklist for your exam prep. Tick off each concept when you have a solid grasp of it.
3. Use a Study Guide
By using a study guide, you'll be able to learn the materials at your own pace. Self-study may simply be more suited to your learning style or if you need to fit studying around your busy work schedule.
There are a number of textbooks, guides, and courses available online. For the CPP exam, you may wish to use PayTrain. Seeing as it's a resource from the APA, you know it will be relevant and comprehensive.
One great thing about PayTrain is that it starts with a pre-assessment test to determine the areas you already know well and those where there's room for improvement. This saves you from re-hashing the topics you already have down.
The course comprises learning modules that cover the core concepts. And you'll be able to supplement your learning with quizzes, flashcards, calculations, and exercises. Furthermore, there's a practice exam at the end of the course to see where you stand.
The cost of the self-study course is $1,030 for APA members and $1,305 for non-members. Or you can opt for the guided version of the course for $1,130 for APA members or $1,405 for non-members.
4. Take a Practice Test
Practice tests are an essential part of studying for any exam. First, they give you a feel for what will happen on exam day and boost your confidence. You can also use practice tests as a way of finding gaps in your knowledge while you're studying.
As mentioned above, a practice test is included in the PayTrain course. This will likely be the case for any payroll certification exam prep course.
There are further online resources where you can find practice tests. But the free versions are often quick tests that don't correctly reflect the actual payroll certification exams. Try to find a resource that mimics the exam to get a more realistic feel for what's ahead.
5. Form Good Study Habits
When you graduated from school, you may have thought you left studying for exams behind. It's not easy to get back into the swing of studying years down the line. So here's a reminder of some things that'll help you study more effectively:
Create a Study Schedule – Having a schedule or an allotted time to study will help you stay focused. It may take a couple of months to study for a payroll certificate, so make sure you give yourself enough regular study time in advance. Breaking the syllabus down into manageable chunks also helps.
Take Regular Breaks – You know what works for you. But most people need to take regular breaks to make sure they don't burn out. Experts recommend a short break of five to 15 minutes every hour and then longer breaks of around 30 minutes every two to four hours.
Learn Your Way – It's been established that people have different learning styles. For example, some learn through experience and would therefore find practice tests particularly useful. Others learn best by reading information. Again, it's about figuring out what works for you, in particular, what will help you retain the most information over the long term.
Use Multiple Resources – Even the APA admits that you shouldn't use just one study guide or resource to prepare for the payroll certification exam. Using multiple resources is particularly important here as the rules and best practices in the payroll industry often change. Therefore, you can't risk relying on just one resource in case it's outdated.
Next Steps
One step you may wish to take next is to get an APA membership. As you've already seen, APA members benefit from significant discounts when it comes to certification exams and study resources.
Furthermore, you can network with pros who may be able to give you exam tips and career advice. You'll also receive the latest news from the payroll industry and further educational resources for free, such as access to webinars.
You may also wish to explore alternatives to APA payroll certification, such as certification in specific payroll tools.
But if you do decide to take the APA route, you need to know what comes after certification. Remember that the FPC certification expires in three years, the CPP certification in five.
To maintain your FPC or CPP certification, you must earn credit hours by attending educational events, such as courses, seminars, and webinars. To recertify, you simply retake the exam in the year your certificate expires.
And, of course, when your FPC certificate is due to expire, you can take the next step and go for the CPP instead.