Disclosure: This content is reader-supported, which means if you click on some of our links that we may earn a commission.
A background check allows employers to verify new employees, reducing overall risk. We spent 10 days reviewing over 20 background check companies to choose the best. As a result, we decided that GoodHire is the best for most because it's easy to use, integrates with existing HR software, and provides the most comprehensive background checks.
The Best Background Check Company for Most
The best background check company for most is GoodHire. Ensuring the background checks you perform on new employees are thorough is essential, and GoodHire offers an extensive list of transparent database searches.
We particularly like how straightforward its services are to use. Add to that full phone support during US Pacific hours and simple integration with the most common HR software on the market, and you have an excellent background check company.
The Best Background Check Companies To Consider
When It Makes Sense To Invest In Background Check Companies
If you're wondering when it makes sense to invest in background check companies, this section is for you. Background check companies provide a helpful service for businesses, but it's fair to say that there are specific circumstances where they become vital.
For example, let's say you need to screen a new employee who has lived in multiple different counties. A background check here is essential because the service can acquire updated records from local county courthouses, providing you with the extra information you need to make a sensible decision.
You may have recently suffered from high employee turnover and need to remedy this effectively. Background check companies can help because they often significantly reduce your turnover by assuring you improve the quality of your hires. For instance, background checks allow you to uncover false information on resumes, which is far more common than you would think.
All companies need to ensure they are compliant with industry standards and maintain state and federal requirements—these vary between states. Without a good background check service, you might face expensive fines, legal damages, and a loss of certain privileges. No business wants that, so a compliant screening service is a must.
A good background check company can help resolve all of these issues, so if you find your company struggling in these areas, a background check service is for you.
#1 – GoodHire – The Best for Most
Background checks aren't an area you can afford to hope for the best—GoodHire is about providing high-quality service and simplicity rolled into one.
It's a service that quickly generates the results you need and then presents them in easy-to-read and accessible formats. The background checks offer automated company credentialing, are 100% paperless, and are mobile-optimized so that you can view them on the go.
You provide your key company details, select the background check package, and get your results— turnaround times are anything from a few hours to a few days. It's worth mentioning that 85% of background check results get returned in less than a minute. There's also 24/7 access to review candidate results anywhere, as long as you have an internet connection.
The intuitive dashboards feature built-in guidance to make the process as simple as possible, and there's phone, live chat, and email support should you need it.
There are three main packages for less than 25 yearly checks: Basic costing $29.99 for each check, Standard costing $54.99 for each check, and Premium costs $79.99 for each check. Each level offers a more detailed background check; for example, Standard includes a county criminal court search up to seven years and a domestic watch list search. Add-ons are available to bolster your review further. For an exact price, you can get started here.
#2 – Checkr – The Best for Checking Gig Workers
Checkr is suitable for companies big and small. It's a mobile-friendly platform that's ideal for handling gig workers or even those that work full-time.
Checkr uses AI and machine learning to make its background checks faster and more accurate—companies including Uber, Lyft, Postmates, and Grubhub agree. What you get with Checkr is a detailed but accessible set of results covering everything from petty theft to business and tax fraud for your gig workers.
Best of all, Checkr features a flexible API, so there's no need to compromise your existing setup, you can integrate the service quickly, and the API documentation is public. On top of that is a continuous monitoring service that runs in the background and notifies you of any reportable changes to your workforce's criminal records—all in real-time.
Signing up for a Checkr account allows you to run your first background check for free. From there, you'll need to reach out for exact prices as Checkr doesn't publicly display them.
#3 – Asurint – The Best Customer Service
Sometimes the thing you need the most is excellent customer service, and for that reason, Asurint more than delivers.
You have access to a dedicated customer team, including a personal introduction to the background search market, how it works, and what Asurint offers. From there, a team is on standby, ready to jump in whenever you get stuck. The assistance provided is 100% US-based, with phone, live chat, and email support all available.
If that wasn't enough, the team builds custom solutions for companies, covering everything from criminal fulfillment to compliance and integration.
Aside from great customer support, you'll find a service that offers background checks in one day or less, has near-instant access to criminal records, and you'll get informed of any court delays and closures across the US. It's mobile-friendly, too, with easy access to the web-based candidate portal at any time.
Asurint prefers you reach out for a custom package and doesn't offer its prices directly to customers.
#4 – Sterling – The Best for Criminal Record Checks
For detailed criminal records checks, Sterling goes the extra mile with proprietary data to access over 2300 county court records.
When the service can't get the information digitally, it uses court runners who travel to the physical courthouse to request documentation that way—this is a commitment that few background check companies on the market offer. That's in addition to having regional expertise, local service proficiency, and dependable global fulfillment capabilities. Sterling has digital access to 85% of US criminal search records.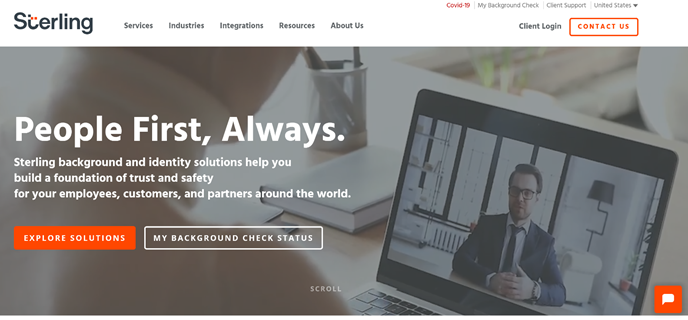 Sterling uses advanced checks which identify the address history connected to a Social Security Number (SSN) using a database of over 10000 sources. The background checks include jurisdictions and names—alias names can be identified too, depending on how far you want to take your search. There's even a "Locator Select" feature that queries over 2400 jurisdictions for bookings and incarcerations.
You'll have to reach out for a custom quote, which you can do right here.
#5 – HireRight – The Best for International Companies
For those that need to screen new hires that are based internationally, HireRight is the top choice for you and can handle applicants in over 20 languages.
HireRight provides its users with pre-employment screening in more than 240 countries and territories. The service uses a single unified platform with a client portal that you can access anywhere you want. International candidates themselves can submit information securely from their computer, laptop, or mobile device.
If that wasn't enough, HireRight integrates with over 30 different applicant tracking systems (ATSs), including Workday, Cornerstone, Oracle, and SAP SuccessFactors—some of the biggest on the market. Compliance isn't a worry either, as the platform automatically tailors its services to ensure searches and verifications are compliant with local laws.
On top of that, you get quick turnaround times, both domestic and international screening, and you can manage multiple background checks simultaneously. You'll have to reach out for a custom quote, which you can do right here.
Methodology for Choosing the Best Background Check Companies
Here you'll find the most important aspects you need to consider when picking the best background check companies for you.
Background Check Types
Background check companies typically offer more than one type of check.
For example, some check employees' backgrounds, while others are for more personal use, including checking up on family members or finding information about your neighbors. Not all, then, are going to be suitable for employers.
Be sure to look for background check companies that focus on checks such as employment verification, county, state, and federal criminal searches, and SSN trace and identity verification. This factor will affect all businesses, so be sure to go for the right service for you.
Turnaround Time
By the turnaround time, we mean how long it takes to get the results of your checks. Some businesses will need checks within a day or less, while others may be able to wait longer.
It's worth noting that identity verification is usually instant, while other checks, like employment verification, take longer, sometimes multiple days.
The services on our list also differ in how quickly they can get results to you. In other words, think carefully about how fast you need your turnaround time to be and how that relates to the checks you need.
Setup Processes
Few employers want to endure a lengthy setup before they can get started with their checks. But the truth is you might have to get your business verified before checks can take place on your potential new hires.
This factor, of course, largely depends on the service. Some background check companies don't require any verification of your business, and you can sign up and get started. Others will require you to get a custom quote, and you may even have to pay a one-off setup fee before doing anything else.
If you need a fast setup, be sure the service you like can do that before getting involved—or else you may be waiting some time before you can complete your background checks, wasting both time and money.
Summary
It's a wise move to verify new hires with background checks, and in some cases, necessary.
For a great all-around service that's ideal for most companies, opt for GoodHire.
Checkr is a better choice if you use gig workers, while Asurint offers top-notch customer service that's hard to beat.
Sterling is the one to go for if you want in-depth criminal record checks, while HireRight makes international hiring a breeze.
Think about how fast you need the background check results, the length of the setup required, and the exact check types you need.