Disclosure: This content is reader-supported, which means if you click on some of our links that we may earn a commission.
It doesn't matter if you manage dozens or thousands of orders each month, you can find improvements in your order management and processes. There are many tools for automating and streamlining your order flow, but we've identified the seven best for an array of pain areas. Based on our experiences, Zoho Inventory is the best choice for most businesses because you can try it for free, it's dead simple to use, and it comes with a comprehensive set of inventory management features on top of a rock-solid order management foundation.
The Best Order Management Software for Most
Automating and streamlining your order management processes sounds much harder than it actually is. The even better news is that Zoho Inventory makes doing both easier than ever. With it, you get all of the inventory management, order fulfillment, and inventory control you need to bolster your business for growth. Its UI and ease of use are second to none, making it our top pick.
There's even a robust free plan for up to 20 monthly orders, giving you an excellent opportunity to take it for a test drive without paying a cent.
The 7 Best Order Management Software Options To Consider
When it Makes Sense to Invest In Order Management Software
As your business grows to hundreds or thousands of line items, order management software becomes a necessity.
Manually entering orders at scale is a recipe for mistakes that can lead to unprocessed orders, errors, or a growing backlog that piles up over time. All of which… lead to unhappy customers and inefficiencies.
To make matters worse, you or your staff are probably spending way more time managing orders than you need to.
With the right order management software, you can automate the process of capturing orders, checking credit and account statuses, and updating stock status in real-time. Doing so gives you more time to focus on other business functions that desperately need your attention.
It can also mean you no longer need to hire someone in-house solely to manage orders. When implemented well, it delivers major time, efficiency, and money-saving returns on your investment.
One clear sign you're ready for order management software is if you're diving deeper into sales analytics. With the right tools, you get insight into sales by region, location, category, product, or virtually any parameter you can imagine. Not only that, but the best OMS can also help you make decisions based on that data, too.
Perhaps the most glaring signal it's past time to invest is negative customer reviews for billing or shipping issues.
If those start popping up, the best time to invest was yesterday and the second-best time is now since it can help ensure accurate billing, effective shipping processes, better fulfillment practices, and timely fulfillment.
#1 – Zoho Inventory – The Best Order Management Software for Most
Zoho Inventory is our top pick because it comes with everything you need to streamline order management processes without forking over hundreds of dollars per month for a bunch of features you're never going to use.
It's simple and built specifically for small businesses looking for a better way to manage orders.
It focuses on the most important features smaller businesses need to bolster growth. In doing so, Zoho keeps costs low and offers excellent quality without sacrificing the essential functionality you need as your small business grows.
One of its most significant benefits is eliminating time-consuming processes you'd otherwise have to hire someone for or spend hours every week doing on your own.
An example is automatically closing sales orders based on triggers. If a package is delivered (for example), Zoho Inventory can automatically mark the order as closed. Aside from automations, you can also use it to send sales orders to customers, merge sales orders, convert orders into invoices, and manage packaging and shipping processes from a single platform.
It even handles partial fulfillment if that's a part of your business model.
Whether you sell on Etsy, Amazon, your website, social media, or eBay, you can consolidate all of your channels into a centralized place to keep an eye on what matters most—fulfilling customer orders on time.
Zoho Inventory has advanced inventory tracking, including tracking orders by serial numbers or batch tracking, too. So, you can easily trace defective orders back to their original batch and stop quality issues in their tracks.
As a result, your quality goes way up without adding a ton of extra work to your plate.
You can also manage things like invoices, shipment tracking, payment processing, returns, and more without ever leaving the platform.
Despite its affordable price tag and easy-to-use interface, Zoho Inventory offers essential order management beyond inventory by helping businesses create purchase orders, backorders, drop shipments, and more. It also integrates seamlessly with Zoho CRM and Zoho Books if you are already using those tools.
There are five plans to choose from, including:
Free – Up to two users and 50 orders per month
Standard – $59 per month for three users and 150 orders per month
Professional – $99 per month for five users and 7,500 orders per month
Premium – $159 per month for ten users and 15,000 orders per month
Elite – $239 per month for 15 users and unlimited monthly orders
Try it for free to see if it's right for you and your business today!
#2 – ShipStation – The Best OMS for Order Fulfillment
If you have identified shipping and order fulfillment as your Achilles' heel, ShipStation is the perfect solution to get you back on track. You get basic order management functionality alongside leading shipping software, so that you can wrangle order flow better than ever before.
ShipStation has a dizzying array of integrations, allowing you to import orders from over 100 ecommerce venues.
And with their Rate Browser feature, you can comparison shop among multiple carriers to get the best rate for each shipment. Additionally, the software automatically creates customs declarations for international shipping.
Within the software you can also print your own labels in bulk and have shipping and tracking information automatically sent to all parties involved in the purchase.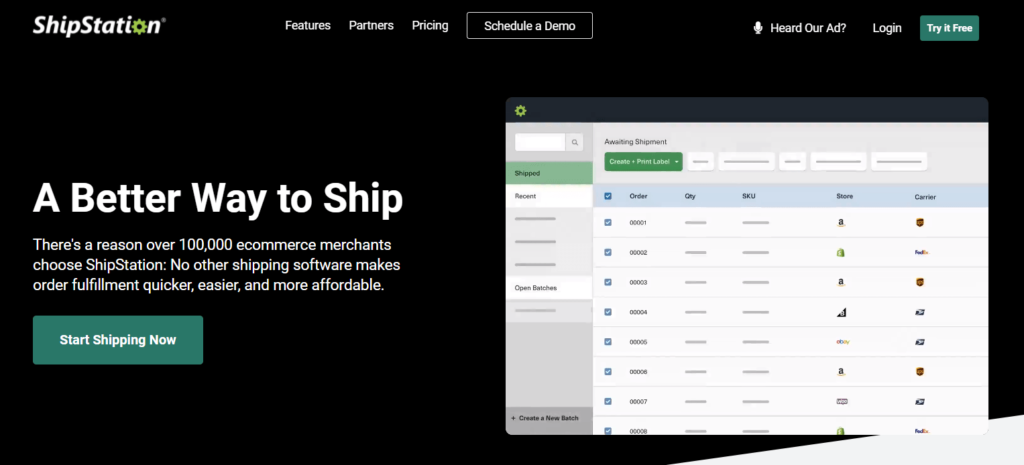 But when ShipStation's shipping and order management functionalities come together, it's a beautiful thing that can jump start your ability to handle orders from purchase through fulfillment.
You can change order details, including payment and address, even after you have imported the order. You can also combine multiple orders to the same address to send them in a single shipment.
Order management reporting is robust on ShipStation. You can easily view, filter, or export order data. This includes grouped or individual orders and orders created on ShipStation or imported from your store.
Other features include inventory management and branding. The software sends out alerts when your stock falls below a predetermined threshold, and you can view stock levels in real-time.
Another noteworthy feature is the tracking page. This is a branded page for your business. Customers are redirected here to find order tracking information. Your clients can also contact you directly through this page or via your social media links for any questions about their orders.
ShipStation Price Plans include:
Starter: $9 per month
Bronze: $29 per month
Silver: $49 per month
Gold: $69 per month
Platinum: $99 per month
Enterprise: $159 per month
All plans include a free 30-day trial so you can take it for a test drive before spending a dime.
#3 – Order MS – The Best Free OMS for Solopreneurs
Not many order management software caters to people running a small solo operation with just a handful of orders per month. If this sounds like you, Order MS can process up to 20 orders per month free of charge.
You also get unlimited integrations and reports and analytics on the free plan. You can manage multi-channel sales, bill your clients, and receive real-time reports across the order management lifecycle.
The software also helps with inventory management and updates your inventory every time you process a new sale. The system sends alerts and reminders to your email whenever stock depletes to a predetermined threshold to keep you top of inventory.
Order MS is robust and offers features in other critical business categories, including:
Warehouse management
Return management
Purchase management
Invoicing and payments
Automation
Dashboard and reporting
Order MS is highly scalable and will grow with your business as you process more orders and bring staff to your operation. Simply upgrade to the basic paid plan that allows 300 orders per month and up to 4 users.
Order MS is a great way to dip your toes into order management systems early on in the game. You will have mastered how to use OMS software and figured out which features you need most by the time you are ready to spend money on this software.
The price plans include:
Startup: Free for one user with unlimited orders and limited features
SMEs: $39.95 per month for two users and unlimited orders
Regular: $49.90 per month for up to five users and unlimited orders
Business: $98.90 per month for up to ten users and unlimited orders
The free plan is perfect if you're a solo user or just getting started. But there's plenty of room to upgrade so the software grows alongside your business.
QuickBooks, a product of Intuit, is a household name in accounting software circles. QuickBooks Enterprise is an order management software that doesn't stray too far from the brand's core business.
You can choose to have the software installed on your computers or pay a little extra for hosting. The latter option allows you to access the software and your business files remotely from other devices.
From an order management perspective, QuickBooks Enterprise allows you to process orders, manage inventory, forecast sales, and send out invoices from a single platform. You can also send pick and pack instructions to remote barcode scanners to accelerate the order fulfillment process.
There is a good amount of reporting customization available with this software. You can add custom fields, add or remove data points, apply filters, and create templates with your customized reports. The software creates reports across several industries, including retail, nonprofit, contractor, wholesale and distribution, and professional services, among others.
QuickBooks Enterprise also easily syncs with over 200 apps, including Salesforce, WooCommerce, TrueCommerce, Shopify, and Webgility.
True to its name, perhaps its most impressive functionality is the accounting features. The system will automatically track and apply sales tax, including complicated and city-specific taxes. It does this on all your receipts, sale orders, and invoices.
Other software features include field service management, job costing, a Salesforce CRM connector, and warehouse management.
QuickBooks Enterprise offers six pricing tiers, three for local installations and three for remote access as well. The remote access plans include:
Gold: $166.40 per month
Platinum: $197.90 per month
Diamond: $349.50 per month
Those prices go up at the end of the first year. Local installations start at $1,489.50 per year. QuickBooks Enterprise also has a 30-day free trial so you can try it before you spend a penny.
Many medium and large businesses rely on Oracle Cloud Order Management for order management, procurement, supply chain functions, and inventory management. The software is specially designed for the healthcare, technology, automotive, communications, manufacturing, and retail industries.
Users can set business rules to automatically fill out billing, shipping, pricing, and order validation information. You can also choose from a range of fulfillment options, including configure-to-order, drop-shipping, and back-to-back.
Oracle Cloud Order Management analytics captures invoices, orders, supply, and shipments to help you make decisions and forecast sales and profits. Also, the software helps you pick the best supply source based on specific product demands.
Other essential features this OMS offers include:
Integrations with other Oracle software such as Oracle CPQ Cloud
Real-time pricing updates
Simplified products and services configuration
Channel revenue management
Flexible architecture
Strategic price management
Oracle does not publish their pricing tiers on their website, and you will need to request a quote from their website. However, you can request a live, guided demonstration or do a virtual tour of the tool before getting in touch with them.
#6 – Magento OMS – The Best OMS for Multi and Omni-Channel Fulfillment
Magento OMS by Adobe allows you to sync all your online, offline, and mobile stores as well as affiliate and dropshipping networks within a single platform.
Magento covers numerous areas of your order-to-cash cycle, including managing orders, sales channels, payments, returns, and post-sales, among others.
This software also allows you to manage inventory for all of your sales channels in one convenient location. Here, you can analyze returns, keep an eye on inventory levels, and manage stock status, among other functions.
Magento is also very intuitive for selling virtual products, such as concert tickets. The system automatically jumps to order fulfillment once a customer places an order.
Magento also handles:
Managing payment processing offline
Multi-capture payments
Exchanges
Returns
Re-shipments
Extensions
Sourcing
There's also a backorder feature that lets you sell products currently out of stock. You can display these products with a custom message that informs your customers when the product will become available.
Magento doesn't list their prices online, but you can visit their website to get a personalized demo of the software or request a quote.
#7 – Handshake Direct – The Best OMS for B2B Ecommerce
Small to mid-sized manufacturers and wholesalers often find that they are overpaying for order management features they never use. Handshake Direct solves this problem by catering specifically to this market.
Handshake Direct does a good job at syncing your product catalog into one simple interface. You can look up products by name or category, quickly check the inventory for specific product variations, offer customer-specific discount terms and prices, and keep an accurate record of retailer accounts and information.
Handshake Direct also acts as your business website. You can give your clients access to the platform, where they can log in and access your product catalog, their order history, and other account information. Wholesalers and manufacturers can also personalize customer accounts. The customers will see promotions, pricing, and selling rules personalized for them.
Handshake Direct also comes with a complementary app if you need to access the platform remotely from your device.
The software smoothly integrates with ShipStation to optimize your shipping process. With the latter in place, you easily retrieve tracking links and numbers back to your Handshake account.
Additional features on offer include:
Design customization
Payments
Inventory availability
Handshake Direct does not list prices online, but you can see a list of features for each of their 3 plans and contact them to request a demo or a quote here.
Methodology for Choosing the Best Order Management Software
Order management systems are a dime a dozen. Unfortunately, picking the wrong one can mean money, time, and labor down the drain. Here is the methodology we used to find, examine, and determine the best order management software for various needs.
Our criterion is based mainly on the specific factors that make an OMS great, mediocre, or just plain terrible. You'll want to use the same considerations when picking your own software.
Sales Channels
A business that is big enough to require order management software probably has multiple points of sale. Good OMS should be able to consolidate data and information from various sources into a single platform. These may include online, in-store, marketplace, and affiliate points of sale.
Most OMS have this as a core function but always check whether your specific sales points are captured by the software you are considering.
Inventory Management
Order management and inventory management are both vital parts of your supply chain. As such, these two often overlap. Most order management software comes with some inventory management capability and vice versa. Having the tools you need to manage your inventory efficiently will save you the trouble of purchasing a separate plan in addition to your OMS.
Some software leans more heavily towards inventory management while offering basic order management capability. It might be the case that you need more help on the inventory side of things. Keep this factor in mind before you decide conclusively which OMS is the way to go.
Shipping Services
Shipping is an often overlooked part of the order-to-cash cycle. Depending on your business, you might need shipping tools like automated label printing, shipping rules, tagging, and reporting.
At the very least, your OMS should easily integrate with the shipping software or platform you already use in case you need more robust features.
Additionally, your OMS should manage different order fulfillment methods such as drop shipping and third-party fulfillment in addition to in-house order fulfillment.
Customer Management
Order management software can also be client-facing. In this case, the system allows the customer to monitor their order from the moment they place it, all the way to delivery. This feature can help to eliminate unnecessary calls to your sales or customer service staff with shipping queries.
It is also useful if you could let your customers know when out-of-stock items will be available. Make sure to consider whether you want to incorporate this into your order management system before purchasing.
Summary
The main thing to remember when choosing OMS is to take your unique business needs into account. It helps immensely if you have identified specific problem areas. From there, you can narrow down your choices to the particular software that best caters to your needs.
Zoho, for example, focuses on inventory management, while ShipStation deals mainly with shipping. It is usually worth sacrificing more enticing features you will never use in favor of precise tools that will give you the best ROI.