In Part 1 of this series, we looked at 2 ways to target prospects on the Google Display Network (GDN)…
Contextual Targeting, where you target people using keywords
Managed Placement Targeting, where you target specific websites you want your ads to appear on
Well, those are just the tip of the iceberg. In this article, we'll look at some more interesting ways to target people on the GDN.

Source: Placeit.net
Topic Targeting
What kind of topics are your prospects interested in? Answer this question and a whole new world of targeting opens up to you on the GDN.
With Topic Targeting, your ads can appear on any Web page Google believes is related to the topic(s) you select. (Note, we're not talking about Web sites here, but Web pages.)
There are more than 1,700 pre-selected topics available in the AdWords interface. They range from very broad, high-level topics like Finance, Health and People & Society to more specific topics like Visa & Immigration, Brand Management and Alzheimer's Disease.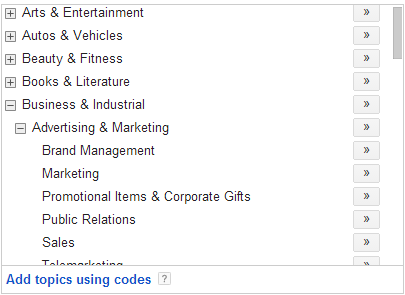 Topic targeting has the potential to drive a ton of traffic to your site that you likely wouldn't get by using Contextual Targeting. Though, as was the case with Contextual Targeting, you have to be VERY vigilant and monitor the Web pages you get traffic from. You're sure to get a lot of traffic from garbage sites, so be sure to exclude them from your campaign.
When using Topic Targeting, I'd recommend sticking to the more specific topic categories because the high-level options tend to be way too broad.
I'd also recommend sticking to one topic per ad group in these campaigns, so it's easier to understand and manage what kinds of placements each topic is bringing to your site and then optimize accordingly.
While a lot of work, Topic Targeting is one of our favorite targeting options because of the ability to uncover placements you otherwise wouldn't.
Interest Targeting
While Topic Targeting is Web-page-focused, Interest Targeting is people-focused. With this form of targeting, you reach people who have shown an interest in products and services related to your business, no matter what Web page they may be on at a given moment.
Basically, Google uses browsing behavior history and "data from third-party companies to associate interests with a visitor's anonymous cookie ID." Using this data, you can show ads to prospects based on their demonstrated interest in the categories you select for your campaign.
And with Interest Targeted campaigns, there are a few ways to do this.
The broadest option is "Other categories," which are nearly identical to the topic options you can select with Topic Targeting (though, again, with Interest Targeting, it's the person you're targeting, not the Web page they're on at any given moment).
Then you have "Affinity categories." You can kind of think of this as a way to reach people based on their passions or hobbies. Here's a screen shot that shows the different kinds of categories available (note the use of the terms like "enthusiasts," "mavens" and "cravers"). There are about 80 of these affinity categories available.
Affinity categories were designed to help you boost awareness of your product and service. Google positions this as a good option for advertisers who want to increase awareness of their brand and would use affinity advertising in much the same way they'd use TV ads.
Lastly is "In-market buyers," the newest addition to Interest Targeting. And, in my opinion, the one with the greatest potential of all the Interest Targeting options for generating leads/sales.
With In-market buyers, you're able to show ads to prospects that Google's data indicates are nearing the end of the buying cycle and are actively looking to make a purchase.
So if you're focused on conversions and Google has a category for In-market buyers in your niche, this is worth testing.
The In-market buyers option was rolled out fairly quietly toward the end of last year with a handful of categories in niches like "Autos & Vehicles" and "Real Estate." Now there are a lot more categories and sub-categories including "Photo Software," "Apartments (For Rent)" and "Retirement Planning."
We haven't been testing the In-market buyers for very long, but from the little we've done and from what we've heard from others, it can work very well in some categories. So if your business falls into one of the available categories, I'd recommend giving it a shot!
Remarketing
Remarketing (also known as retargeting or "stalker" ads) allows you to target ads to people after they visit your website. Here's how it works: You add some code to your site that puts a cookie on the browser of your site visitors. Then, when they leave your site and visit websites that are part of the GDN, you can show your ads to them.
If you're just getting started with the GDN, remarketing is the place I'd recommend you start. This is because you're reaching a group of warmer prospects because you're targeting those who have already expressed at least some interest in your product or service by virtue of visiting your site. So it makes sense to drip market to them to try to get them back again to seal the deal.
And with remarketing you can be very targeted in how you, well,  target them! Here are just a few possible targeting strategies using the example of an ecommerce site that sells consumer electronics…
Run ads promoting Canon DSLR cameras to people who visited a page (or pages) on your site related to Canon DSLRs but have not purchased one yet.
For customers who did buy a Canon DSLR from you, run ads a few weeks later promoting Canon lenses and accessories.
Run a few ads or so a week to every visitor of your site for branding/staying top of mind.
Run ads to all site visitors promoting a holiday sale, special offer, etc.
Whatever your strategy for targeting prospects with remarketing ads, here are a few best practices to keep in mind…
Build multiple lists/audiences based on their behavior (e.g., pages visited or buyers vs. non-buyers) on your website
Use a wide variety of ad types and sizes (and be sure to split test!)
Update your Privacy Policy accordingly
Even if you don't have a remarketing campaign planned, it doesn't hurt to get the code on your site and start building a remarketing list
Demographics Targeting
It is possible to target people by gender and or age range on the GDN as well.
I'd generally advise you to stay away from using just age and/or gender to target people on the GDN. It's way too broad an approach for most situations.
However, you can combine them with other targeting options to get more refined in who sees your ads. We'll talk more about combining targeting options in the next installment in this series.
Geographic Targeting
This one is pretty obvious, so we won't spend much time on it. But, as with all AdWords campaigns, you can target people geographically by country, state, city, ZIP code, radius around a specific location, and more.
It's always a good idea to double-check your campaigns to make sure your ads are only appearing in areas where you want to reach prospects.
That wraps up Part 2 of this series. In the 3rd and final installment of this series, we'll look at a few of the more advanced and recent targeting strategies you can use on the GDN. And we'll share a few tips and tricks on how to make the most of your campaigns!
Check out other Crazy Egg articles by Adam Kreitman here.
Latest posts by Adam Kreitman
(see all)