Disclosure: This content is reader-supported, which means if you click on some of our links that we may earn a commission.
As a cloud-based SEO tool, Serped.net covers all your SEO needs at an affordable price point. It can be a solid investment for small businesses, agencies, and even freelancers that want to step up their SEO game. In this guide, we go through the good, the bad, and everything in between to help you determine if Serped.net is the right SEO suite for your needs.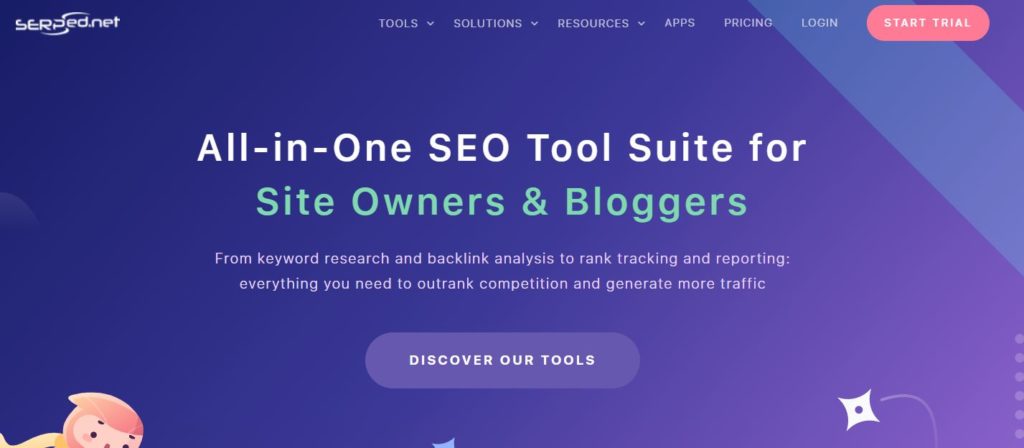 Serped.net: The Good and The Bad
Here's a look at some of the best SEO features Serped.net has to offer.
The Good
Great rank tracking tool: This allows you to rank your local and national rankings in major search engines like Google, Yahoo!, and Bing. The Serped.net Rank Tracking tool updates as often as you want and tracks both mobile and desktop rankings. You get ranking tables and historical data reports to see how your rankings change over time and adjust your strategies.
Detailed keyword research: Enables you to run full keyword research including long-tail keywords. The research helps you find the most profitable keywords with the lowest competition. Serped.net connects right to Google's API to provide updated keyword information and hundreds of results.
Robust keyword analyzer: The Keyword Analyzer tool lets you know what keywords you should rank for and which keywords you should stay away from. It also gives you a rundown of what factors influence your competitor's rankings to help you build a better SEO strategy. With each keyword, Serped.net gives you search volume, cost per click, trends, PPC competition, related searches, number of inbound links, domain age, and more.
Backlink analysis: Serped.net makes it easy to see exactly what websites are linking to you as well as how many. Every time the built-in Backlinks Explorer tool finds a backlink, it will include several pieces of data, including the anchor text, citation flow, link type, backlink status, referring domain link authority, and a lot more. In addition, Serped.net provides a Backlinks Manager tool to see your backlink status across multiple sites and search engines. After painting the picture, it will give you detailed reports, including metrics.
Excellent site manager: The Site Manager is an all-in-one tool for managing all of your websites, whether it's your own blog or hundreds of sites for your clients. The tool allows you to track all your sites from one central location and includes tracking up to three competitors for each site. Site Manager also audits your sites for all SEO-related things and can even give you recommendations for fixing problems.
Track social signals: Serpent.net lets you track social signals like comments, reviews, and likes. There's also Social Exchanger, a marketplace where you can post and exchange social actions with other members. Social actions include reviews, comments, questions, liking and sharing pages, and more.
Client acquisition tools: Serped.net provides widgets to offer free analysis for lead generation. It also includes the ability to generate a white label report. The client acquisition suite of tools includes Site Auditor Pro to help automate lead generation, Citation Scanner to find tons of citations opportunities, Review Badges, which are site widgets that link to social media and other platforms, and Mobile Prospector to look for non-mobile-friendly websites where you can market your services.
Constant uptime monitoring: Forget using a third-party tool to monitor your site's uptime and downtime. With Serped.net's Uptime Monitor, you can always know when users can't access your site because of server failure. The tool will also generate downtime reports so that you see what's happening.
YouTube tracker: The tool easily analyzes and tracks your YouTube content with historical data and statistics for which you set up email notifications. YouTube is the second-largest search engine in the world, so Serped.net allows you to understand your ranking performance and even track competitors.
Cashflow manager: Unlike some other SEO solutions, Serped.net gives you tools to track your financials, including income, expenses, assets, and debts. It organizes it into easily digestible graphs and charts for your review when making business decisions.
Deep website analytics: Where are your visitors coming from? How long are they staying on your site? Where are they located? These are all questions you can find answers to with Serpent.net's web analytics tools. Easily add a code snippet to your website for fast setup. You don't even have to use Google Analytics with this tool.
Unique content curator: In addition to more expected SEO tools, Serped.net helps you consistently publish SEO-friendly content to all of your sites. It can actually create content and publish it to your site with an automated scraping process that results in copy that passes Copyscape every time. You can still edit the content before it is posted, and it is an extremely fast way to get new content uploaded regularly.
The Bad
Geared for agencies: While Serpent.net claims to work great for freelancers, single-site owners, and bloggers, it's built with tools most relevant to growing SEO agencies that juggle many clients and need agency-relevant SEO tools. Examples of these include Site Manager, Review Badges, Mobile Prospector, and Social Exchanger. If you own a small business or are a solopreneur, you may end up paying for a bunch of features you don't use.
Higher learning curve: This isn't a straightforward tool like Ubersuggest. It comes with more functionality that'll require a decent time investment to learn. On top of that, some users have complained that the video tutorials provided by Serped.net are not always updated.
No free trial: Unfortunately, Serped.net doesn't provide any free trials or demos. This isn't unlike other SEO tools in the space, but it would be nice to get a glimpse into things before investing any money to make sure it really works for your business needs.
Serped.net Pricing
While there is no free trial available, you can test the paid tier of choice for 30 days for just $7. This is excellent news if you aren't sure whether you want to dive into one of the paid plans right away. Be careful, though, because once the 30 days are up, you will automatically be billed for the full monthly cost of the plan, not the discounted annual rate. You'll need to manually cancel it.
Here's a quick overview:
Premium – $52 per month billed yearly ($79 billed monthly)
Ultimate – $119 per month billed yearly ($179 billed monthly)
Enterprise – $252 per month billed yearly ($379 billed monthly)
The Premium tier can be great for solopreneurs, bloggers, and freelancers who are doing their own thing but are looking for a reliable tool to work with clients, manage up to 20 sites at a time, and keep a finger on their ranking efforts.
Premium won't cover all your needs if you're a full-blown SEO agency handling hundreds of sites. You'll want to consider either the Ultimate or the Enterprise plan to cover all your site management needs.
One thing Serped.net competes very well on is price. Even its most affordable tier for freelancers and bloggers is significantly less than what most major SEO tools are charging.
And that's especially true if you forgo the monthly plan for the yearly subscription. You get four months free, starting as low as $52 a month for the first tier (Premium).
Serped.net Offerings
Let's take a closer look at some of Serped.net's key product offerings.
Keyword Research
The Serped.net set of tools that fall under their "Keyword Research" umbrella includes four tools. They are Ultimate Research to find the keywords, What Ranks Where to see what keywords any site ranks for, Keyword Analyzer to learn about your competitor's rankings, and Long Tail Keywords, which looks for tons of unused longer keywords.
Serped.net finds the lowest hanging fruit in terms of keywords for you that are still profitable to target through a Google API. As an SEO feature, it's an important one to consider because it is a huge perk.
Granted, you're also able to do this with other, more established SEO tools, but it might take you a few extra steps to do so. In terms of convenience, Serped.net capitalizes on making SEO tasks easily accessible without all the extra digging.
You can filter keyword results based on things like cost-per-click, PPC competition, or even traffic value. All these pieces of information are crucial parts of running and executing SEO strategies, especially if you're working with clients who demand results.
Besides basic keyword research, Serped.net goes much deeper to find new long tail keywords and phrases that are much easier to rank highly for. And Serped.net makes it effortless to see what any website anywhere ranks for and even includes traffic estimates.
SEO Analysis
The SEO Analysis set of solutions and tools includes a Site Explorer, Bulk URL Analyzer, Backlinks Explorer, Competitor Citations, and SEO Audit.
Serped.net pulls data from big players like Moz, Majestic, and Alexa to ensure you get an in-depth SEO analysis of any site so you can know the overall health and value of a website.
This can also prove invaluable for your backlink process, so you know you're working with the most data possible. Serped.net's approach can potentially be a better way to do SEO research that can help you deliver results.
The Bulk URL Analyzer tool pulls and compares metrics from up to 40 sites at once to make comparison easy and see what domains are worth purchasing.
SEO Audit is exactly what it sounds like: a tool to run deep research and analysis on any website. After completing the audit, you'll receive a detailed report with action items, suggestions, best practices, and more.
Site Management
The Site Management grouping of tools includes:
Site Manager
Backlinks Manager
Web Analytics
Uptime Monitor
Cashflow Manager
Goal Tracking
Site Crawler
Whether you're managing one site or hundreds, Serped.net's site management features help you get it all organized in project tabs that get updated as your rankings change in the background.
The fact that you can create different project tabs to keep track of each site's in-depth metrics makes it so you can deliver better client services. For agencies, this is an important feature worth considering.
That is because it cuts down on the often time-consuming process of using a bunch of third-party tools to house and analyze each necessary metric. If organization is something you struggle with, especially as you juggle tons of different data points, a tool that helps you build your SEO strategy with an organized approach is vital.
You can look at the Site Management set of tools almost as a project management solution for SEO. Web Analytics dives seep into your site traffic, the uptime monitor watches for downtime, Cashflow Manager is almost an accounting tool (but not quite) to keep records of payments, expenses, assets, and debts.
The Goal Tracking tool is one you generally don't see in SEO packages. It lets you set specific goals for your website and then tracks your site traffic and engagement to understand how visitors use your site and how you can make the experience better.
Rank Tracking
Serped.net's Rank Tracking category covers a Rank Tracker, Local Tracker, Instant Check, and YouTube Tracker.
You have to know how your rankings are doing. That's why Serped.net comes with all the tools you need to check your rankings on Yahoo, Bing, and, of course, Google.
One of our favorite features is that it tracks your desktop rankings and also, separately, gives you insight into how you're ranking on mobile. With Google's recent change to a mobile-first approach to SEO, this information is the need-to-know kind.
Local Tracker works the same way Rank Tracker does but focuses on companies listed on Google My Business in your local geographic area.
The YouTube Tracker is the same idea, looking at rankings specifically on YouTube and tracking your competitors on the video platform, too.
Domain Finding
The Domain Finding set of tools and features includes:
Aged Domain Finder
Top Expiring Domains
Expired Scraper
Auction Master
Domain Hacker
Exact Match Domains
If you're looking for aged domains for your Private Blog Network (PBN) strategy, then Serped.net has you covered. The Aged Domain Finder and Top Expiring Domains tools make it easy to discover and analyze aged or expired domains so you can buy them if they're a good deal.
It searches big platforms like GoDaddy or SnapName. In terms of convenience, this can be a huge time saver. And when you are ready to buy those domains, the Auction Master tool helps you find what is for sale and why it may work for you.
If you prefer to focus on new or non-purchased domains, Domain Hacker is the tool for you. It checks 120+ TLDs to find what you want and shows you all domains available, including.com, .net, .co, and more.
If you want to focus on one site, use Expired Scraper to input a URL and see all expired domains linked from that website. The report even comes with details like Moz metrics and inbound links.
Client Acquisition
Client Acquisition tools include the Site Auditor Pro, Citation Scanner, Review Badger, and Mobile Inspector. These tools specifically help your business generate more revenue and find new leads to turn into clients.
It's one thing to use an SEO tool that finds you the best keywords to target, but it's another to use one that enables you to do that and acquire clients. Serped.net's Site Auditor Pro lets you add an SEO widget to your dashboard that acts as a lead generator for anyone that comes across your site and wants a free site analysis.
This is a clever and valuable tool that can be a powerful way to fill your client pipeline. It can be helpful for both solopreneurs and big agencies alike, especially because it allows you to modify it to fit your brand.
The Mobile Prospector is another standout feature. As the name implies, it searches for any site that is not mobile-responsive out of the first 100 search results for any possible keyword you can think of. Then it gives you a report on each one, which you can use to market your services to that company.
Reporting
Reporting is a crucial part of your relationship when working with clients to execute a multi-tiered SEO strategy for them. Serped.net's reporting features equip you with the ability to create completely customizable reports so that you always look professional.
You can add your branding, and it pulls data from several tools for an extensive report. You can create reports quickly and easily by checking off what you want to include with preset templates.
The Reporting features include general site reports and automatic notifications and alerts.
Agency
Serped.net has several agency-specific tools to help businesses manage SEO clients with less effort and fewer third-party tools.
The Serped Agency add-on tool lets you create unlimited branded white-labeled dashboards for clients so you can give top-notch SEO service to every client. The fact that you can simultaneously track social performance is a big plus in offering clients a feature-rich experience beyond the basics.
Additional Serped Agency features and tools are:
Tracking all campaigns in real-time
Customized white-labeled reports
Integration with popular tools and platforms, such as Platform.ly, Google Analytics, Facebook, Twitter, etc.
Client acquisition tools
Social Monitor
These features are offered as an add-on available for all plans, and there is a short demo video you can view here.
Summary
Serped.net is an SEO suite of tools that delivers on its promises for smaller businesses and competes on price. It's highly affordable, especially compared to the other "giants" in the SEO space that offer many of the same tools.
Serped.net is especially useful for small to medium agencies who want to work with clients and offer white paper reports and branded dashboards. It's built with agency-specific tools that help them manage SEO clients.
As an SEO tool that comes with a slew of useful tools, Serped.net is solid in our book.