Disclosure: This content is reader-supported, which means if you click on some of our links that we may earn a commission.
Is Convertful worth the money you invest for access to powerful CRO tools? Absolutely. Do we recommend it as the tool of choice for growing your audience? You bet. We dive into it all below.
Convertful: The Good and The Bad
Convertful offers a lot more good than bad. It comes with tons of conversion features as well as feedback tools to learn what's working and what isn't. Here's a look at everything it has to offer from top to bottom.
The Good
An all-in-one approach to leads: Convertful leaves no stone unturned in terms of the tools it offers for conversion rate optimization. It's built to handle all your lead generation needs at different growth stages of your business. It can also work great for startup marketing agencies on a shoestring budget that need to deliver client results.
100+ starting templates: Need to create a pop-up but don't want to start from scratch? Convertful comes with over 100 starter templates so you don't have to start from scratch every time you need to create a new widget. They're also based on past successful CRO campaigns. That's a time saver in our book.
Spin-to-win gamification: Gamify your approach to lead generation with Convertful's spin-to-win feature and increase opt-in rates. Entertain your audience and reel them in with a chance to win a discount or something else as part of your list-building and sales strategy.
Social subscription popups: Need to grow your audience on social media? Create a social subscription popup to gain more followers on autopilot with Convertful's popup elements.
Drag-and-drop builder: Builders that let you drag-and-drop elements around are such time savers. You can add any number of different columns and elements to fit your brand aesthetic as well as changing the fonts, colors, and background images. Thankfully, Convertful comes with all the options for a consistent look and feel.
Tons of editable elements: Convertful lets you customize buttons, form fields, progress bars, testimonials, countdown timers, and even follow buttons just to name a few. In short, you're given plenty of customizable options to ensure brand consistency.
Built to be mobile-friendly: Mobile-friendliness is an important SEO feature that websites of any kind can't ignore, especially with pop-up features. Convertful was built with mobile-friendliness in mind. This means your opt-in forms will be optimized to appear in both desktop and mobile screens of all sizes.
Unlimited sequences: With Convertful, you can create an unlimited sequence triggered by an action once you integrate it with your email service provider. It connects with the likes of Convertkit, Aweber, Active Campaign, Drip, HubSpot, and GetResponse just to name a few.
Effective targeting: Convertful lets you work with retargeting pixels and targeting rules that allow you to zero in on your target audience. You can create targeting rules based on things like on-page behavior, geography, history, or technology used to navigate your website.
Conversion boosters: As you optimize your lead generation funnels for more conversions, you can take advantage of Cnvertful's countdown timers, scratch card gamifications, yes/no screens, video embedding, progress bars, or floating action buttons. A lot of them are templates too, so you don't have to create them from scratch.
1500+ Zapier Integrations: Never worry about not being able to integrate Convertful into your existing tech stack. It comes with over 1,500 convenient Zapier integrations. It also works on all CMS and ecommerce platforms including Shopify, WordPress, Magento, and BigCommerce.
Real time analytics: Analytics are a big part of ensuring lead generation success. Convertful lets you look at real time analytics and periodical reports so you can optimize your strategy as your results come in.
A/B split testing: To know which opt-in feature is working better, Convertful lets you run A/B split testing to optimize your lead generation strategy and convert more sales.
GDPR compliant: Never worry about being GDPR compliant if you're an international business with a European customer base. Convertful is built to be fully compliant.
Agency tools: Agencies need all the help they can get with lead generation. Convertful offers agency-specific tools that let you create unlimited sub-accounts, dashboards, email notifications, an organized widget list, and a white label WordPress plugin.
Offers pop-up opt-ins: Easily create pop-up opt-ins and set rules for each trigger. Pop-up widgets can be built from scratch or from your choice of templates.
Creates floating bars: Floating bars are a great way to capture more leads in a less intrusive way. Convertful lets you create easy floating bars that you can have up and running in minutes.
Builds in-line widgets: Easily embed widgets through either shortcode or HTML once you're finished designing them on its dashboard.
Facebook support group: Convertful offers plenty of customer support, including a Facebook group for users to ask questions.
Advanced data security: So you always know your data is safe when using Convertful, along with its GDPR compliant features.
Create simple quizzes: Yet another way to capture leads, Convertful allows you to create simple quizzes with its feature sequence. You can ask questions and provide different results based on how your users answer as they go.
Create segmentation surveys: You can segment your audience and make them personalized offers based on rules you get to set.
Unlimited form fields: With Convertful you can build a form with an unlimited number of fields. You aren't stuck with the basic "name" and "address" functions.
Adjustable animations: You can add animations to your forms for an added effect. Pick from a list of premade options.
Custom CSS and JS: Need to customize your fields beyond the tools Convertful offers? You can tweak the CSS and JS until you get exactly what you need.
Exit intent rules: Want popups to show up as people leave your site? Take your pick from a list of intent rules for effective optimization and quickly change what isn't working.
Manuals and video guides: As you onboard Convertful, you can take advantage of its manual and video guides to hit the ground running. No need to learn anything through trial and error.
Testimonials: You can add testimonials to your opt-in forms for an additional dose of credibility. This becomes easy to do with the drag-and-drop builder.
Create white-label dashboards: If you're an agency juggling clients, Convertful lets you create custom dashboards with your own custom sub-domain for a professional look. Once set up, you can grant access to your client so they can see the results for themselves.
Whitelabel email notifications: Convertful allows you to create custom-branded email notifications with your own company's logo and email address. Convertful's white-label features can prove invaluable for small agencies to gain credibility.
The Bad
Could be too robust for some businesses: More tools mean a higher learning curve, so if you're looking for something on the simpler side, Convertful is probably not the tool you want to start with. Especially if you have no use for its rich list of CRO tools.
Charges by pageview limit: This might be one of its more dislikable features since it can be hard to gauge how many page views you'll get from one month to the next. But Convertful does charge for each of its plans by pageview limit. It's mostly a stumbling step for agencies if they're juggling a number of clients with unpredictable pageview capacities.
Convertful Pricing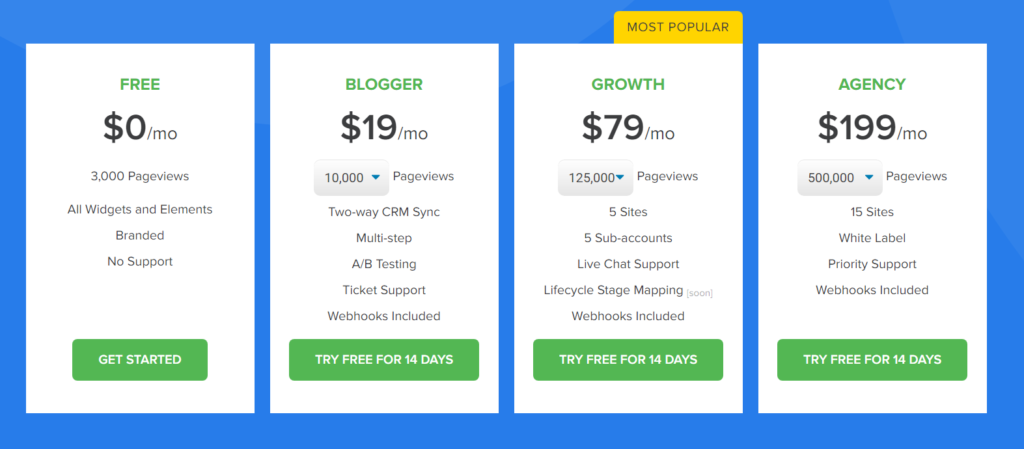 Free – For up to 3,000 pageviews
Blogger – $19 a month at up to 10,000 pageviews
Growth – $79 a month at up to 125,000 pageviews
Agency – $199 a month at up to 500,000 pageviews
We definitely love that Convertful allows you to use its widgets and elements for free if you get less than 3,000 pageviews. This is great news for small businesses that are just getting started but need access to more powerful conversion tools.
Yet its Blogger and Growth tools are priced according to the average number of page views you receive. They come with additional useful features for more advanced marketing including A/B testing, ticket support, and the ability to use it on multiple sites.
You can bet its Agency tier, at $199 a month, comes with all the stops. You can use it for up to 15 sites, have access to all the tools, and even take advantage of priority support. As an agency that focuses on CRO, Convertful can be the swiss army knife in your back pocket.
However, each plan's price differs according to the page views your site receives. You'll want to play around with the pageview limits on its pricing page to get a better gauge of how much it'll cost you to access all of Convertful's best features.
For instance, if you're opting for the Blogger plan but get an average of 10,000 views your new price point is $59 a month. Say you're eyeing the agency plan and manage an average of 3,000,000 pageviews a month. The new price tag for access to Convertful's features becomes a $699 monthly fee.
One thing's for sure, Convertful definitely offers you plenty of bang for your buck, regardless of the number of views you're dealing with.
Convertful Offerings
Instead of offering several product offerings, Convertful is an all-in-one tool that does, well, a lot. Here's a bit more on its core product offering.
Convertful For Leads and Sales
Without a doubt, Convertful is designed to fit a variety of CRO needs. For instance, here's a list of some of the use cases it's a great fit for:
Growing social followers
Broadcast notifications
Showing yes/no forms
Creating an offer using a referral source
Creating content updates
Offer smart welcome discounts
Showing evergreen deadlines
Promoting your webinars
Creating cookie policy notifications
There is more than one way to optimize for conversions, and Convertful makes sure to offer you a buffy of tools to create solutions for low conversion and engagement rates.
Our favorite feature would have to be its drag-and-drop builder. It makes it easy to create forms and widgets in seconds and you're able to visualize the progress of your work.
In other words, Convertful is all about detailed features at low price points. Not only that, but it's also constantly reiterating and adding new features to its already long list of tools. You may be wondering, "so what is Convertful missing?" and the answer is, we aren't too sure of that ourselves.
It comes with everything you could possibly need in a CRO tool, including the ability to customize the JS and CSS if you're a developer. If you don't see an integration you're wanting, you can even submit a request for it. With enough votes, the Convertful team goes out of its way to build it out.
For instance, startup agencies can take advantage of Convertful's affordable price point. There aren't too many tools out there with the number of features Convertful offers at a similar price.
There's also usability to think about. Convertful delivers in that department too. The tool, though varied, doesn't come with an extensive learning curve and is pretty intuitive to use. Anything you get stuck on is either answered through customer support or through one of its video tutorials.
Summary
Convertful is the audience-growing secret weapon you want to have in your back pocket. You can ditch having to cobble together a handful of tools and optimize your process by taking advantage of its all-in-one approach. With plenty of integrations, elements, a drag-and-drop builder, split testing, and reporting options, it leaves little to be desired.
This is true even if you look at its price points. Its all-in-one approach to conversion tools and widgets makes it a worthy piece of software to add to your workflow. It works great for small businesses and agencies alike. If we absolutely had to pick a set of its top features they would have to be the drag and drop builder, its form templates, and its affordable price point.
Ready to start optimizing for leads? Get started with Convertful here for free.