Getting started with shared hosting is simple. Choosing the best available option isn't. We did deep research on the category, finding Hostinger is the best shared hosting for most people. They offer an all-inclusive plan that's powerful and easy to set up at such a deep discount, it's almost unfair to the competition.
The Best Shared Hosting Plan For Most
Shared hosting revolves around simplicity. Hostinger makes getting started supremely easy. They make it no big deal if you're inexperienced, a first-timer, or just someone who needs hosting in a hurry. The set up leaves you with no surprises on what to do next.
You get 24/7/365 support at your fingertips. With Hostinger, the complicated steps usually accompanied with creating a website are gone. And it all comes at an affordable price.
The 7 Best Shared Hosting Plans to Consider:
When Does It Make Sense to Invest in a Shared Hosting Plan?
It's like trying to have light without dark. You can't have a website without web hosting.
If you want to have a blog, set up a web store, market your goods or services, or just have an online home for your company一you need a web hosting provider.
Put simply, hosting is a metaphor for where your website lives.
When you're building something simple that isn't meant to be the next Facebook, Amazon, or YouTube, you'll likely just need shared hosting.
Appropriate to the name, with shared hosting your site shares space and resources on a server with other websites.
Since it's not just your site on a server, other websites' size and issues can affect your own site's performance. Thus, it's up to the shared hosting provider to manage their servers so all sites on it get consistent quality from loading speeds and uptime.
Shared hosting is where most websites start out. Mainly because it's cheap, and when you're just getting started you usually don't have lots of content. So, you don't need a plan with all the bells and whistles.
And if your needs are simple to begin with, chances are you really just care about getting decent hosting at a great price.
However, as your site grows, you'll have the need for more power and speed. If your website will be a huge platform for sales or communication, shared hosting won't last long. You will need to upgrade.
So, shared hosting is basically for when you are just getting started. But it can also work well for other cases outside of beginners and sites in their infancy.
For instance, if you need to quickly push a site live that requires no growth to fulfill its purpose—such as a landing page for marketing campaigns or short term temporary promotions sites—that's a perfect case for shared hosting.
Or, if you have a small business that is local and you're not trying to build a national brand with thousands of visitors per month一shared hosting works for that, too.
All in all, shared hosting is about getting enough resources for your site with quick and easy setup for as cheap as possible.
Read on to find which shared hosting providers deliver best on those points.
#1 – Hostinger — Best for Most
Overall Score: 3.7 out of 5
Normally, many shared hosting plans require you to sacrifice some degree of quality because it's cheaper.
Not Hostinger. They offer you the quality and attention to detail every user deserves. Their entry-level plan is ridiculously affordable, but you still get a beginner-friendly setup and onboarding experience, plus reliable site speed.
Let's take a closer look, starting with our scorecard for how Hostinger fared in our five testing categories:
Pricing = 5/5
Getting started = 4/5
Customer support = 1.7/5
Speed = 3/5
Uptime = 1/5
Pricing: 5/5 – Hostinger gets a perfect score here for being thrifty.
The first year of hosting starts at $3.49 per month, which equals $47.88 for the year.
If you need a domain name, it's $8.99 for the year. An additional $5 takes care of domain privacy, which prevents your personal information from being shared online.
Hostinger also gives you a professional email account for free.
You get everything you need for your website's first year for just $61.87.
When your hosting plan renews, there's usually a massive increase in price. But it's quite mild with Hostinger.
On renewal, you'll pay just a bit more—$5.99 per month—running you a total of $71.88 for year two. That doesn't include whatever rate your domain name will renew at.
When you tally up Hostinger's web hosting costs for both years, you're looking at $137.74 in total.
To get even better pricing, you can sign up for four years in advance at a scant $1.99 per month. That's four years of hosting taken care of with a single bill of just under $100. Keep in mind you'll need to factor in your domain acquisition and WHOIS privacy.
That's an absolute steal when you compare it to others on this list. After four years, renewal hikes your rate up to a still-reasonable $3.99 per month.
Pricing is the most important aspect of shared web hosting and Hostinger offers remarkable cash savings on hosting that almost anyone can afford.
Getting started: 4/5 – Getting started with Hostinger is quite easy. The checkout is seamless, and your custom control panel is well-designed so you instantly see what you can manage and what needs your attention.
Right after sign up, you're immediately greeted with a welcome screen: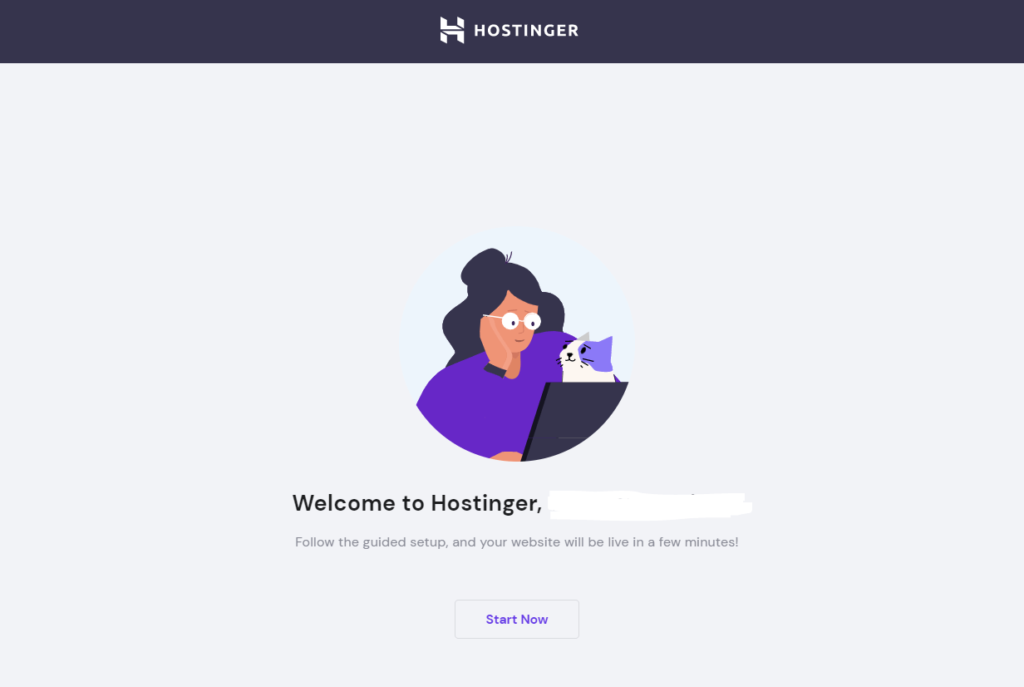 There is zero confusion on what you do next. You just follow the guided setup that comes with clicking "Start Now".
If you go to your email at this point, there will be a welcome message with a clear outline of every step you're about to go through in the setup wizard. And each link in the email redirects you back to the screen above.
When you start the setup process, you're asked questions about the site you want to create.
Are you creating a site from scratch? Or migrating one?
Migrating one means bringing over all your existing website data to your new web host.
Here you'll also be asked if you already have a domain purchased.
For your content management system (CMS) we recommend WordPress. It's simple and easy to install.
All of our research and tests are done on WordPress sites.
Next, you can pick your WordPress theme, which sets the initial design and layout of your website. You can switch this or customize it later on.
After that you get instructions on pointing your domain name to Hostinger servers. This only happens if you're using a domain you already own.
Once that's done, you're all set and you can access your account dashboard.
By the time you answer all the questions and follow the clear instructions, you have a fully functional WordPress site.
WIth Hostinger everything makes sense—it's all right in front of your face, with zero hunting for answers. They have managed to make sure when you start the setup wizard, you end with a website that's completely ready to show off.
The only drawback here with Hostinger is they don't give you a free domain. Though a minor issue, it prevents them from a perfect five-out-of-five rating for this category.
Customer support: 1.7/5 – Hostinger's customer support was lacking and where we'd like to see improvement.
All the reps were friendly. But they didn't do much more than send us to support tutorials.
Beginners will need more than that.
Even worse are the response times—the time from when we first asked a question in live chat to the moment when a rep first entered the chat and began addressing it. They are abnormally slow. In fact, the fastest interaction we experienced took 16 minutes of waiting at the start.
Hostinger was the slowest in live chat response time on this list.
Here's a closer look at our experience.
When getting started, you can find the live chat widget at the bottom right-hand corner of your dashboard, so it's super easy to start a conversation.
In our first interaction, we asked, "What security features do you offer so I can make my site more secure?"
We sent our question in at 7:48 a.m. PST. After waiting 16 minutes, we got a response.
As you can see above the rep answered politely and helped us quickly with an excellent support article. They gave us actions we could take right away.
The problem is, they took way too long to respond.
In the second interaction, we asked if we could be walked through setting up our email.
We started the chat at 11:48 a.m. Then we received an immediate reply from a bot that said they'll put us in touch with the team, and that we can leave the chat if we needed since the response would be via email.
The response came in 29 minutes later at 12:17 p.m. It was a very friendly response that included a support document with step-by-step instructions on how to set up an email account and willingness to help if we hit any snags.
Then, we asked how to forward those emails to our Gmail account. A few minutes later we got a response that had two different support articles with ways to access emails in Gmail.
That was it, and we ended the chat at 12:27 p.m. The entire interaction took 39 minutes.
Again, the rep was friendly and offered a willingness to help. It just took a dreadful amount of time for such a simple request.
For the last chat, we asked, "How do we make our site load as fast as possible?"
We started the chat at 6:40 p.m. and didn't get a response until 42 minutes later.
The rep just sent over two support articles that cover how to speed up WordPress sites, after which we thanked them and ended the chat.
The rep took a total of two minutes with us after we had waited for 42. We wished the rep would have spent more time with us instead of just dumping support articles.
This is poor service because we are left looking for answers on our own. We should have been shown exactly where to find the answer we need.
In conclusion, Hostinger customer support is friendly, and they will give you some help. But you will wait what feels like a lifetime for it and it may just be a set of support articles. You might end up responsible for looking things up on your own even after a support interaction.
For beginners and those in a hurry, this is not the best experience. We feel Hostinger can improve in response time and showing more attention to people looking for help.
When a support article is offered the rep should also walk you through where to look, not leave it up to you to find answers on your own.
We are paying them for answers, not for the location of where the answers are.
Speed: 3/5 – Your website needs to be fast if you want anyone to come back after their first visit. Hostinger doesn't excel in this regard, but doesn't drop the ball either.
Our research over 30 days uncovered an average speed of 670 milliseconds. This is just over a half of a second.
The average in total for other providers on the list was 699 milliseconds. So, Hostinger does slightly better than most of the pack.
Take a look:
You see on the far right the response time highlighted in the yellow box.
The ups and downs take shape across the image, showing the common changes in speed most shared hosting plans have. As you can see, the management of the server isn't the best but falls within an acceptable range for our testing.
Hostinger also invests in other speed-related features you can take advantage of.
Their caching plugin takes a virtual snapshot of your website that makes load times much faster, because your site details are saved on the server and quickly delivered to visitors.
Hostinger also has global data centers around the world in the United Kingdom, United States, Brazil, the Netherlands, Singapore, Indonesia, and Lithuania.
You are able to choose the data center closest to your visitors in order to reduce the physical distance between them and the server hosting your site. This means faster load times.
In the end, Hostinger performed well enough on our speed test to work for most lightweight sites. They give you enough speed to keep your visitors happy and coming back for more.
Uptime: 1/5 – If your site isn't available people won't find you. Uptime measures how accessible your site is and how often it's unavailable to the public because of maintenance, errors, or other reasons.
Over 30 days we monitored uptime for our site and Hostinger averaged 99.68% availability. That may look decent, but this is far below a good shared hosting performance. The total downtime of two hours and 22 minutes is far too much for a month of shared hosting.
To make matters worse, there are way many incidents of unavailability一58 to be exact. One single incident lasted over 30 minutes. This is inexcusable.
See for yourself:
In the image below you can see the availability percentage in the upper left. To the right shows the total downtime in hours, minutes and seconds. The longest duration and number of incidents follow directly after.
According to Freshping, the website we use to investigate our uptime, all 58 incidents were connection timeouts that lasted anywhere from a few seconds to 30 minutes.
This happens when your website is trying to pull more resources from the server than are available, resulting in a web browser not being able to load the website you want.
The high number of incidents means that there's either a site on the same server that's hogging up resources or there are too many sites on the server in general.
In fact, it could be both issues, making our uptime even worse.
To conclude, Hostinger seems to poorly manage their shared servers, which directly impacts the availability of your site. An incident lasting 30 minutes left our site (and potential customers) in the dark. You don't want that.
It's like going to your favorite restaurant with friends from out of town and it's closed when they should be open. It makes you look silly and wastes everyone's time.
That being said, Hostinger still earns our number one position on this list. It's not the best for web stores which need pristine uptime. But for any simple site, Hostinger's combination of rock-bottom pricing, ease of use, and solid enough site speed will do wonderfully.
#2 – DreamHost — The Best Risk-Free Hosting Plan Under $5
Overall Score: 3.7 out of 5
DreamHost offers the cheapest month-to-month plans by far, giving you a risk-free way to test the waters of web hosting without being on the hook.
If you just need a landing page for a few months or you're running a new product launch and you want a temporary website, DreamHost is outstanding for this—especially with the uptime reliability DreamHost gives you.
Their monthly plans are also especially useful for anyone on a tight budget. DreamHost doesn't penalize you for eschewing an annual contract, so you can still pay an affordable amount each month without having to pony up the cash for a full year upfront.
We tested the annual plan, for consistent comparison with the other providers on our list. But we'll also give details about month-to-month pricing in the next section, as well.
Pricing = 5/5
Getting started = 3/5
Customer support = 1.7/5
Speed = 2/5
Uptime = 5/5
Pricing: 5/5 – DreamHost is a rarity in the shared hosting industry一their monthly, no-commitment pricing is competitive with just about anybody else's yearly plans. And, if they don't perform well, you can drop them like old clothes that don't fit anymore.
If you need a simple plan that keeps your wallet smiling, DreamHost is a smart buy. Plus, they are perfect for small projects, mock sites to show clients, and marketing campaigns that run for less than a year.
On the entry-level month-to-month plan, DreamHost is $4.95 per month for the first three months. After that, pricing goes up to $7.99 per month, making the total for the first year $86.76.
If you need a domain name, you can register one through DreamHost. Price depends on the domain you register, anywhere from around $1 to over $10 for your first year. The domain renews after year one at $15.99.
Domain privacy is completely free. DreamHost is the only host that offers domain privacy protection for free.
For $1.99 per month you can have an email address as well.
A full-service plan with no contract or commitment will run you between $111.64 and $121.64 in most cases (depending on your domain) if you stick with DreamHost for a full year. If you already have a domain, you're looking at a predictable $110.64.
The second year of hosting turns out to be a little more, because you don't get the first three months of promotional pricing at $4.95 in your second year. With that set domain renewal rate, you're looking at $135.75 for year two.
For two years of hosting you'll pay around $250. Remember, this is with zero commitment.
However, we didn't use this info for scoring. Instead, we used pricing for a one-year contract with every host to get an apples-to-apples comparison. Because not every shared hosting plan offers month-to-month plans. In fact, the others that do are crazy expensive if you want to take that route.
Now let's look at pricing for DreamHost's annual plan.
Upfront costs for the first year of hosting are $2.95 per month, totaling $35.40 for 12 months of hosting. The domain name is free on the annual plan and so is your domain privacy.
The free domain name and privacy protection saves you an average of $30 per year.
But, unfortunately, they are also the only provider that charges extra for email.
If you need email you can pay $19.99 for a professional email address through your domain.
The total comes out to $55.39 for the first year for hosting your website with email added.
Costs for the second year of hosting are $6.99 per month. That's $83.88 to start, then add in the renewal price for your domain name of $15.99 and $19.99 for another year of email.
It all adds to $119.86 for the second year. The privacy protection is still no cost to you.
The renewal rate is 137% higher than promo pricing, something incredibly common in the shared hosting space.
The total for two years, email, and domains is $175.25. Which makes it the second cheapest option only behind Hostinger. And much lower than the average price of $222.54 across all other hosts on our list.
It gets better, if you can believe that. For a three-year commitment, you pay $2.59 per month throughout. Even with paying for the domain and email you still only pay $165.20. You're getting a third year of DreamHost shared hosting for just about $10 less than the two-year, annual commitment route.
Getting started: 3/5 – DreamHost falls in the middle of the pack with ease of use. They have several little things that make it a harder experience than it needs to be.
For instance, you have to navigate through a few confusing upsells during checkout. They were pre-selected and not very clear on what they are. And, at one point, we owed twice as much at the checkout as we expected and did not understand why.
It can be very confusing.
When you get started you are asked to register a domain name with DreamHost or or add one you already own.
Once we made our domain selection, we noticed our price doubled and we didn't know why.
This confused us and we didn't figure it out until we scrolled down on this page.
The add-ons are lower and are preselected, changing our price. They are:
We unchecked them all except for the free pre-install WordPress install (we factor email service into pricing but we don't include it during our setup testing).
Once we did that, the price went back to normal. We hit "Submit" and were immediately taken to our control panel.
The control panel is where you manage everything about the website. Next, we got two emails, one with general account information and another that shows how to set up WordPress.
Following the instructions, you go through the wizard and choose a theme for your site's layout. What we found confusing was the amount of plugins that were pre-installed. It can be very overwhelming if you don't know what any of them do.
Last, we had to find the domain name server and had no information on how to actually connect the domain name we wanted to use to our server.
We've done this dozens of times and were still a bit confused, which isn't a good sign. DreamHost should make their DNS settings much more obvious.
In closing, the set up isn't too difficult but could be much simpler, and not having the add-ons pre-selected would have given us a much better footing when getting started instead of feeling like they were trying to pull a fast one on us.
Customer support: 1.7/5 – DreamHost doesn't make getting help easy. For starters, the live chat widget is hard to find.There's no icon in the corner to click or an obvious place to connect with someone. We had to go hunting for it.
We found out there is no chat button. You must click on "Support" then click on "Contact Support" in the left-hand navigation menu on your dashboard to start a conversation with support.
After we found it, we started our live research.
The first interaction started at 7:57 a.m. PST, and at 8 a.m. on the dot, we got a response. We asked how we could improve security for our site.
They forwarded us an article and recommended DreamShield, which is a paid upgrade and acts as a malware detector to protect your website from malicious cyber attacks.
They took until 8:14 a.m. to answer this question. For such a small amount of information, we were very confused on why the chat took so long (17 minutes).
To us this interaction was not helpful, and it felt like they were pushing their paid product instead of trying to really solve our issue first.
The second interaction was to get help with setting up email for our domain. We immediately got three support articles from the rep after we asked our question, none of which were helpful.
One was about updated contact information for the account. This was not helpful or relevant to our question. The second was about how to move domain hosting between accounts and the third article was about their sender domain policy.
We did not get any help so we created a support ticket at 11:55 a.m. but left the chat open.
We actually got a response from the ticket we submitted about seven minutes faster than we did from live chat. We told the live chat rep that it was taken care of.
The chat took about 24 minutes and the ticket we submitted took about 17 minutes
We are not on a hosting plan that has email included and the ticket response we got was very friendly in pointing this out. The support ticket rep also walked us through how to sign up for that plan if we wanted to as well as more information about what's included in that plan if we decide to upgrade.
In our third interaction we were immediately connected to a rep after asking how to improve site speed at 6:42 p.m. The rep immediately sent us a greeting. But, after that, it took a few minutes for them to respond further.
From there, they checked our website loading speed and said it seemed to be okay. They also noted that we didn't have any content on our site. We told them we're just getting started and were hoping for more general advice on how to optimize before getting started.
They quickly directed us to a support article that covers WordPress optimization. The chat ended at 6:48 p.m. after six minutes.
We liked that they didn't immediately ask us to upgrade our services to a higher tier. But we wished they had dived in a bit, giving us some specific advice rather than sending us directly to a support article.
But, overall, the interaction was fast and gave us enough to get started with improving site speed.
Speed: 2/5 – DreamHost is slow for a shared web host. Speed is not their strong suit.
After our month of research, we found their average response time to be 813 milliseconds. That's just under one second, but on the high end. It's not the worst, but it's not good.
The image above shows you the daily average speed sliding across the graph. You can see the ups and downs spread over the 30 days we tested our website. A few times the rise in response time was over a second and a half.
Despite the mediocre speed, DreamHost tries to improve it with speed related features like:
Unlimited bandwidth, so you don't have to worry about how much data is transferred to visitors and hitting a cap that slows down your website speed.
Resource protection to help ensure your resources aren't used up because of malicious intent like bots or attacks.
The DreamHost team also monitors resources 24/7 to keep an eye on site performance.
In brief, you need a fast site to keep visitors happy. Right now, Dreamhost needs to improve a lot in this category to compete with other top shared hosting providers in this regard.
Uptime: 5/5 – Uptime is your website's accessibility in a tangible metric.
DreamHost is the gold standard for uptime in shared hosting. They have virtually 100% uptime, showing only 49 seconds of total downtime over the thirty days we tested. That is extremely impressive.
Take a look below:
As you can see, there was only one incident on May 28th and it was short. It was an HTTP 500 Internal Server Error (a catchall for server-side errors).
All things considered, the average downtime for this list is 26 minutes and 49 seconds. DreamHost smokes the competition here, coming only behind SiteGround in terms of uptime.
Dreamhost does a fantastic job managing their shared servers.
In fact, Dreamhost uptime percentage is better than some higher level web hosts that charge triple the price.
They make sure you keep the lights on, letting visitors stop by at any time. You get gold standard availability at extremely low shared hosting prices with DreamHost. It's miraculous how they do this and even better, that you get this advantage over your competition.
#3 – GreenGeeks — The Best for Unlimited Email, Disk Space, and Domains
Overall Score: 3.6 out of 5
If you're looking for a well-rounded shared hosting provider, you've found it. GreenGeeks scores a three or better in every category we tested.
GreenGeeks doesn't disappoint in their entry-level shared hosting plan. However, our research found the better value is in their mid to upper shared hosting tiers.
Why? Because if you need tons of disk space, separate domains, and email accounts, you're in the right place. GreenGeeks' plans are unlimited, meaning you can host as many websites as you want without having to worry about hitting any restrictions.
But to be clear, we did not test the Pro or Premium plans, which allow for unlimited sites and disk space. To compare to the others in a consistent way, we stuck to testing GreenGeeks' entry-level Lite plan.
But, here's the best part.
The Lite plan tested so well on performance itself, you can expect the uptime and speed you get from GreenGeeks to be similarly excellent or better on the higher tier plans.
So, even though we didn't test those higher tier plans, we can speak with confidence to their value because the lowest tier aced our performance tests. .
Take a look at the facts:
Pricing = 3/5
Getting started = 4/5
Customer support = 3.5/5
Speed = 5/5
Uptime = 4/5
Pricing: 3/5 – GreenGeeks' pricing for their entry level plan is average at best. Like we said earlier, the entry level plan is good, but the mid-level Pro plan is great. We will give you both pricing options below.
We want to compare each plan in this list evenly, but we also want to stress how much more you get with having unlimited resources.
Now, let's talk about the unlimited Pro plan first.
This package gives you unlimited bandwidth, disk space, email accounts, and websites.
You pay $6.95 per month, equaling $83.40 a full year. A free domain and email come with this plan, but if you want domain privacy you need to pay $9.95 more per year. So, all in, you're looking at $93.99 for a year of Pro-level hosting.
Then, on renewal, your monthly payment goes up to $15.95, making the second year $191.40. This second year will require you to add $13.95 for your domain name and $9.95 for domain privacy, with email still free. With everything, you're looking at $215.30 for the second year.
And when adding the two years together, you'll pay $308.65 for unlimited websites, email, and storage. This does come to around $9 more than the highest priced provider on this list. But you are getting the peace of mind of never using up too many resources or having to sign up all over again for another site. Something that is a constant burden in shared hosting.
Now let's look at the plan we tested: GreenGeeks' basic Lite plan which only allows for one website and gives you a still ample 50 GB of storage and 50 email accounts.
You start with an upfront cost of $4.95 per month, totaling $59.40 a year for hosting. Your first year domain name costs are zero, along with email. But you pay for domain privacy to the tune of $9.95. This brings your first year total to $69.35.
The renewal on the entry plan soars to $10.95, an increase of 137% to bring a second year of hosting to $131.40. When you throw in the domain costs of $13.95 and $9.95 for privacy, you pay $155.30.
So, GreenGeeks hosting comes to $224.65 for two full years. That's just $5.53 higher than the list-wide average of $219.11.
If you want to save a few bucks and get an entire extra year of hosting, opt in for three years up front. You will only pay $147.39 for all three years. That saves you $7.91 in the process while giving you an extra year locked down for hosting.
In conclusion, GreenGeeks pricing is fair and reasonable for the Lite plan. A little pricier than others out there, but we think well worth it for the performance you get.
Plus, scaling issues are solved by jumping up to the Pro plan when your site explodes in popularity.
The unlimited plan is an absolute steal, when you think about it. If you plan on creating multiple websites or need more than limitless storage, the Pro plan is a game changer.
Getting started: 4/5 – GreenGeeks makes setup refreshingly easy. Simply choose your domain, your plan, add your account info, and you're on your way. You have no confusing options to sort through.
Your account dashboard is super simple to use and has a modern look that's well designed, making finding what you need easy.
Sound too good to be true? See for yourself with our walkthrough of GreenGeeks's onboarding and setup below.
One side note. There's a $15 setup fee if you opt for a monthly plan. This isn't stated anywhere else on the site that we could find and is only mentioned after the setup.
However, we pretty much exclusively recommend any of the annual commitments because of the value you get for the price. GreenGeeks offers more value for the cost when you commit to a year or more up front.
The first thing you need to do is create a new domain name or let them know the URL of one you already own.
On the next page, you'll enter your account information, choose your package, and fork over your credit card info.
After you hit "Submit", you're redirected to this page:
This email verification process is new to us. It's not something any other host does in their setup. Luckily, our email came within a few minutes.
But if there are concerns with your account, it may take longer. If you don't get an email or can't find it, you should use the link in your successful order receipt that says "Support Page" to get in touch with them.
Here's what our email looked like:
Assuming no issues on GreenGeeks' end, you'll next get an email confirming your web host account is ready to go. It has login details that will take you to your account dashboard.
You can see in the above image you have the option to start a new site, migrate one, build a site with help, or skip it entirely and come back to it later.
We love how clear it is on what to do next. Each option will take you through a setup wizard, making it really easy to get started.
After we chose to start a new website, the wizard asked which app we wanted to install.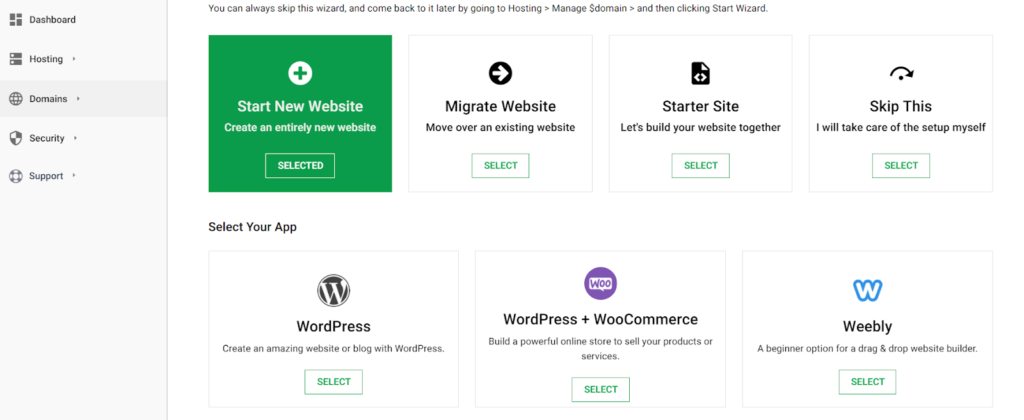 We chose WordPress and hit continue. Next, we enabled the SSL certificate.
You can do this by clicking on the link in the left-side navigation that says security. Then selecting "Enable SSL".
After that, you have to choose a theme for your WordPress site. There are eight options to choose from here, some of which are the most popular WordPress has to offer, such as Astra, Hello Elementor, Kadence, Nova, and OceanWP.
After selecting your theme, you can choose which plugins you want installed. This is great because you can decide beforehand what your site needs without having to go in and manually uninstall a bunch of random plugins you didn't want.
Depending on what you want to do with your site, each plugin helps with a different functionality. The first three are free:
Woocommerce turns your WordPress site into an ecommerce store, allowing you to sell products
Elementor is a free page builder that allows you to build custom web pages and websites
WP Forms allow you to make website forms with custom fields and designs
The others cost money and can be ignored for now (or completely, if you find better options or never need their functionality).
After that, all you have to do is click create my website and you're done.
It took just a few seconds for the WordPress install, which was extremely fast.
The only problem we have is there is no information on how to connect a domain name. Which can be confusing for anyone coming with their own domain name.
This is a big deal because GreenGeeks doesn't issue temporary domain names like other hosts do. And until the Domain Name Server (DNS) records are changed you won't be able to log into WordPress.
We just wish this was noted somewhere visible to make it super clear what needs to be done in order to move forward.
We did some digging and found the answer in their knowledge base. But it would have been better if this was explained during the set up.
In brief, the set up is so easy anyone can do it. The process was super smooth and straightforward.
The quick setup wizard definitely helped streamline the process. The only issue keeping this from a perfect 5/5 score was not having a built-in WordPress site builder.
Customer support: 3.5/5 – Having fast and reliable hosting with above average customer support is asking for a lot. But GreenGeeks delivers like the post office on all three.
We received more help than just sending us to support articles. They walked us through everything and were very patient.
What we found even better was that they are one of the four providers on this list that did not try to sell us anything when we asked about improving security.
GreenGeeks offers live chat and phone support every day. And there's a chat widget right in your dashboard, so it's super easy to find.
Our first interaction started at 8:58 a.m. PST and we were connected with a rep immediately. We asked if they could help with making our website more secure and we got a response a minute later asking us to verify our account.
Doing so was super easy and the rep gave us instructions on how to do it.
After that, the rep mentioned that we already have an SSL certificate on our site and that it is secured.
Next, they said that their servers are highly secure and controlled. They mentioned their internal and external security monitoring that they developed in-house so we can rest assured it's all safe.
Then, they mentioned that the best thing we can do to keep our account secure is to keep our login information safe and to change the password regularly.
We asked one more question about warding off malware and hackers just to see what they thought and they recommended keeping all of the WordPress plugins and themes updated.
The whole interaction took ten minutes
We loved that there were no upsells and all of the advice was very easy to understand and follow. That's perfect for anyone just starting out. The help was incredibly fast and actionable as well.
The second chat started at 12:49 p.m. when we wanted help setting up email. We got a response in less than a minute with a link to a support article that walks us through how to set up an email account.
The whole chat took eight minutes.
The rep was not quite as friendly as other support reps we've chatted with, but this was a real basic question and the rep responded really quickly with the correct support articles and stayed online until we were done. Overall, very fast and satisfactory.
In the third chat about making our site as fast as possible, the chat started at 7:28 p.m. We received a response in two minutes. We asked how to keep our load times down and if GreenGeeks had any features that help with this.
The rep said we should install a caching plugin and sent us to a support article on how to install it for our WordPress site. Then we asked if they had any additional advice.
They told us to talk to our developer, which wasn't helpful. After we didn't reply to that, they sent us another support article on speeding up WordPress sites. We told them we don't have a developer and that we are new at this and they basically dismissed that and said to have a good day.
Then they ended the chat at 7:40 p.m. after 12 minutes.
In conclusion, our experience was pleasant. They helped us and showed real care in making sure we solved our problems. Only the last interaction felt rushed.
So, all in all, we feel the service was tailored to our needs and GreenGeeks did quite well in this area.
Speed: 5/5 – Our research uncovered an average response time for GreenGeeks of 450 milliseconds.
They don't brag about being fast, but they could. The speed test ties them for first place alongside InMotion.
This is less than half a second. Your web pages will load money-machine fast.
You can see what we mean right here:
The response time graph in the image above is represented by the dark blue line traveling across the image. The test also reveals the slowest any page loaded over the testing period was one second.
This is incredible because, even as a beginner, people will visit your site and think you paid a fortune for speed like this.
In fact, GreenGeeks takes speed very seriously. They have speed-enhancing features that get the job done day in and day out:
The Cloudflare content delivery network has 194 locations, caching your site's content , auto-minifying images, and speeding up load times for uncacheable content, while blocking malicious traffic that uses a lot of server resources
GreenGeeks uses RAID-10 solid state drives that are faster because your site data is stored redundantly on multiple disks. If one is slow, the server will load from another to keep speed fast
They also leverage arguably the fastest free servers for WordPress, LiteSpeed, which clock in at 50 times faster than the Apache servers that many other shared hosts use
As you can see, GreenGeeks' dedication to speed optimization is clear. The numbers don't lie and neither will the numbers of increased visitors you receive every month from your fast site.
Uptime: 4/5 – GreenGeeks has incredible uptime and is second best on our list in this category. They also boast virtually 100% uptime with only two minutes and six seconds of total downtime during our 30-day test.
See for yourself:
You can see the availability in the upper left and also the three incidents that occured. One lasted a full minute and 38 seconds.
Freshping reports all three were timeout connections. This can happen when your website is trying to pull more resources from the server than are available and the site does load.
All in all, this is great uptime performance for a shared host.GreenGeeks outperforms most providers on this list in uptime. And, they come in far above average overall. Get a well-rounded shared hosting provider that offers plenty of room to scale by going with GreenGeeks.
#4 – Bluehost — The Best for Easily Building Gorgeous WordPress Sites
Overall Score: 3.6 out of 5
The Bluehost website builder is the only site builder you will ever need. It's easy to learn and comes with tons of templates一making it one of the best page builders you can get for free.
If you need a website with a little extra style than what a plain jane WordPress theme gives you, Bluehost has made the perfect platform for you. With it you can switch blog layouts, design the perfect call to action buttons, and literally make a masterpiece in about ten minutes.
Let's look at what else Bluehost does well.
Pricing = 4/5
Getting started = 4/5
Customer support = 3.7/5
Speed = 1/5
Uptime = 3/5
Pricing: 4/5 – Bluehost is a trusted name in shared hosting that is still cheap to get started with.
They are one of the few WordPress-certified providers that give you such a good starting cost in the first year, you almost don't believe it's true.
Here's what we mean.
The first year of hosting is only $2.95 per month, equaling $35.40 due up front. You get the added value of a free domain name and email accounts. If you want to protect your online identity it's another $11.88 for the year, which rounds out your total cost to just $47.28 for your first year of hosting with Bluehost.
When it's time for you to renew your hosting for the second year, your rate explodes by 239%.
And though it's the highest renewal increase percentage among providers on our list, your plan is still incredibly affordable.
Looking it over, your new monthly rate is $9.99 per month. Which is $119.88 for a second year of hosting.
Then add in your domain name cost, which is $17.99, and your website privacy at $11.80. So, the new price for year two is $149.75.
Altogether, you get two years at $197.03. Well below our list-wide average of $222.54.
Bluehost is the third cheapest option overall behind Hostinger and Dreamhost.
And if you want to tip the scales in your favor even more, you can sign up for three years in advance at $2.95 per month. When you add in the domain and privacy, you're still paying only $177.58 for three years.
Overall, you get incredible pricing when you start an entry-level plan with Bluehost.
Getting started: 4/5 – The signup process and entire Bluehost experience is riddled with ads and upsells.
But everything else about it is just about as easy as it gets. You get a free domain name for the first year and five email accounts at no extra cost, so it comes with everything you need in one package.
Plus, your website builder is integrated into your dashboard so you can easily bounce over to design an incredible website in a few minutes.
It's really that easy to use. The drag-and-drop builder makes putting things where you want them to go on your site much easier than coding.
You don't have to worry about configuring settings or going through a third-party to get all the pieces of the puzzle. The dashboard is clean, clutter-free, and easy to use.
But don't take our word for it. See for yourself below.
You start with deciding if you're adding a new domain or entering one you have already.
If you are not sure, you can skip this and do it later.
On the next page, you enter all your important account info, the package you want, any extra services you like to have, and your payment information.
In the add-on sections, a few are pre-selected. You don't need any of them to have a working website when you're done. So, you can un-check them all.
If you want to know more about each add on, there is a link that will explain each one in more detail.
Once you're done, hit "Submit" and you'll create an account for Bluehost.
Once you create your account, you need to login. The setup wizard asks you how much help you need when setting up your new site.
We chose the middle road: a little help. After that, you're asked what type of site you want to create.
If you aren't sure, you have the option to skip any of this.
Once you make your selection you're asked, "How comfortable are you with creating websites?"
Next, you can choose from a basic WordPress install or Bluehost's drag-and-drop WordPress builder.
This is the best part about this setup, because you can choose which one you want to use.
If you're familiar with WordPress and prefer the basic install it's perfect. But if you're a beginner and don't want to play with learning WordPress themes and setup, you may want the extra guidance of the drag-and-drop builder.
That walks you through how to build an immaculate website in no time. Even if you're on your lunch hour at work.
If you scroll down, there are a few FAQs to help you choose the right option for you. The information there is helpful and clear.
If you use the site builder, your completed site will be a little slower on performance than if you used WordPress to design your site. But it is easy and straightforward for beginners.
WordPress, on its own, offers more flexibility but takes a lot longer to learn and set up.
We chose WordPress for testing purposes, but feel free to go with your gut.
If you choose the page builder, you'll jump right into it, answer a few questions, and start designing your new site.
If you decide on WordPress, you'll be asked about your industry and who you're creating the website for.
After entering that info, you can choose a theme or skip it and choose one later. You can filter out only free options, only paid options, by feature, by layout, or browse by different website types to make your search easy.
It's really intuitive and gives you a lot of variety.
After that, the WordPress setup wizard is complete. You're taken to the dashboard and offered a checklist of things to do that will build out your website. You don't have to guess about where to start.
One thing we didn't like was not getting any guidance on setting up our domain name. This is easily solved by going to the knowledge base. But this can be very confusing for beginners, because you won't know why your site is not showing up online.
So remember to check the knowledge base for steps on DNS setup because Bluehost doesn't bring it up. This is very important if you skipped the domain name setup during the early stages of the onboarding process.
In conclusion, the setup is a breeze, no matter if you decide to go with the website builder or the standard WordPress install. Anyone can follow the steps to wield Bluehost's affordable entry-level shared hosting plan.
Customer support: 3/5 – The customer support we followed up on started out a bit on the salesy side. But, after the first interaction the next two turned things around for their scoring.
This showed us Bluehost will help you and do it well.
Off the bat, the live chat widget isn't in your dashboard, but is easy enough to find. We clicked on the knowledge base option in the dashboard and there we found an option right at the top to start a live chat.
You can also click on the chat option on the Bluehost home page in the upper right.
You fill out some questions for Bluehost to offer some support articles that might address your issues. If these don't help you, just scroll down to the bottom of the screen and click "Start Chat".
The first chat started at 8:07 a.m. PST. We got a response within 30 seconds.
They asked us to verify our account with the last four characters of our password. Once that was done, we mentioned we wanted to hear about security features that are available to secure our website.
Their first response was about paid packages. They told us how much these extra packages cost per year and what features each one includes. Then, we asked if there's anything we can do that doesn't cost extra.
The rep offered some WordPress plugins we can install but claimed that are not very good. Honestly this response surprised us and seemed a bit underhanded to us, since they just tried to sell us a paid upgrade.
We said thanks we'd think it over and the rep said they hoped we had a five star experience before ending the chat. The total chat time was 22 minutes.
We didn't like the sales-first approach.
We prefer getting help that solves problems without having to spend more. Especially when we know there are other worthwhile options.
Also, instead of telling us what the paid plans do, the rep just listed all of the features. This wasn't helpful and would have liked to learn more on what we could have done with our current plan instead of having to upgrade.
In the second chat, we asked about setting up email. We started the chat at 12:03 p.m. and were connected quickly.
The rep told us how to create a new email account. They were straightforward and friendly and very fast.
After that, we asked how to forward emails to our Gmail account. In a few seconds the rep responded with details on how to set it up. The whole chat time was five minutes.
This chat took no time at all. We followed the instructions and everything was exactly how they described it. Definitely way better than the last interaction with Bluehost.
The third interaction took 17 minutes. We needed help with speeding up our site. We specified that we were not having issues, we just wanted to know how we could boost speeds if we needed to.
But the rep did not seem to be paying attention to our comments because they kept trying to solve a problem that was not there.
They asked several unnecessary questions and, when finally asked for a guide, they sent us a support article about setting up an email account.
Then after that weird exchange, we received an excellent answer filled with examples and specific actions we can take. Then, they sent a few more guides that were very helpful.
It seems to us the rep was distracted or possibly working two different conversations at the same time, because after the mix up they were very helpful. They just were not focused entirely on our question at first, which wasted time. They still helped, though not efficiently.
Speed: 1/5 – The fastest website gets the traffic, according to Google.
So, we felt disappointed with the performance Bluehost showed in our testing.
In fact, Bluehost has the slowest response time out of all of the hosts we tested.
They tied for last place with a dismal 1107 milliseconds average for loading speed. This is just over one second. That might sound acceptable on paper, but that's the exact opposite of reliable speed.
Why is this important?
Because when you compare that to other hosts of equivalent price, Bluehost is just under a half a second slower. Which means your competitor is faster and just took food off your table.
Take a look at this up and down mess.
The above image is a tragedy, really, and the only consistent pattern is that Bluehost is grossly slower then the others on the list. Seriously, when you compare what we've seen from other shared hosts, almost everyone else had no problem getting their averages well below 1000 milliseconds.
We have to admit, however, shared hosting is not known for its speed and performance. But some response times were almost a full two seconds, which is really pushing it.
When we looked for speed optimization features, we could not find anything for entry-level plans. Most of Bluehost's speed and performance features are reserved for managed WordPress hosting users who are willing to pay more.
Bluehost does virtually nothing to help beginners have fast sites, and it shows.
Uptime: 3/5 – Bluehost has a 99.95% uptime, with 20 minutes and 28 seconds of downtime shown during our testing.
The average total downtime for other providers on this list is 26 minutes and 49 seconds. Bluehost performed slightly better than average.
They fall in the middle of good and not-so-good.
You can see the downtime metric right at the top of the image above and downtime represented by the red squares at the bottom of the screen.
We had one incident that kept our site down for a bit over ten minutes.
Of the seven total downtime incidents, one was a refused connection, three were connection timeouts, one was an unknown error, and two were SSL errors.
The SSL errors are major concerns because the browser couldn't verify the SSL certificate. This means your website will show a warning that the page isn't safe to visit.
This can cause visitors to feel uneasy about your brand and never come back to your site.
In the end Bluehost performed slightly above the average of every other host's average on the list. But we have serious concerns about the SSL errors and the stain on your reputation this can cause.
That aside, Bluehost's affordability and beginner-friendly setup process make it the best option for whipping up a solid WordPress site in just minutes.
#5 – SiteGround — The Best for Having Customer Support You Can Brag About
Overall Score: 3.1 out of 5
If you're new to web hosting you might have a ton of questions.
And that's completely normal.
SiteGround is a provider that takes customer service to the highest level and will answer those questions with Olympic athlete ability.
In fact, they scored the highest on the list in customer support. They continue to surprise users with their attention to detail and willingness to help, us included.
Let's look at the other important details of shared hosting and see how SiteGround performs.
Pricing = 2/5
Getting started = 3/5 
Customer support = 4.4/5
Speed = 4/5 
Uptime = 5/5
Pricing: 2/5 – SiteGround doesn't exactly come cheap, but that's largely due to two factors. In fact, your first year of hosting will be relatively affordable.
Current pricing allows you to get the first year of their entry-level StartUp plan for $2.99 per month, adding up to $35.88 for your first year.
The first problem is that a domain name and privacy will both cost you. While others throw in the first year of a new domain for free, you'll have to pay $17.99 to secure one through SiteGround at checkout. WHOIS privacy protection costs you an extra $12 on top of that.
Fortunately, you don't pay a penny for email. In fact, you get unlimited email accounts. 
The total for everything for one year is $65.87. That's not terrible. In fact, it's a better first-year cost than a couple options ranked higher than SiteGround.
But the renewal cost is pretty steep, jumping to $14.99 for year two, leading to a year-two cost of $179.88 and a two-year overall total of $245.75.
If you're just starting out, that can seem like too hefty of an investment. We get it. SiteGround isn't for everyone. 
They aren't your bargain shared hosting plan, but the service, speed and reliability help justify why the cost is what it is. 
In the end, SiteGround is expensive enough that it may be too much for the folks who need a bargain more than anything.
But if you're not on a strict budget, SiteGround doesn't disappoint in quality, as you'll see.
SiteGround is for users in it for the long haul and those that want clear-cut performance and reliability from day one.
Getting started: 3/5 – Getting your SiteGround shared hosting plan up and running is not hard at all. We did our research, so we know how easy it is.
So why do they score only three out of five?
The problem is they don't have a built-in WordPress site builder and they don't give you a domain for free with your plan, causing them to lose two points.
Other than that, they do a lot of things right and the setup process is straightforward.
See for yourself.
The first step is registering a new domain through SiteGround or entering one you already have.
There's no option to skip this step and come back to it later. So, if you don't have a domain name you can't get started.
After that, you enter your account info, payment information, and pick a plan.
Your options are StartUp, GrowBig, or GoGeek. We selected StartUp, the entry-level shared hosting package.
Here, you can also select one upsell called SG Site Scanner. It monitors for suspicious activity and if your site's been injected with malware or even hacked.
We liked that it's not pre-selected and gives you the option to read what it does and choose for yourself. It's $19.80 for the year. It can definitely improve your site security, but there is no need to opt for this now.
After that, you'll click "Pay Now" and you're automatically redirected to a success page.
A clear and nicely formatted welcome email outlined what we needed to do next, which is to add a website to the hosting plan.
This is nice, because it's the exact opposite of confusing.
Once you head to the customer area, all you have to do is click the orange button to get started with installing WordPress and setting up your new site.
SiteGround makes what to do next easy to understand. You don't have to guess or hunt around to figure anything out.
Once you start the wizard, you can walk through starting a new website, migrating an existing site, or skipping the wizard entirely and starting from scratch.
We chose to start a new website. After that, options for your content management system (CMS) are WordPress, WordPress with WooCommerce (for web stores), or Weebly.
After choosing WordPress, we were asked what email and login credentials to use for our new WordPress installation.
Clicking "Continue", a pop up asks you once more if you want to add the security add-on. There is a skip it link at the bottom you can press in order to move on.
Click "Finish" and wait a few minutes until the WordPress installation is complete. The installation was blazing fast and took less than three minutes.
After you finish installing WordPress, you can use the step-by-step instructions back in the customer dashboard to find what to do next.
You can immediately manage your site or point your domain to the servers.
Each step is super clear and it's obvious what order to do them in.
There are also video tutorials if that suits you better.
This is extremely helpful, especially for beginners who have never set up a website before.
You can even cross the step off as you do them so you know exactly what part comes next. No other provider offers this kind of simplicity when pointing your domain to the server.
What's particularly helpful is the domain information一most others don't say anything about domain names whatsoever. But, SiteGround offers tons of information on pointing your existing domain to SiteGround and temporary domains, explaining what they are and how to set them up if you need one.
In closing, SiteGround definitely has a very clear roadmap to having a completed website that actually works when you're done.
Overall, the interface is very clean, straightforward, and modern. It's easy to navigate through the process, even if you've never done it before, which can't be said about some of the other shared hosting providers on our list.
Customer support: 4.4/5 – SiteGround has the best customer support on this list. And we have the hands-on experience to prove it.
They go above and beyond to help, and have an uncanny way of showing you that your questions一as simple as they are一matter.
You are connected with reps almost immediately who are friendly, knowledgeable, and willing to help on every interaction.
The truth is, they would have scored perfectly but the last rep sent us to a support article and didn't add any contextual advice beyond that.
For complex issues, you can call them 24/7.
It's almost like they invite your questions instead of hiding behind a chat bot like some other hosts do.
Our full experience is detailed below.
We had to go through different support articles in order to chat with a rep, which we didn't like. We felt starting a chat should be easier, but once we got help it was top-shelf.
The first chat started at 9:10 a.m. PST. We asked how to improve security on our website.
The rep was very helpful, fast, and straightforward, telling us to turn on automatic core WordPress updates and automatic plugin updates. They said this will combat the most common ways sites get hacked and hit with malware.
They also explained it right away so we didn't have to ask further questions. It was like they anticipated we would have more questions and adjusted their response accordingly.
The chat took just four minutes.
We felt this was Incredibly fast support. The rep was knowledgeable about WordPress and gave specific advice for WordPress. There were no upsells to paid security products either. We left the conversation knowing just what to do.
On the second chat, we needed help setting up email.
We opened a chat at 1:05 p.m. and were connected in a few seconds. In less than a minute, the rep responded with step-by-step instructions on how to find the area to create an email account.
We later asked how to forward those emails to a Gmail account
The rep responded in about 30 seconds with instructions on how to get to that part of the dashboard.
We thanked the rep and they ended the chat. The total time of the chat was seven minutes.
The rep walked us through exactly how to get where we needed to go. Overall, it was very fast and we were impressed thus far with SiteGround's support.
Chat number three was only eight minutes long. We wanted help with speeding up our site.
The chat started at 7:47 p.m., again immediately connecting to a rep. They were friendly and pleasant and confirmed our site was new.
We said we have been hearing about why site speed is important and wanted to know more.
The interaction was super fast and friendly. The rep was more than happy to send over a few tutorials to help us out. They were encouraging, too.
However, we wished they would have explained things a bit more rather than just sending us a support article. So they lost a portion of a point for that.
SiteGround really wowed us with their support, just one minor quibble on our end. If you fancy great customer service and want to know for a fact you are going to get fast and friendly support that actually fixes things, SiteGround delivers.
Speed: 4/5 – Even if you don't know anything about shared hosting, you know the pain of waiting for a website to load. SiteGround is the third-fastest provider on this list.
They have an average response time of 616 milliseconds. This is just over a half a second for your page to load and show off your new shiny blog post, content, or product.
Let's face it, we are impatient. So, your visitors expect your site to load with no idle time.
Look at the wave pattern going across the image above. It's steady throughout the month we tested it. We do see a high spike in response time that reaches two seconds at one point. That still falls within the Google guidelines of a fast enough website.
Oftentimes in shared hosting, this image looks like a wild roller coaster going up and down with reckless abandon.
Here, however, your site will be fast and steady every time your visitor types in your domain name. That is the most important factor about speed—that it's consistent.
SiteGround sweetens the pot with extra benefits that keep site speeds up. They partner with Cloudflare to give you a free CDN (content delivery network) so your data loads fast all over the globe. You don't have to do anything other than click a button to turn it on.
They also have company-specific software that optimizes your images, improves your database functionality, and so much more. Again this is pre-installed and set up for you automatically.
The fact is, SiteGround is a gold standard provider that makes shared hosting faster than most.
Uptime: 5/5 – SiteGround stands in first place for uptime percentage. If you want the best availability and server reliability in the shared hosting space, you've found here.
Our research shows SiteGround has 100% uptime over 30 days of testing, and only one incident lasting a scant two seconds.
This means our website literally never stops being available. Morning, noon, and night for a full month, we kept our lights on for visitors to find us whenever they chose.
Look at this incredible proof below.
The percentage is on display in the upper left. To the right of that, it shows the downtime of two seconds, as well as the number of incidents. This single issue was an unknown error.
This uptime performance is comparable to cloud services or dedicated servers that only take care of your website and nothing else.
But, this is shared hosting. And, thus, SiteGround really shines here.
If you have content or an ecommerce site you make your living with, you want it available 24/7. And, based on our data, SiteGround gives you that.
Their server management is impeccable and they make sure of it day in and day out.
In brief, having a hosting provider that gives you this kind of effort is worth its weight in gold, because you don't have to wonder if one day you will wake up and find out you lost hundreds or even thousands of dollars because your site was down at peak times.
Get peak reliability and extra-mile customer service by choosing SiteGround for your shared hosting needs.
#6 – InMotion Hosting — The Best for Giving You the Fastest Website from Day One
Overall Score: 2.8 out of 5
You can't give a great user experience without a fast website. So, when we researched InMotion Hosting, we loved that lightning fast speed was standard issue. There are no extra programs or speed related features you need to add to make your site appear fully formed in a blink of an eye.
They scored the best on the list and rival higher tier web hosting plans at triple the price. You can't find that anywhere else.
Here's how they did in every category we tested.
Pricing = 2/5
Getting started = 2/5
Customer support = 4/5
Speed = 5/5
Uptime = 4/5
Pricing: 2/5 – The price you pay for InMotion shared hosting is one of the most expensive.
Unfortunately it causes the overall hosting score to plummet, since price is the most important part of judging shared hosting.
The upfront costs start at $6.99 per month, running you $83.88 for the first year of hosting. Your domain name, should you need one, is free for the first year. You also get an email for $0.
If you want to protect your domain privacy online, which we recommend, it's $12.99. This keeps your identity safe so scammers and hackers have no clue who owns the site.
In total, for everything you need to host your website, it's $96.87 for the first year.
The second year of hosting renews at $11.99 per month, equaling $143.88. That's a renewal of 72%, much lower than other hosting plans on this list.
Your domain isn't free in year two, so expect to pay $15.99. Your privacy cost stays the same at $12.99 and email is still free. Total hosting cost for the second year is $172.86.
This brings your total costs over two years to $263.73. The average price across all the hosts on our list is $222.54. InMotion is the second-most expensive option on this list.
You can opt for paying two full years up front. This will give you a promotional price of $5.99 per month for the duration, dropping your web hosting costs to $185.73. This includes the costs for your domain and privacy.
The pricing is a hurdle for InMotion and causes the overall score to dip below what many expect to be acceptable. If you have the ability to take the option for a two year plan upfront, it removes the obstacle their pricing causes at first glance.
Getting started: 2/5 – InMotion's setup is one of the hardest to get started with. The account dashboard is very cluttered and very confusing for beginners because there is nothing telling you how to get started once you pay for your plan.
We even looked through all of the getting started guides in the emails they sent and even at the bottom of the dashboard, but nothing really spells anything out. You either need to know what you're looking for or you need to spend a ton of time trying to figure things out.
One thing they do offer is a free 30 minute call to help you with setup. But we did not use it in order to stay transparent in our testing with the other hosts.
We can see how this would be helpful if you get a knowledgeable rep.
But, to reiterate, we did not use this, so we cannot vouch for the quality of this feature. And it was not included in our scoring.
Our onboarding experience can be viewed below.
Once you select your plan一we tested the lite entry-level one一you are greeted with this screen:
The upsells they include are:
Backup Manager for $24 per year (automatically checked to yes)
Dedicated IP address for $72 per year (automatically checked no)
QuickStarter for a one-time fee of $249 – you get a professionally designed one page website built on WordPress (automatically checked no)
We said no thanks to the backup manager. You can get a free plugin that will do your website backups for you.
Next, it asks about your domain name. You can buy one from InMotion, use one you already own, or skip it. We chose to use one we already own and clicked "Continue".
At this point, a popup appears asking if we wanted to save an extra 10%. We clicked yes and it automatically applied the new discount. This is something that we have seen multiple times when testing out InMotion. It's a new account discount given to all first-time users of InMotion Hosting.
After this, you enter all your personal info and make your payment.
After paying, we got a welcome message and an option to get help with creating a new site or migrating an existing one by setting up a personalized one-on-one call with a new account specialist. This is unique to InMotion and something no other budget shared hosting plans offered.
We said no thanks, and did not take advantage of the one-on-one call.
After this we received a few emails. The most important one was the guide to setting up a new site. However it's missing a ton of details.
It talks about pointing your domain name, setting up email, and how you want to design your website. This can be a helpful document but it doesn't say anything about what to do before these steps. We'd like for there to be a step-by-step guide on where to start setting up our website.
We closed the document, then clicked the set password button in the dashboard.
We set a password and clicked "Log In". After that, we were taken to a login page.
After logging in, you're inside your dashboard but there is zero guidance from here. Yes you can set up that one-on-one call, but we feel there should be clear steps on how you set up your website.
We even opened up the getting started guide under the "Recommended For You" section at the bottom.
Next, we clicked on WordPress, since that's the CMS we are using and want to install. However, there was nothing about how to actually install it—only how to use it after it's installed.
We had to do some digging, and we shouldn't have to. It's clearly not beginner friendly.
Important: You have to open up Softaculous and install WordPress from there一it's an app on your dashboard homepage. But if we didn't already know that, it would definitely take a long time to figure it out.
After we clicked to install WordPress, there's a form to fill out.
After filling this out you pick the plugins you want to install before proceeding with the installation. It took around 15 minutes to finish creating our website.
In the end, this was a poor user experience.
We feel they can make this process much easier. And even though you get the offer for a specialist to call you一you might not have the time for that. It's a crap shoot otherwise.
Customer support: 4/5 – We found InMotion's customer support on par with higher level web hosting plans.
The first two reps were excellent and the last wasn't terrible but felt a little rushed.
Overall the reps paid close attention to our questions and gave us a feeling that they genuinely care to help.
The live chat button is on the website, at the bottom right of the screen and is always there. When you click it, a new window pops up that asks if you want to talk to support, sales, or account confirmations.
We clicked on "Support".
Something different about InMotion Hosting is how they give you a link to the knowledge base to review while you wait for help. We thought this was a nice feature.
Our first question was about the security features they offer to make our site more secure.
The chat started at 7:14 a.m. It took 15 minutes before getting a response. The rep responded kindly, then told us that they offer a free SSL certificate and server-side protection that actually protects the physical server hardware from attacks.
They then said that we're in charge of most of the security of the site—regarding things like our account password—but that they have a tool called ModSecurity to help with that as well. They also recommended a paid security feature called Sucuri if we wanted more. They reiterated that there is a cost with it, which we were happy they were clear about.
We asked if they thought Sucuri was necessary for a new site or if it's something to look into later一just to see what they would say.
The rep said it's definitely something we don't need right now. We thanked them for their help and we ended the chat. Total time for the chat was 28 minutes.
We loved that they took the time to explain things to us rather than immediately sending us to a support article.
We also really liked that they didn't mention a paid upgrade until the very end—the rep even told us that the paid security tool is not really something to worry about right now but to keep in mind for later.
Overall, the interaction was excellent.
In the second interaction we asked about setting up our email account.
The chat started at 12:05 p.m. and took a total of 15 minutes. It was pretty straightforward.
We feel like the rep really went above and beyond by walking us through everything, rather than just telling us all the steps at once. They gave lots of details on where to find things so we were not left hunting around for it. This level of support is perfect for a beginner.
The last interaction started at 7:03 p.m. and we asked about speeding up our site. It only took 30 seconds to connect.
The rep told us they needed about five minutes to pull up our site and review it. After they did that, they asked what specific problems we were having. We said that there weren't any, we just wanted to know how we can make it better.
The rep responded about a minute later, saying that one way to make our site faster is to install a caching plugin, like W3 Total Cache. They also said there are several others we can look into as well.
If you're not familiar with caching, it's a process that takes specific areas of your site that don't change—things like images and static content—and holds them on the server. It then serves these pages and content to your visitors instantly without having to take the time to load them first, making your site faster.
After the rep told us about that, they mentioned they have several speed optimization guides they can send over. We said we'd love to check them out. They sent over eight different guides but gave no explanations or anything like that—just eight hyperlinks.
Then, they asked if there's anything else we needed help with. We said no and thanked them for their time. They ended the chat at 7:09 p.m. after six minutes.
Overall this chat was good. We felt it was a bit rushed, though, especially when sending over eight guides with no explanation about them.
We liked how fast we connected, though. We waited five minutes for a review of our site and got a rapid fire answer, albeit with zero advice on understanding the plugin or what it does.
Our experience in total was pleasant and InMotion Hosting offered better service and support than most shared hosting providers. So, we feel happy in the quality you will receive when you need help.
Speed: 5/5 – You can't find a faster host than InMotion for shared hosting. It literally beats up on the competition and is faster than some gold standard hosts with higher priced plans.
Our research uncovered an average speed of 339 milliseconds. That is freaky fast and none of your visitors will think your site is on a base level plan.
You will be offering the best user experience any website on the internet can offer at a fraction of the price.
Here's what our speed test looks like.
You can see for the first half of the 30 days it's very consistent一remaining under half a second. Towards the end of the month it begins to rise and maintain a speed mostly just above 500 milliseconds. This is still outstanding.
This makes sense, however, because InMotion takes speed very seriously and has several speed-related features you don't have to manage to keep your site this fast.
They give you unlimited bandwidth, which means the data transferred from the server to your visitors has no limit. Most shared hosting providers cap or throttle this, especially if you have more visitors than other websites on the same server.
InMotion also has something called Max Speed Zones, which is fancy phrasing for saying they manage your data centers and they pick which center is closest to your visitor so the request gets processed faster than expected. Your website content doesn't have to travel as far, so your site becomes faster.
Usually you have to manage this with a CDN (content delivery network) and that can become complicated for a beginner. So, it's nice you can put your feet up and not have to touch a thing to get this kind of speed.
If you want a fast site and want all the hard work to ensure that speed done for you without having to pay extra or learn any complicated software hacks, InMotion is perfect. If your site needs speed because it's filled with ever-changing or increasing data, this host is a great place to start.
Uptime: 4/5 – When you need a website, you want it available immediately. So, when we did our testing over a full month and saw InMotion gives the reliability you need, we were ecstatic.
Their uptime percentage was 99.99%. This shows that when you select shared hosting with InMotion, your site will be available for every visitor.
Take a look at the complete test below:
Looking at the image above in more detail. You can see that the total downtime was six minutes and 17 seconds. The longest loss of availability was just under three minutes.
Shared hosting normally will have some downtime, but it's why they are unavailable that matters most. Because it can display underlying concerns that make your site look unsafe.
Unfortunately InMotion Hosting has a couple of concerns here.
There were four incidents that caused the site to be unavailable.
Two were SSL errors, one was a bad gateway error, and one was an HTTP 503 internal server error.
The SSL errors are a major problem (as you'll remember if you also read the Bluehost review just above).
These errors tell visitors that the security of the site is in jeopardy. They will get a message saying it may not be safe to continue to your site because of security problems.
This can turn your visitors into doubters about trusting your site, and that's terrible.
The bad gateway error means network issues between the two servers, where one of them can be overloaded at that time. And the internal server error means your provider needs to make some changes to find out why your server isn't responding with the information your visitors are requesting.
In the end, the uptime percentage is great and InMotion does way better than the average 26 minutes of the other hosts on our lists combined. But we are very concerned with the SSL errors and that alone can cost you tons of visitors.
But, overall, your website will be up and available.
So if SSL errors keep happening, ask support how this can be fixed.
All in all, InMotion scorches the competition on performance alone. That's a huge edge in the field of shared hosting, where uptime and speed variability are common. If you can stomach a difficult setup experience and the higher price point, you'll get all the speed you'll need by going with InMotion Hosting.
#7 – A2 Hosting — The Best for Creating Profitable Ecommerce Websites
Overall Score: 2.1 out of 5
When you're ready to start your ecommerce site, A2 Hosting makes it simpler than anyone else.
Once inside your dashboard, you can easily select which ecommerce platform you want and do a one-click install. Plus, there are setup guides for platforms like Magento, WooCommerce, CubeCart, OpenCart and a few others.
Let's look at how they hold up in other areas of web hosting.
Pricing = 3/5
Getting started = 0/5
Customer support = 3.3/5
Speed = 1/5
Uptime = 3/5
Pricing: 3/5 – The pricing for A2 Hosting is considered affordable. Not overly expensive, but nothing to brag about either.
Starting out, you pay $5.99 per month. This adds up to $71.88 for a year of hosting. If you need a domain you're forking over another $14.95 for the year and with WHOIS privacy coming for an extra $9.95. A great benefit you do get for free is email. In fact you get unlimited email accounts with A2.
For the first year you're looking at $96.78, all told. This sets you up with everything you need to begin managing your website.
When it's time for you to renew, your monthly costs are bumped up 50% to $8.99 per month. This is the cheapest increase for renewal on the list. Web hosts are notorious for hiking up the price, but A2 does a good job keeping it reasonable.
With all things remaining the same, your second-year costs are $132.78. And when you add up the total cost for two years of hosting, it's $229.56.
The average price across all the hosts on our list is $222.54 for two years of hosting, so A2 Hosting is ever-so-slightly higher than average.
Want to save some cash? Opt for the three-year contract up front.
You'll pay $2.99 per month, though you'll still have to pay for your domain name and domain privacy, making the total for three years $182.34. But that's a huge discount. You basically get promotional pricing for three years.
A2 has pretty decent pricing for shared hosting. You also don't have to worry about your renewal pricing getting out of hand.
Getting started: 0/5 – A2 Hosting is the hardest host to get started with. And if you can't figure out how to set up your website, how hard is everything else going to be?
We found several confusing upsells during checkout, the customer dashboard has too much information splattered everywhere, and there is no information advising you how to get started after you pay.
You are left holding a receipt of payment for something you are not sure how to even use.
Overall, the process can feel next to impossible and really frustrating if you're not sure what to do.
First, you must register your domain name, transfer one, or get a new one. Immediately after setting up your domain information, things get cluttered and hard to understand.
This is what it looks like immediately after choosing our domain name:
Right off the bat, you can see clumps of text squished together. The advanced SSL certificate is pre-checked (which is causing the massive price spike mentioned), but A2 doesn't tell you it's an advanced option. It just says "Rapid SSL".
As a beginner, this screen is very overwhelming. The free SSL certificate the plan comes with is more than enough and you don't need the advanced Rapid SSL, which they don't even explain what that is.
As you scroll down, you can choose your plan and see the other add-ons available to you.
The upsells are:
A premium SSL certificate for $49.99-$149.99
Unlimited storage and email upgrade and backup tool for $2 per month
A dedicated IP address for $5.99, not preselected
A2 website builder (free for a one-page site, $6-$16 otherwise), not preselected
Once you finish your checkout you're greeted with the dashboard.
There's no guided setup. No checklist. Nothing telling you what to do next. We also got a welcome email with login info for four different accounts (control panel, FTP, SSH, and email) with not a lot of info about what each one is and why they're all separate.
This is just a real cluster of problems for any beginner or anyone who needs to set up a site quickly and likes to have some guidance.
The only thing we found simple was setting up ecommerce sites. When you are in your dashboard, you can quickly install Magento, WooCommerce, CubeCart, or other platforms.
The problem is you have to jump through a thousand hoops to actually set up your website first. But once it's done, ecommerce integration is a snap.
With that being said, if you've never done this before you're going to be confused. That's not your fault. And that's not how any shared hosting setup should make you feel.
The setup could definitely be a more beginner-friendly experience with help, guidance, and step-by-step instructions on how to move forward.
A2 Hosting didn't check off a single one of our ease of use boxes, so they scored a straight zero.
Customer support: 3.3/5 – When we tested A2's customer support, we found a mix of knowledge and friendly advice from their reps.
However, the first interaction was pretty salesly and the rep didn't really do much to help us out.
One thing we love about A2 are the many ways to get in touch with support. You can contact support via phone, ticket, email, or live chat. There's also a knowledge base for common issues and tutorials.
When we first reached out via live chat we asked about improving website security.
We started the chat at 9:28 a.m. PST and it lasted 22 minutes.
We didn't like that the first thing offered was a paid service. We wished they would have sent us an article on WordPress security first and only recommended the paid options if we asked for it.
It would have also been better if they would have told us the prices for these plans.
We finally did get the rep to send us a link to their security upgrade packages and a knowledge base article with more information on how to secure a WordPress site.
But did not get much advice on the important areas to focus on or how to use the document.
In the second interaction, we started the chat at 1:16 p.m. We were connected to a support rep immediately.
We wanted help on setting up our email. Less than a minute later, the rep asked if we wanted to set up an email using the domain we have hosting for.
The rep gave us a very thorough explanation of how to get to the right area and setup an email account—the most thorough interaction on this topic out of all of the ones we had—and they even included screenshots of where we needed to click.
After that, we asked how to forward emails to our personal Gmail account and the rep responded in just a few seconds with another screenshot of where to go.
To go above and beyond, they also provided a link to a support article with more detailed instructions if we needed them.
The chat ended at 1:27 p.m. and lasted 11 minutes.
This was an outstanding display of customer support. It was thorough even for a simple question. The rep was helpful the entire time and we felt like they genuinely enjoyed helping us.
In the last interaction, we received help on optimizing our WordPress site, starting the chat at 8 p.m.
The rep spent time looking over our site, said it was optimized and fast already, and even sent us a report.
They also directed us to enable Cloudflare with a support article on how to do that and sent over a support doc on WordPress optimization with the A2 optimization plugin.
The chat ended at 8:11 p.m., lasting only 11 minutes.
We would have liked the rep to explain speed optimization to us rather than sending us to a tutorial to figure it all out on our own. They did not feel overly friendly, but not rude either. Overall, we walked away with a fast interaction and the info we needed.
A2 Hosting offers above average customer support. You get fast responses and your questions are answered. There is a lack of consistency in how reps go the extra mile, but all in all the service is acceptable.
Speed: 1/5 – The speed test we did reveals A2 Hosting doesn't do well in this category, averaging 895 milliseconds. That's second-slowest to Bluehost.
This is disappointing because speed is a major ranking factor on Google. The truth is, even if you have the best content, no one will wait long for your pages to load.
In the image above, the jagged display in blue represents the uptime. It climbs and falls regularly above and below one second and reaches a max of load time of a second and a half at one point during the 30 day test.
The rolling hills represent the inconsistent reliability of speed each visitor gets when they visit, which is common with shared hosting. But this is far too sporadic to be considered acceptable.
This happens because of how resources are sucked from the server by other websites with which you share server space. This can drag down your site's response times. That can be exacerbated by poor server management.
In brief, you want a provider who manages their servers well and does not allow other websites to hog all the resources. The research shows A2 Hosting to be snail slow compared to other top shared hosting providers. They need to improve in this area.
And even though they use other speed related features in an attempt to improve speed, they don't seem to work on entry-level plans, so they're not worth mentioning.
Uptime: 3/5 – A2 Hosting is middle-of-the-road with respect to uptime. Their average availability for 30 days was 99.96%, with a total downtime of 15 minutes and 41 seconds.
Most of that came from one protracted incident, an HTTP 500 internal server error, which is a common catch-all for server-side issues.
There was also one very short connection timeout lasting 41 seconds一which happens when your website is trying to pull more resources from the server than are available, causing the browser not to load the site.
Here is what the test we ran looks like.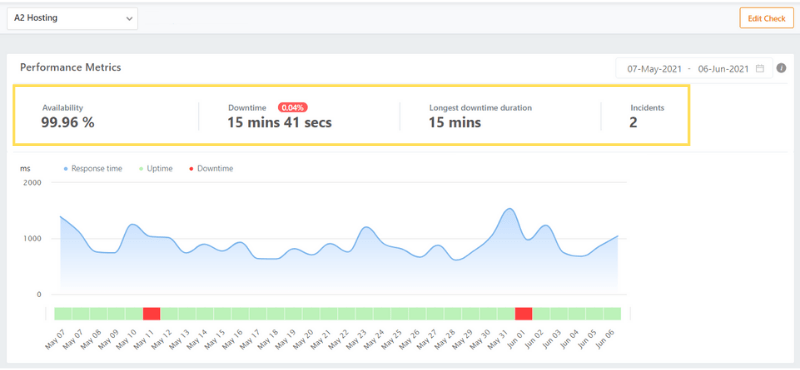 You can see that on the bottom of the image, there are two red boxes. These represent the two incidents.
In conclusion, A2 Hosting did not do terribly in keeping our site up. But if you are using them for an ecommerce store, for example, it's not the best performance.
A2 Hosting well outpaced the average downtime of providers on this list of 26 minutes and 49 seconds. So, that's encouraging for low-stakes websites.
But, from an online ecommerce business vantage point, A2's performance doesn't quite cut it. There is real revenue on the line here一15 minutes every month can add up.While there's certainly room for improvement in uptime reliability, A2 Hosting makes it easier than anyone else to turn your fledgling website into a money-making web store.
Methodology For Choosing The Best Shared Hosting Plans
We took the time to learn what matters most to beginners, by researching real user reviews.
Then, we set our research guidelines to match what hundreds of beginners just like you found most important.
Here are the top five areas our research found you care most about:
Pricing = 40%
Getting started = 25%
Customer support = 15%
Speed = 10%
Uptime = 10%
The percentages are the weighted score we place on each category based on importance.
We determined that importance by taking note of the amount of people leaving heartfelt complaints about the category and what they felt was missing. We paid attention to every detail and made sure we got it right.
But we didn't stop there.
Our research and testing procedure goes much deeper than most一we took seven very calculated steps to give you the best review on the internet.
Here's how we did it.
We sat down and got comfortable, then we created a new account with each host listed in this review. Then we bought one domain for each host.
After that, we took our time and documented each step for the signup and onboarding process to make sure you know which one fits your level of tech savvy and which hosts you get the least help from.
Next, we set up brand-new WordPress sites on each server一all with the same 2021 WordPress theme installed and no extra content to make a simple shell of a website.
Why did we do this?
Because we did not want the server to have any extra work一no distractions or variables一that can change our testing consistency across each provider.
This made our next step even easier, which was placing each URL into Freshping, a website that monitors site speed and uptime. They are the gold standard for this sort of thing and trusted throughout the web hosting industry.
For 30 days we sat back and waited while Freshping took a closer look and delivered the results at the end of our testing period.
Last, we reached out to each provider's customer support via live chat, at three separate times of day. To keep things genuine we didn't tell them we were reviewing their services.
We were real users to them, and were able to get the best insight into their customer support in much the same way you will when you need help.
With this approach, we were able to document customer support quality, timeliness, knowledge level, and overall helpfulness with each host you read about today.
How Much Should You Pay for Shared Hosting?
This is the biggest hurdle most beginners face. It's a big plunge to have to pay for a service upfront when you're not sure about its quality.
Most of us have the same questions.
"Will it pay me back later?"
"What if I buy this and it's too hard to use?"
"Is what I'm getting worth the price?"
All good questions. The good news is our research is going to help you answer these questions.
For starters, you don't need much in the way of resources for shared hosting when you just start out. You don't have any traffic or any authority, so spending a lot of money on loads of storage, memory, and CPU cores is not needed.
So cheap shared hosting is most important and top of the food chain in testing shared hosting providers, so to speak.
When we researched pricing, many of you said you wanted small upfront costs. Promo pricing can be appealing, but very few providers offer monthly payment plans with minimal payment upfront. Though we do have a few on this list that are better at that than the rest.
The truth is, however, the best pricing requires upfront payment. Usually in a lump sum to cover one to three years. The longer the term, the better the pricing, usually.
Let's look at how we calculated costs and scoring for our point system.
We started by adding the total cost for the first year and second year on one-year basic plans, then adding them together.
Then we assigned a score based on the total price for both years:
5 points for less than $180
4 points for $181 – $210
3 points for $211 – $240
2 points for $241 – $270
1 point for more than $271
In addition, we included in the pricing for everything you need to have your website up and running with no surprises. That means each total covers:
The cost for the hosting plan itself
Any cost for purchasing a domain through the host during checkout
Any cost for WHOIS privacy protection
Any cost for at least one email account attached to your new domain
Some hosts include domains, privacy protection, and email for free, while others don't. These are the main areas we look at in pricing to help determine rankings from the value you're getting for each price tag.
Build Your Site in Less than a Day (With No Experience Required)
Struggling to get started during your setup can stop you in your tracks. There is nothing worse than trying to do something and not being able to finish because you're frustrated.
We don't feel shared hosting should be difficult. This is the entry level of web hosting, so getting up and running should be kind on beginners or the less tech savvy.
If this sounds like you, that's okay. Everyone starts here.
That's why we went through each host's onboarding with relentless focus to find which provider gives you the easiest path to getting set up.
And that's why it's 25% of the overall score.
To make certain of this, we show you our step-by-step onboarding process in each review, so you can see how easy it should be.
When you build your website there are a few ways to do it. You can use a platform like WordPress that has themes that easily allow you to have a plug and play website in minutes. Or you can use a website builder that gives you the control to design exactly what you want.
It should be so simple that the instructions allow you to build something you didn't think you could, even if you know nothing about making a website.
Some of these hosts offer their own site builders and make designing beautiful websites as simple as can be and quick, too.
We looked at five critical areas that make the user experience simple for anyone getting started.
No tricky upsells during checkout
A clean, clutter-free, and easy-to-use dashboard
You never have to guess what to do next during the process
You get access to a free WordPress builder or free themes to help you get started
You get everything you need in one package
The upsells are very important because we don't want you paying for something you don't need.
We also want to make sure you know how to recognize them when setting up a hosting plan一just in case you choose another provider not on this list.
This is all covered in our detailed review of the products.
When you are done checking out we are looking for simple instructions on what to do next. You should find yourself immediately brought to a setup wizard.
If not, then that's a strike against the host.
It should be a clean, short path from handing over your payment information to getting to the dashboard after setup and building your site.
Having a clean and easy user dashboard is a must for installing WordPress, managing plugins, and doing routine maintenance on your site. So, we walked through all seven providers and highlighted the easiest ones to use.
Timely Tech Support Is Crucial—But Quality Matters More
Customer service was mentioned in almost every review we studied.
And that makes perfect sense.
If your website isn't working and you don't know why, not getting the help you need can create a terrible feeling, right?
You bet.
We wanted to find out for sure who gives you the best help, because we take customer support very seriously.
Aside from pricing and getting started, support is an essential piece to your website's longevity.
Your site can be fast, available, and a well-designed masterpiece. But if something breaks and you can't get help, does all of that stuff matter?
Not at all.
This is why we dig so deep into customer support and why it's 15% of the total hosting score.
We contacted all seven hosts, at three different times of the day, testing accuracy and efficiency depending on when you might reach out.
Every host should offer you great service no matter what time you need help.
When we did our research, we asked three different questions via live chat:
What security features do you offer so I can make my site more secure? (around 8 a.m. PST)
Can you walk me through how to set up an email address at my domain? (around noon PST)
How do I make my site load as fast as possible? (around 8 p.m. PST)
Then we scored each host on these five very important standards related to shared web hosting:
Connected with a rep immediately
Question/issue was resolved in less than 15 minutes
It didn't feel like they were trying to sell anything we don't need
The rep walked us through things directly rather than just sending us a tutorial
Phone support is available 24/7 (half a point if not 24/7)
We then add up those scores for each question. This gives us our total score for customer support for that host.
The score is based on individual interactions. You may have a better experience than we did with a provider that scores poorly in our review. T
he thing to keep in mind is consistency.
Good service should be good all the time.
Each customer support standard we scored for is specific to real user requests for improvement in that area. This helps you see right now who is giving customers exactly what they want.
In our findings, five hosts did better than average and two did worse.
Snappy Load Times that Encourage Visitors to Stick Around
Finding a good balance of price, reliability, and speed is important when looking for a host.
Speed is not as important as pricing, ease of use, and customer support in the shared hosting realm. So it's only 10% of the total score.
But it's still vital and helps with ranking high on Google when you consider SEO and your visitors' experience.
Response times in shared hosting go up and down often. This happens because of sharing space on the server with other websites, affecting the speed of your site at times.
So, when a shared hosting provider offers great speed with consistency, it's a big deal.
When researching speed, we took steps to remove any doubts about each provider.
We used our own websites to test speed.
As a reminder from earlier, each site was a shell, only running with the bare essentials. Every website used the same 2021 WordPress theme and had zero data or media slowing it down.
Doing our research this way gave us an idea of how fast and optimized the servers are with each host.
Then, we plugged in each URL from our newly created site into Freshping, which monitors site speed at one-minute intervals.
For 30 days, we waited and watched how every host performed.
You are getting the most accurate assessment of speed a shared host can deliver over a full month. Server performance can fluctuate and our testing shows you this—and which providers manage it well.
After the 30-day period of testing speed, we pull the data and find the average response time your visitors can expect.
Then, we assigned a score based on the grading scale below.
5 points for less than 550 milliseconds
4 points for 551 to 650 milliseconds
3 points for 651 to 750 milliseconds
2 points for 751 to 850 milliseconds
1 point for more than 851 milliseconds
The average response time across all the hosts we tested was 699 milliseconds.
Four hosts were faster than average and three were slower. Two got perfect scores, while the rest fell between the other performance levels.
All servers are not created equal and our testing shows you this.
Our research isn't meant to teach everything you need to know about site speed.
What does matter today is giving you an above-average knowledge on how to understand shared hosting response time, what's important about it, and how to quickly assess if the provider you're interested in will keep your site loading at high speeds for your visitors.
Real-World Uptime Data from Our Own Shared Hosting Accounts
Uptime means how often your site is accessible by visitors. It's calculated as a percentage of average availability.
Our research was done for each provider for a full 30 days. The higher the percentage, the better. Most shared hosting providers shoot for 99.99%.
Some reasons for downtime are server errors, time out errors, and security issues. Not all are equal in terms of concern.These are explained in more detail in each product review above.
Downtime can be in seconds, minutes, or hours depending on the severity of the outage.
Here's an image to help you out.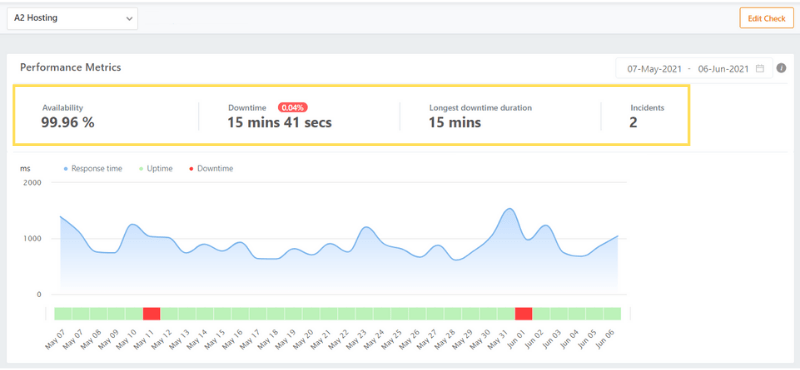 As you can see above, the uptime (availability) is 99.96% and the total downtime is 15 minutes and 41 seconds over 30 days. The single longest outage lasted 15 minutes and there were a total of two outages (incidents) all month.
To be transparent, shared hosting isn't really about performance.
It's about affordability and getting things set up for the first time. That's why uptime is only 10% of the total score. It's not something many beginners are aware of or even complain about.
As you move up the ranks of web hosting, performance becomes much more of a necessity. And you will become much more demanding as your site grows because it needs better performance.
Now, with the disclaimer out of the way, uptime is still crucial to be aware of since every second your site is down is a missed opportunity.
In fact it could have a very negative effect on your site's success.
Would you keep going back to the same restaurant that never got your order right? Or back to a dentist that sets an appointment for you but was closed when you got there?
Of course not, you wouldn't trust them with your business or your precious chompers ever again.
The same goes for your website. Uptime is availability, but the underlying benefits are reliability, trust, and the credibility of your site.
So, we took extreme care when researching this for you. And, just like site speed, we let each site sit in Freshping for 30 days, monitoring every detail of uptime and what caused availability to dip and dive down.
After our testing period we gave each provider a score based on our scoring rubric.
5 points for less than 1 minute of downtime
4 points for 1 to 15 minutes of downtime
3 points for 15 to 30 minutes of downtime
2 points for 30 to 45 minutes of downtime
1 point for more than 45 minutes of downtime
The data collected was impressive. The average downtime across all providers for the month was 26 minutes and 49 seconds.
Six hosts did better than average and one did notably worse, while two got perfect scores.
With that said, almost 30 minutes of downtime is a lot一far more time than you should ever spend unavailable to your visitors.
Keep in mind, higher end hosting plans try their best to deliver 100% uptime with no lapses of website availability
When you're starting to get serious about your site's growth, we recommend moving up to a hosting plan tier that offers better uptime, like VPS hosting.
We want you to be prepared when you make your decisions down the road, too, and understanding uptime is a big part of that.
Summary
Hostinger is our top shared hosting recommendation for most users. It's incredibly affordable and easy to use.
Take our research and findings above, though, to determine the best provider for you and your site needs.