Disclosure: This content is reader-supported, which means if you click on some of our links that we may earn a commission.
The best inventory management software helps businesses of all sizes—even those with insanely dynamic demand—ensure adequate stock levels while automating inventory tracking so you never miss a beat. After researching and testing nearly a dozen of the top options on the market, QuickBooks Commerce is our top pick. It comes with everything you need to manage customers, products, and orders like a pro without the big-business price tag.
The Best Inventory Management Software for Most
QuickBooks Commerce is our top recommendation for most businesses because it delivers everything you need to manage inventory like a pro regardless of the size of your business and the number of products you have.
But it also takes things a step further by letting you manage customers, orders, and your products within one platform. It seamlessly integrates with dozens of ecommerce platforms and comes with an iOS app to manage orders on the go. Pricing starts at just $20 per month + a subscription to QuickBooks Online, making it a comprehensive and affordable solution.
The 7 Best Inventory Management Software Options to Consider:
When It Makes Sense to Invest into Inventory Management Software
The best inventory management software connects with POS systems to track sales across multiple channels to update your inventory in real-time.
They also sync with accounting solutions, COGS reports, supply chain management tools, and more to centralize crucial business operations in one place. Doing so eliminates many of the moving parts within your business to simplify things—the fewer moving parts you have, the less likely it is that something's going to break.
It's extremely challenging to manage all of these moving parts with a spreadsheet. And you open the door for human error while wasting a ton of time you could be focusing somewhere else.
To make matters worse, those outdated methods can cost you revenue and loyal customers due to late shipments or inaccurate inventory levels.
As such, every business with any type of product should carefully consider upgrading its inventory management processes.
The good news is that it doesn't have to cost hundreds of dollars a month. With new cloud-based deployments, inventory management solutions are easily accessible to businesses of all shapes and sizes.
There are numerous solutions designed to help different types of businesses, regardless of how big or small your operation is.
The bottom line: if you're current inventory system is no longer cutting it or you're using spreadsheets or other manual methods to get the job done, inventory management software is a smart move.
#1 – QuickBooks Commerce — Best Inventory Management Software for Most
QuickBooks Commerce is an all-inclusive business management solution that encompasses order management, inventory management, and bookkeeping in one intuitive platform. So, it's much more than just inventory management.
With QuickBooks Commerce, it's easy to monitor product and material levels as you sell, manufacture, and restock goods across all of your locations and warehouses.
But it also syncs with QuickBooks Online to automatically track income and expenses and goods change hands.
So, you can say goodbye to double data entry and costly human mistakes since QuickBooks automates the bookkeeping process for you.
You can also easily automate inventory management and simplify your fulfillment processes at every step of the way from procurement and manufacturing to shipping products out the door.
One of the most significant reasons we love QuickBooks Commerce is because it consolidates orders across all of your sales channels. Even if you sell on your website, Amazon, eBay, Etsy, Facebook, and in-person at your retail store, you can manage inventory across all of them in one place with ease.
To take that one step further, you can use QuickBooks Commerce to identify your highest-performing products for each channel to hone in your marketing and sales strategies on a per-channel basis.
You can even list your products to all of your sales channels in a few clicks, rather than listing them all manually.
You can also easily manage inventory lists and stock at each warehouse or physical location. Each inventory record includes details about cost, stock history, product variants, and MAC (moving cost average) so everyone gets a clear picture without having to search for the info they need.
As a new QuickBooks Commerce user, you get free onboarding assistance and free 24/7 tech support if anything comes up along the way.
If you're new to QuickBooks entirely, you can get a special introductory offer of QuickBooks Commerce + QuickBooks Online for just $50 per month for the first three months. This special deal saves you 50% while you get your bearings and decide if it's a good fit for you and your business.
The one big thing that's not so great about QuickBooks Commerce is that you can only use it in conjunction with QuickBooks Online. So, you'll have to sign up for that if you aren't already using it.
QuickBooks Online plans include:
Essentials — $50 per month
Plus — $80 per month
Advanced — $180 per month
However, Intuit is always running deals on signing up for QuickBooks Online. Right now, you can get 50% off your first three months, no contract required.
What's more, new QuickBooks Online buyers can also get one year of QuickBooks Commerce at an extreme discount.
Plus, our readers have access to a special 14-day free trial of QuickBooks Commerce. Try it free for 14 days to see if it's right for you and your team today!
#2 – Finale Inventory — Best Inventory Management Software for Multi-Location Businesses
Managing inventory across multiple stores, warehouses, and manufacturing facilities introduces a new level of complexity that many inventory management tools can't handle. And if they can handle it, they only allow it at the top enterprise-grade level, making it virtually inaccessible to smaller businesses.
However, Finale Inventory comes with support for multiple locations on every plan.
Regardless of the features you need, the number of users you have, and the number of orders you process, you're not stuck paying for enterprise tools you're never going to use.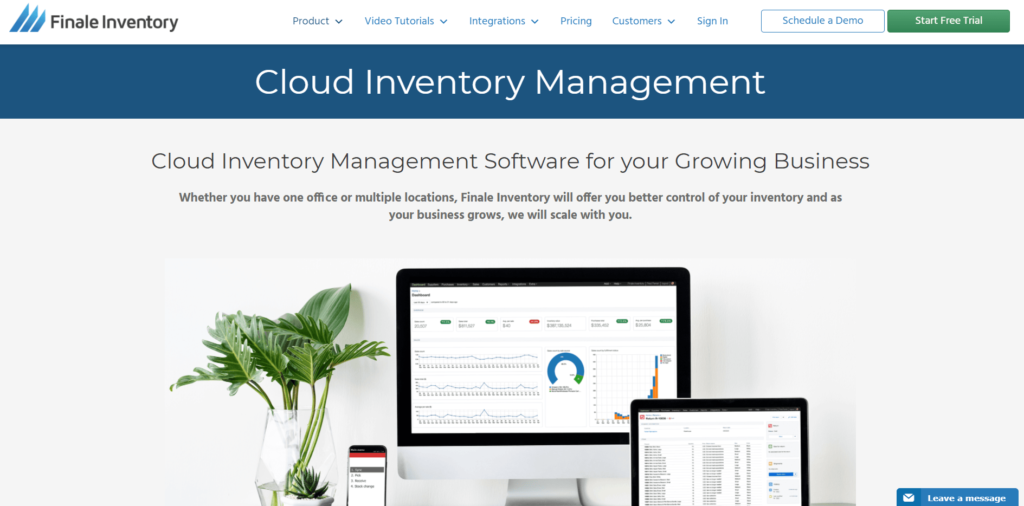 The software has 40+ multi-channel integrations with platforms like Shopify, eBay, Amazon, WooCommerce, Magento, and other online marketplaces. So, it's easy to sync your online orders to manage stock levels there, too.
The entry-level plan allows for two integrations. As you move up the pricing table, you unlock more integrations with more potential to automate across your entire business.
Integration limitations is one of the biggest downsides of Finale Inventory's pricing structure.
However, the entry-level plan includes support for purchase orders, sales and returns, kitting and bundling, manufacturing, quotes, and invoicing. You'll also benefit from powerful insights, custom dashboards, and detailed reports to make crucial decisions.
So, you still get everything you need to get started improving inventory management processes on the cheapest plan.
As you upgrade to higher tiers, you unlock more advanced features like unlimited integrations, open API access, and report customization.
Here's a quick overview of the Finale Inventory plans and pricing:
Starter — $75 per month
Bronze — $199 per month
Silver — $349 per month
Gold — $549 per month
Platinum — $799 per month
As we talked about, all plans support multi-location businesses. Pricing is mostly based on the number of users and monthly order volume. The bronze plan supports two users and 1,000 orders per month, while the Platinum plan supports 12 users and up to 20,000 orders per month.
Sign up for a free 14-day trial to see if it's right for you and your team today.
#3 – Primaseller — The Most Feature-Rich Inventory Management Software
If you're looking for an all-in-one, functionality-rich inventory management tool that's versatile and flexible, Primaseller is our go-to. It works with just about every type of business, from solo online stores to midsize B2B organizations with multiple sales channels and in-person retailers with multiple locations.
Primaseller offers more features than any other option on our list, so you know you're getting a ton of bang for your buck.
On top of that, it integrates with Amazon, Magento, WooCommerce, USPS, QuickBooks, and more to add even more functionality to your inventory management solution.
From dynamic order allocations, quote creation, and automatic purchase orders to bin locations, catalog management, and GDPR compliance features, it's packed full of everything you need to streamline inventory operations.
Even if you have inventory in dozens of locations, Primaseller offers a single source of truth with synchronized stock levels for each warehouse and the ability to split orders across locations for the fastest turnaround times possible. Regardless of the size of your business, everything's in one place to eliminate multiple tools & paying for numerous monthly subscriptions.
It also includes:
Multi-location inventory management
Automated purchase orders and transfers based on stock levels
3PL and FBA inventory management
Online sales channel integrations for real-time inventory updates
Customer grouping and custom price lists
POS integrations for multiple storefronts
And you can even integrate Primaseller with shipping companies like USPS, FedEx, UPS, DHL, and plenty of others to manage outgoing and incoming inventory shipments with discounts and automations built-in.
Pricing starts at $100 per month, so it's a bit pricey, especially for small businesses. And you'll pay extra to customize your plan based on things like additional warehouses, POS locations, storage locations, and B2B features.
So, keep that in mind as you make your final decision.
Sign up for a 14-day free trial to see if Primaseller is right for you!
#4 – Ordoro — Best Inventory Management Software for Ecommerce Websites
As an ecommerce business, you have a special challenge when it comes to managing inventory. Not only do you have to keep track of inventory levels, but you also have to manage fulfillment and shipping to ensure speedy buying experiences.
There are a lot of moving parts, and managing them all separately can result in a disjointed operation with a lot of overhead costs to keep the ship moving.
Thankfully, Ordoro is an inventory management solution specifically for ecommerce businesses—it's a one-stop shop for all of your shipping, inventory, and fulfillment needs.
First, you can easily integrate all of your online sales channels to consolidate your sales and inventory in one place. From Etsy and Shopify to Facebook, Instagram, and your own website, the software makes it easier than ever to manage purchase orders, assign barcodes and SKUs, and automatically update inventory as orders go out the door.
Ordoro is an excellent choice for drop shippers, too. You can automatically or manually manage all dropship requests to vendors. Ordoro even has a vendor portal that allows suppliers to fulfill orders directly within the platform, making it a truly all-in-one ecommerce inventory solution.
The software is equipped to handle inventory updates for returns RMAs (returned merchandise authorization) as well. With seamless returns, your customers have peace of mind knowing they're taken care of.
Pricing for Ordoro is simple and straightforward.
Express — Starts at $59 per month (free for a limited holiday special!)
Pro — Starts at $499 per month
Enterprise — Starts at $999 per month
If you're an online retailer, Ordoro should be a top consideration for your business. To get started, schedule a free demo where you can meet the team, ask questions, and see how Ordoro works behind the scenes.
#5 – Megaventory — The Best Inventory Management Software for Manufacturers and Distributors
Megaventory is an inventory management and order fulfillment solution for manufacturing businesses and distributors. The software is a popular choice for franchise networks and wholesale distributors as well.
It's easy to use, quick to implement, and leverages cloud-based technology so you can access it from anywhere.
Some of the top inventory management features of Megaventory include:
Multi-location support for warehouses and stores
Stock alerts
Location transfers
Product cost tracking
Inventory tracking
Supplier availability and lead times
Landed cost calculations
Returns
The software also has tons of tools and benefits for order fulfillment and manufacturer tracking. Sales orders, quotes, dropshipping, consignment, partial shipping, bill of materials, labor costs, and work orders are just a few of the dozens of highlights.
Megaventory is highly customizable. It offers advanced reports and data administration as well.
For such feature-rich software, Megaventory is extremely affordable. Plans start at just $135 per month. The entry-level plan supports five users, 50,000 transactions, 20 locations, 20,000 products, and 20,000 clients.
Try Megaventory free for 15 days.
#6 – Orderhive — Best Inventory Management Software for Small Businesses
More than 5,500 ecommerce businesses worldwide trust Orderhive for inventory management solutions. It's a popular choice for startups and smaller companies, although they do boast some impressive enterprise clients, like Puma and Ikea.
Orderhive stands out from other platforms due to its robust automation features. It's easy to automate daily tasks based on custom triggers and actions related to inventory management.
Some of the top inventory management features and benefits from Orderhive include:
Multi-channel inventory sync
Multi-warehouse management
Amazon FBA and 3PL warehouse management
Location-based stock
COGS management
Bundles and kitting
Product barcodes
Barcode printing
Stock transfers and adjustments
Product tagging
Orderhive also has a wide range of tools for order management, shipping, management, purchase management, returns, integrations, and more.
Shopify users can use Orderhive free forever and get all of the basic inventory, shipping, and order management features offered by the software provider.
Here's a closer look at all of the plans from Orderhive:
Free — $0
Lite — $44.99 per month
Starter — $134.99 per month
Growth — $269.99 per month
Enterprise — Custom pricing
Orderhive does charge $99 for onboarding and set-up assistance, which other platforms offer for free. But you'll have access to free tech support 20 hours per day, 7 days per week. Try any paid Orderhive plan free for 15 days.
#7 – Zenventory — The Best for Unlimited Users
Zenventory's inventory management system is designed for ecommerce websites, retailers, 3PLs, and small businesses.
While most inventory management solutions limit the number of users who have access to the system, all Zenventory plans offer unlimited user access—for free.
In addition to software, Zenventory has inventory scanners and other hardware required to efficiently manage your operation. They also have an exceptional mobile app that allows businesses to manage inventory and orders from anywhere.
Zenventory is multi-channel sales-ready and has an extensive list of robust features.
Cycle counting
Purchase order processing
Vendor management
Direct integrations
Dynamic or fixed warehouse slotting
Open API
Custom alerts via email and text
Serial number tracking and expiration dates
Pick and pack verification for fulfillment
Whether you have a single warehouse or dozens of warehouses, Zenventory has a plan to accommodate your needs.
Lite — $99 per month
Standard — $199 per month
Pro — $299 per month
For scaling teams that don't want to be restricted by per-user-based plans, check out Zenventory. Unfortunately, they don't offer a completely free trial like other platforms, but you can still schedule a free demo.
Methodology For Choosing The Best Inventory Management Software
When it comes to something so essential, like inventory, choosing the right software to accommodate your needs is an important decision. We want to make this process as easy as possible for you, which is why we've identified the top elements that you should look for as you're shopping around.
Take these features into consideration as you're browsing and testing different inventory management solutions.
Sales Channels
Where is your inventory available for sale? Businesses selling in a single retail storefront won't have the same needs as a global ecommerce site with multiple warehouses.
Are you selling in-person and online? Do you sell through your website and online marketplaces? Maybe a combination of these?
Make sure the software you're using supports the sales channels you're currently using. Look for integrations with the platforms you're already using as well. From POS solutions to ecommerce platforms like Shopify, there's a lot to consider here.
Business Type
While lots of inventory management software can be versatile, some are made for specific business models and industries.
For example, B2Bs and wholesalers shouldn't be using the same software as a D2C retailer. There are even specific solutions for manufacturers and distributors.
Number of Users
Most plans, aside from Zenventory, limit the number of accounts you can have. For example, QuickBooks Commerce's introductory plan allows one user, but the small business plan allows up to five.
So, it's important to understand how many users you have so you can choose the right plan from the right provider.
You should also consider the cost of adding new users. With per-user pricing plans, you'll likely double your monthly payments so it's something to think about as you make your final decision.
Hardware Requirements
How exactly will your inventory be managed?
Things like barcode printers and scanners are common components of inventory management. Find out if you need to get those pieces of equipment on your own or if you can get them directly from the software provider.
Automation
Inventory management software is designed to make your life easier. That's why it's important to look for as many automated features as possible.
For example, if you're low on inventory, some software will automatically reorder more based on the settings you've customized. It's also great when the software automatically updates your inventory based on fulfillments and purchase orders.
Additional Features
It's rare to see a platform marketed solely for inventory management. There are other common solutions bundled into these platforms. Look for things like order management, shipping tools, supply chain management, purchase management, vendor portals, and more.
Don't be swayed by an extensive feature list if you won't actually take advantage of those additional tools. You can save some money by choosing a plan that best fits your needs.
Summary
Inventory management software comes in all shapes and sizes for various businesses in an infinite number of industries.
As such, there are dozens of options on the market.
With that said, we highly recommend QuickBooks Commerce for most businesses. However, that doesn't mean it's the best solution for everyone.
And there are plenty of other great options to consider. So, don't forget to use this guide, the recommendations, and our methodology to find the best inventory management system for you and your business.